A group of inspiring young scientists took centre stage at COP26 on 4 November to show how the next generation of chemists is finding tangible climate change solutions.
In a day dominated by what countries pledged to stop doing at COP26, such as pursuing coal power and financing fossil fuel projects overseas, it was refreshing to learn about low-carbon technologies and the young people driving their development. At the Next Gen forum, we heard from an array of young chemists, all associated with SCI, who are at the sharp edge of this change.
We heard from Brett Parkinson, Senior Engineer of Low Carbon Fuels and Energy Technologist at C-Zero, who is working on commercialising a way to decarbonise natural gas. The California-based company's technology converts the natural gas into hydrogen and solid carbon to provide a clean energy source while sequestering the carbon; and the aim is to have this process up and running next year.
Natasha Boulding is building towards Net Zero a different way – with a greener concrete. The CEO and Co-founder of Sphera has developed a lightweight carbon negative additive using waste plastics that aren't currently being recycled. She says the company's blocks are the same strength and price as existing concrete blocks, but with 30% more thermal insulation. There is also the added benefit of reusing waste materials that would otherwise have gone to landfill or been incinerated.
Another solution discussed by Dominic Smith, Process Development Engineer at GSK, reduces energy consumption through green chemistry. He is trying to find greener ways to make medicines using enzymes. These enzymes, which can be found in plants and soil, replace chemical synthesis steps to cut energy consumption during processing and reduce hazardous waste.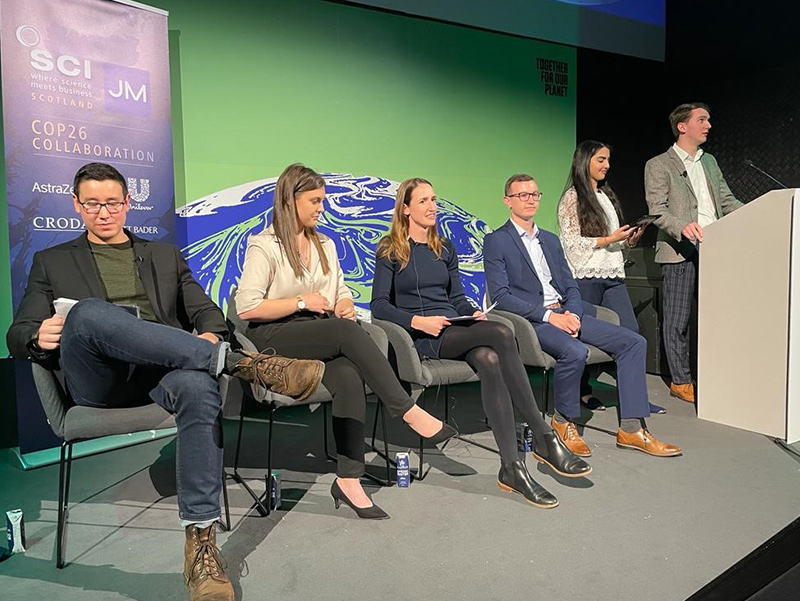 Panel (left to right): Dominic Smith, Natasha Boulding, Clare Rodseth, Jake Coole, Nikita Patel, and Oliver Ring (Brett Parkinson spoke via video link).
It was apparent from the discussion that many solutions will be needed for us to reach our climate change targets. On the one hand, Jake Coole, Senior Chemist in Johnson Matthey's Fuel Cells team, is working on membrane electrode assembly for hydrogen fuel cells to help us transition to hydrogen-powered buses and trucks.
At the same time, Clare Rodseth, an Environmental Sustainability Scientist at Unilever, has been using lifecycle assessments to reduce the environmental impact of some of the 400 Unilever brands people use all over the world every day. For example, this work has helped the company move away from petrochemical ingredients in its home care products. 'Even small changes,' she said, 'have the potential to bring about large-scale change.'
Incremental change
However, for each of the technologies discussed, barriers remain. For Coole and co., having a readily available supply of hydrogen and charging infrastructure will be key. And for Dominic Smith and his colleagues, the use of enzymes in green chemistry is still in its infancy; and getting enzymes that are fast enough, stable enough, and produce the right yield is difficult. Nevertheless, he noted that manufacturers are now using enzymes to produce the drug amoxicillin, reducing the carbon footprint by about 25%
And some things will take time to change. Natasha Boulding noted that concrete is the second most used material in the world after drinking water, and we simply can't create many green technologies, such as wind turbines, without concrete foundations.
She said the construction industry is quite traditional but also pointed to perceptible change, with the green concrete market growing and companies becoming increasingly aware of their carbon footprints.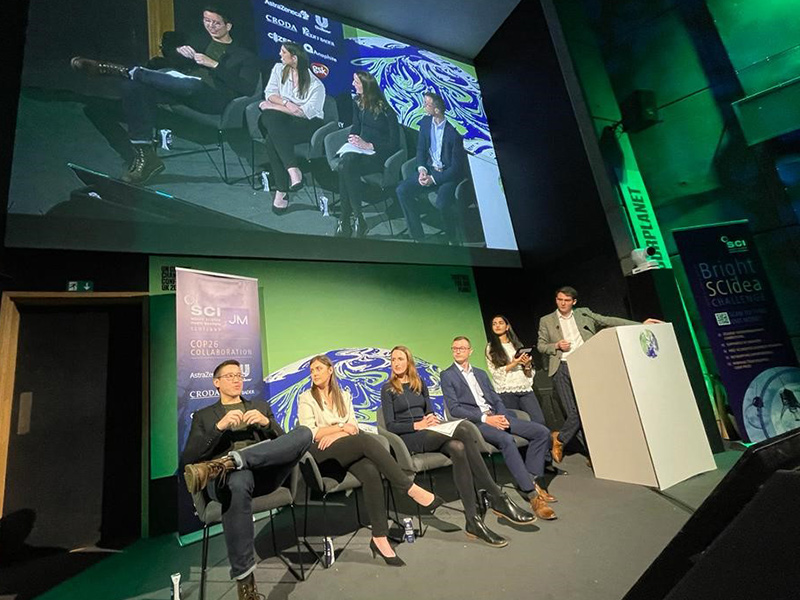 Collaboration was seen as crucial in producing climate change solutions.
The reality is that global action on climate change is recent. As Brett Parkinson said: 'the main reason we're talking about it now is that there's a driver to do it. Until the last decade, the world hadn't cared about CO2 emissions. They just talked about caring about it.'
How pivotal is science in all of this?
So, what could be done to make climate action more effective? For Parkinson, effective policy is key. He argued that if the market isn't led by policies that encourage low-carbon innovations, then it won't work as needed. 'It all starts with effective decarbonisation policy,' he said. 'Legacy industries are very resistant to change. If you don't have strong and consistent policies… then they're not going to adapt.'
Another key to our low-carbon evolution is collaboration, and the SCI provides a confluence point for those in industry and academia to work together to produce innovative, low-carbon products. As Clare Rodseth said: 'Collaboration is really important – linking up people who can actually come together and address these problems.'
As the discussion came to a close, you had the impression that the debate could have gone on for much longer. 'Hopefully, we've demonstrated that there is action, and it's being driven by young people like our panellists today,' summarised Oliver Ring, the event's co-Chair, before asking for the result of the audience poll.
The question: How many of those watching believed that science is pivotal in providing climate change solutions?
The answer: Just the 100%.
>> Thank you to Johnson Matthey for sponsoring the event, to the speakers for sharing their time and expertise, and to co-chairs Nikita Patel and Oliver Ring for doing such an excellent job.