As silicon reaches its solar ceiling, perovskite has emerged as one of the main materials of choice in the next generation of solar panels. Indeed, Oxford PV's much anticipated perovskite-silicon solar cell could take conversion efficiency well beyond what is currently achieved on the roofs of our homes.
The benefits of perovskite are well known at this stage. It could increase the energy we harvest from the sun and improve solar cell efficiency, and its printability could make fabrication cheaper. However, as with almost everything, there are drawbacks.
According to researchers at the SPECIFIC Innovation and Knowledge Centre at Swansea University, the solvents used to control the crystallisation of the perovskite during fabrication hinder the large-scale manufacture of printed carbon perovskite cells. This is due to the toxicity and potentially psychoactive effects of these materials.
The SPECIFIC team claims to have found a way around this after discovering a non-toxic biodegradable solvent called γ-Valerolactone. They say this replacement solvent could be used without affecting solar cell performance. Furthermore, they say it is non-toxic, sustainable, and suitable for large-scale manufacturing.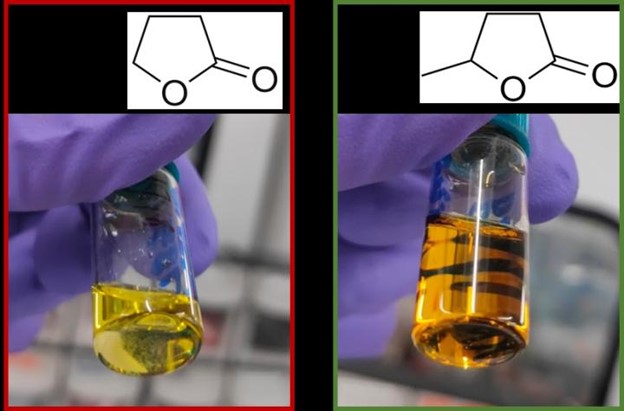 Left - solvent normally used to make solar cells, which is toxic.
Right - new green solvent developed by Swansea University researchers from the SPECIFIC project
| Image Credit: Swansea University
'This solvent problem was a major barrier, not only restricting large-scale manufacture but holding back research in countries where the solvents are banned,' said research group leader Professor Trystan Watson. 'We hope our discovery will enable countries that have previously been unable to participate in this research to become part of the community and accelerate the development of cleaner, greener energy.'
As the conversion efficiency of solar panels improves, cost is also key. What if you could create the same solar panels in a more cost-efficient way? That was part of the thinking behind another recent innovation in Singapore, where Maxeon Solar Technologies has created frameless, lightweight rooftop solar panels. These solar panels can be adhered directly to a roof without racking or mounting systems and allegedly perform just as well as standard solar panels.
The new Maxeon Air technology platform from Maxeon Solar Technologies
'For close to 50 years, the solar power industry has almost exclusively used glass superstrate panel construction,' said Jeff Waters, CEO of Maxeon Solar Technologies. 'As solar panels have increased in size, and the cost of solar cells has been dramatically reduced, the cost of transporting, installing and mounting large glass panels has become a relatively larger portion of total system cost. With Maxeon Air technology, we can now develop products that reduce these costs while opening up completely new market opportunities such as low-load commercial rooftops.'
The idea is to use these peel-and-stick designs on low-load roofs that cannot support the weight of conventional solar systems; and they will be rolled out in 2022. Time will tell whether the innovations in Swansea and Singapore have a bearing on companies' solar systems, but they provide more evidence of the ingenuity that is making solar power cheaper and more efficient.