The iris family (Iridaceae) provides gardeners with a glorious array of colourful and frequently well scented flowers. Originating from both tropical and temperate regions, some such as freesias are best cultivated under protection. Others such as gladioli and crocus are reliable garden plants.
Iris, or fleur-de-lis, is one of the larger genera, offering colour and interest from the very earliest springtime through to May and June. The earliest and always most welcome is Iris unguicularis (previously Iris stylosa). Flowers (see illustration 1) emerge in the darkest days of December, encouraged by the warming effects of climate change.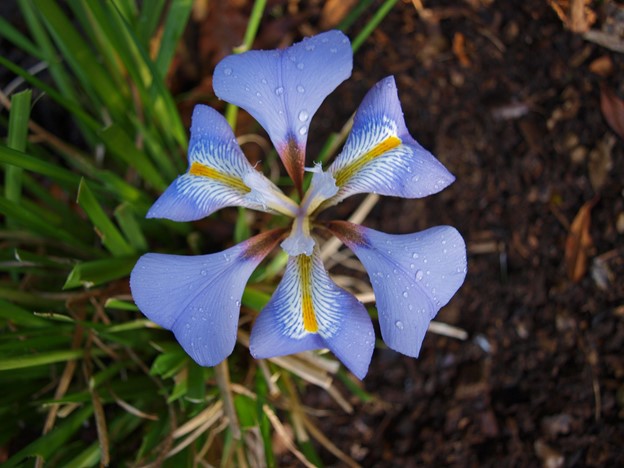 Illustration 1: Iris unguicularis (syn Iris stylosa) / Image credit: Geoff Dixon
Originating from North Africa, it thrives in south facing dry borders, preferably under a wall where winter sunshine encourages proliferous flowering. Every few years, lift and divide the clump of small rhizomes after flowering has finished. Remove older growth and replant younger roots with a modest handful of compost and water well. Established clumps can be cut back, removing dead leaves during late spring.
By contrast Iris pseudacorus, the water flag, thrives in wet, boggy places or even when immersed in water. Found across Europe, it is a British native plant producing vivid yellow flowers that are rich sources of nectar. In parts of Scotland it forms large expanses of natural growth that are favoured by nesting corncrakes. It can be cultivated as part of water purification programmes since nitrogen and phosphorus are extracted by the vigorous root systems.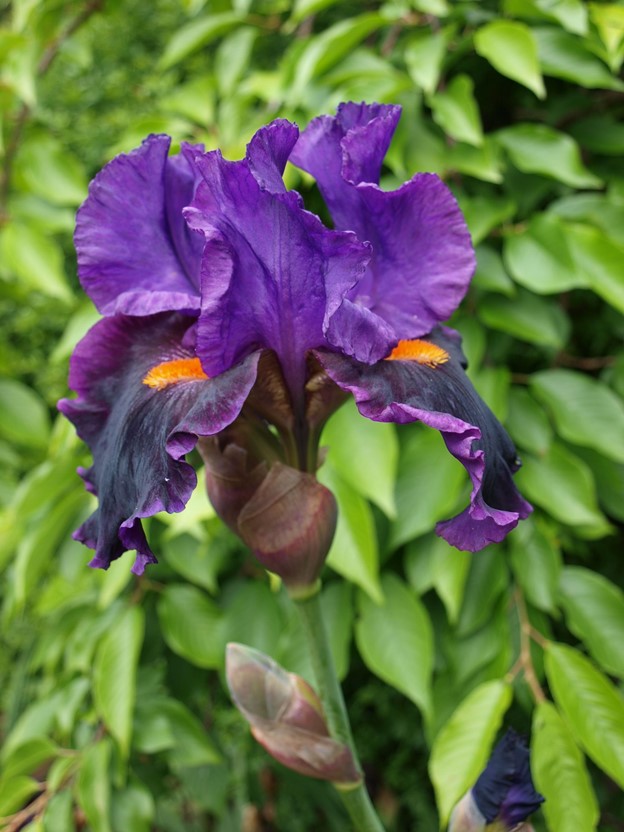 Illustration 2: Iris germanica / Image credit: Geoff Dixon
The prima donna is Iris germanica, the flag or bearded iris. These are stately plants, producing flower spikes up to one metre high and furnished with multicoloured flowers (illustration 2). Upright standard petals can contrast completely with the falls which bear a beard of yellow pollen bearing stamens. Fertiliser should be applied as the flower spikes appear. It should be applied again after flowering, stimulating root growth in anticipation of a colourful display in the next season.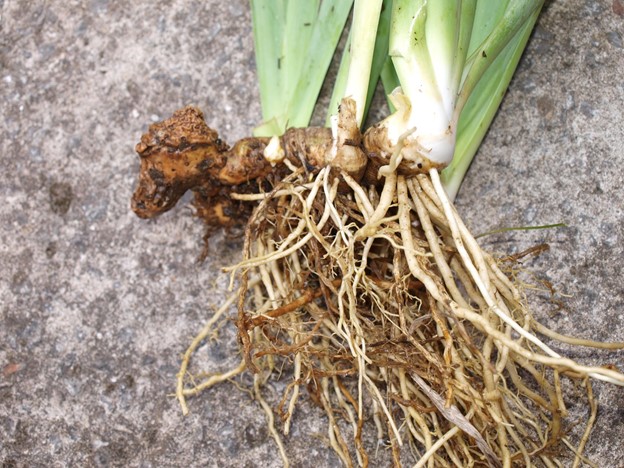 Illustration 3: Rhizome ready for division / Image credit: Geoff Dixon
The rhizome is a large swollen ground-creeping stem from which side shoots develop with a terminal area of older tissue (illustration 3). Every four or five years, the rhizomes should be lifted and divided by removing the terminal tissue and splitting off side shoots with a sharp knife. These and the main rhizome should be replanted carefully, ensuring that they rest on the soil surface with their fibrous roots buried beneath them. Multiplication eventually provides a border filled with very colourful displays that can persist for a month since flowers frequently emerge along most of the spike.
Written by Professor Geoff Dixon, author of Garden practices and their science, published by Routledge 2019.