Lilies provide gloriously beautiful and well scented flowering border plants. Choose flowering size bulbs in the garden centre or from a catalogue. Grow these through the winter potted in a general garden compost placed in an unheated greenhouse or cold frame. By March or early-April, substantial green shoots will have formed from the bulbs and they can be transplanted into the garden.
Lilies need a sunny border and very fertile soil to encourage vigorous root growth capable of supporting the flowering spike and ancillary bulbs as they are initiated. This produces magnificent flowers and an increasing colony of bulbs that will spread and become established over future seasons.
Lilium longiflorum, often called the Easter lily | Image credit: Professor Geoff Dixon.
Regular watering and feeding with nutrients are needed, especially potassium, which encourages root and shoot growth. Stake the flower spike as it grows, giving support for the flowers because they are heavy when fully open and easily damaged by winds.
Rewards come in mid-summer with magnificent colourful flowers and wonderful perfumes on warm evenings. Apart from severe winters, lilies are hardy garden plants unless they are from groups specified as tender and requiring protection. In the autumn, simply cut down the flowering spike and remove any fallen foliage.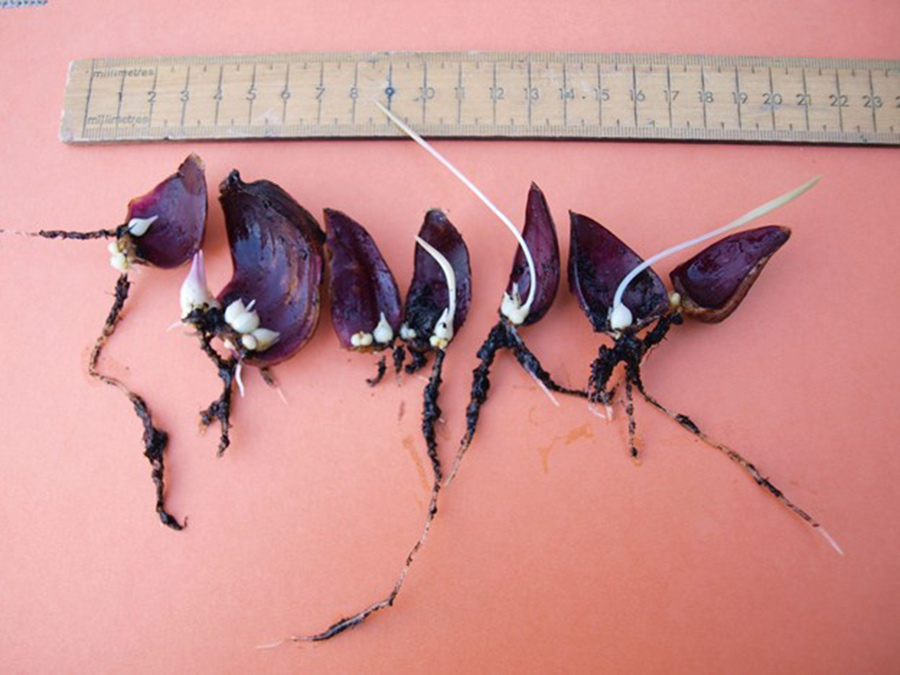 Buds developed on lily scales after culturing | Image credit: Professor Geoff Dixon.
The Lilium genus has about 100 species originating worldwide mainly from north temperate areas of Europe, Asia and America. The colour range includes white, yellow, orange, pink, red and purple. Plant breeders in The Netherlands, Japan and North America have produced a huge range of multi-coloured hybrids.
Taxonomically, Lilium is divided into divisions, of which the Turk's Caps, Martagons and American hybrids are popular. The most destructive pest is the scarlet lily beetle (Lilioceris lilii) which devours foliage, flowers and bulbs. The first signs of trouble are shot holes in the foliage. Picking off beetles and larvae is an effective means of dealing with low-level infestations.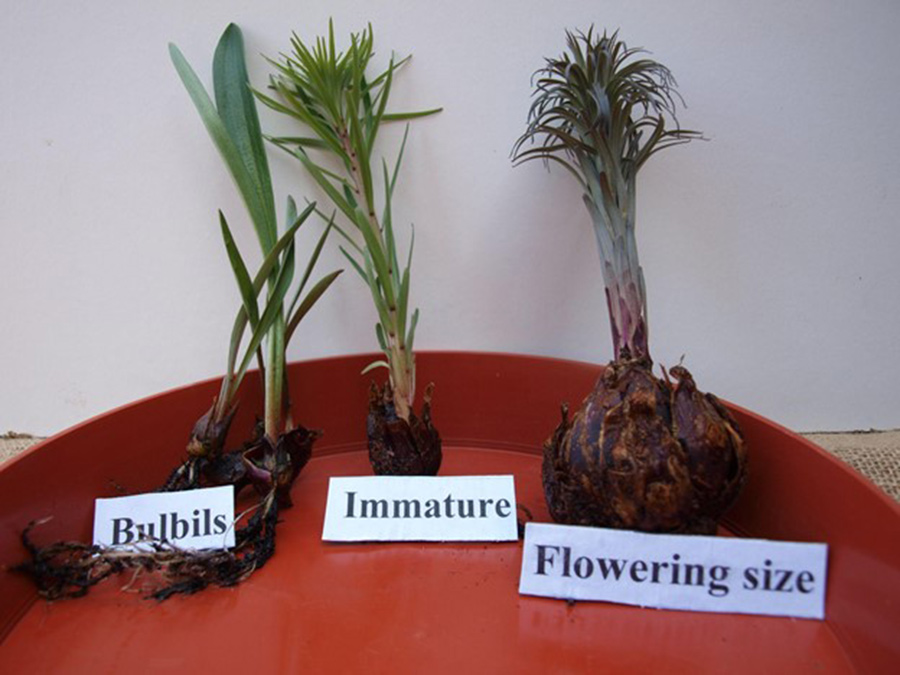 Comparison of lily bulbils growing from scale leaves, immature bulb and flowering size bulb | Image credit: Professor Geoff Dixon.
Asexual propagation is a simple and enjoyable occupation. Divide a good-sized bulb into its scales. Choose healthy scales from the outer rings and place these in a plastic box containing damp kitchen paper and place in an airing cupboard. After about 10-12 weeks, small bulbils will have formed on each scale.
Select the boldest mother scales and bulbils and plant in a tray of seedling compost and grow in the greenhouse. After two or three months the most vigorous young plants can be potted individually. Eventually these are planted in the garden and will develop into flowering size bulbs after two or three years.
Written by Professor Geoff Dixon, author of Garden practices and their science, published by Routledge 2019.