How much soil cultivation do you need for your vegetables? Professor Geoff Dixon explains all.
Cultivating soil is as old as horticulture itself. Basically, three processes have evolved over time. Primary cultivation involves inversion which buries weeds, adds organic matter and breaks up the soil profile, encouraging aeration and avoiding waterlogging.
Secondary cultivation prepares a fine tilth as a bed for sowing small seeded crops such as carrots or beetroot. In the growing season, tertiary cultivation maintains weed control, preventing competition for resources (illustration no. 1) such as light, nutrients and water while discouraging pest and disease damage.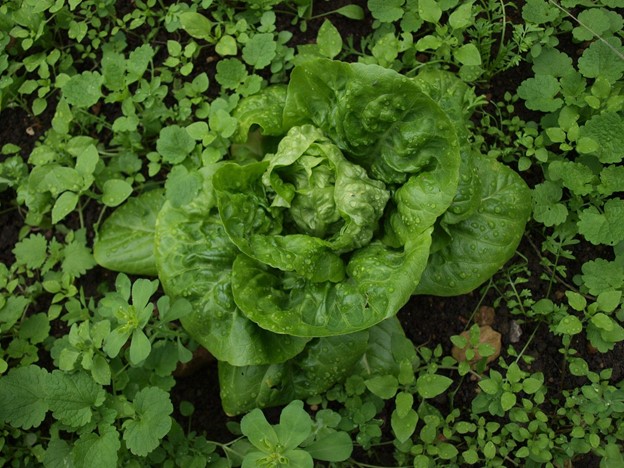 Lettuce and seed competition
The onset of rapid climate change encouraged by industrialisation has focused attention on preventing the release of carbon dioxide into the atmosphere. Ploughing disturbs the soil profile and accelerates the loss of carbon dioxide from soil.
It is also an energy intensive process. Consequently, many broad acre agricultural crops such as cereals, oilseed rape and sugar beet are now drilled directly without previous primary cultivation. An added advantage is that stubble from previous crops remains in situ over winter, offering food sources for birds. The disadvantages of direct drilling are: increased likelihood of soil waterlogging and reduced opportunities for building organic fertility by adding farmyard manure or well-made composts.
Overall, primary and secondary cultivation benefit vegetable growing. The areas of land involved are far smaller and the crops are grown very intensively. Vegetables require high fertility, weed-free soil, good drainage and minimal accumulation of soil-borne pests and diseases.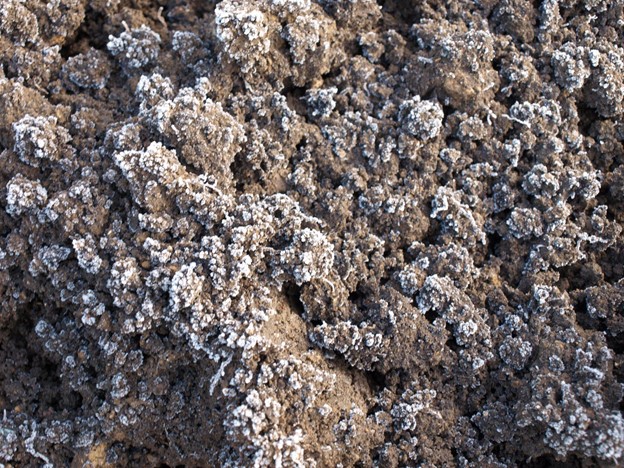 Frost action breaking down soil clods
Digging increases each of these benefits and provides healthy physical exercise and mental stimulation. Frost action on well-dug soil breaks down the clods (illustration no. 2). Ultimately, fine seed beds are produced by secondary cultivation (illustration no. 3), which encourage rapid germination and even growth of root and salad crops.
Tertiary cultivation to prevent weed competition is also of paramount importance for vegetable crops. Competition in their early growth stages weakens the quality of root and leafy vegetables, destroying much of their dietary value. Regular hoeing and hand removal of weeds are necessities in the vegetable garden.
Raking down soil producing a fine tilth
Ornamental and fruit gardens similarly benefit from tertiary cultivation. Weeds not only provide competition but are also unsightly, destroying the visual image and psychological satisfaction of these areas.
Lightly forking over these areas in spring and autumn encourages water percolation and root aeration. Once established, ornamental herbaceous perennials and soft and top fruit areas benefit greatly from the addition of organic top dressings. Over several seasons these will augment fertility and nutrient availability.
Written by Professor Geoff Dixon, author of Garden practices and their science, published by Routledge 2019.