CCU International will supply its carbon capture and refinement system to Flue2Chem – a project led by SCI and Unilever which aims to convert industrial waste gases to create more sustainable consumer products. We caught up with CCU International CEO, Beena Sharma, to talk about her career path, motivations and challenges.
---
Tell us about your career path to date
I joined the Oil & Gas industry after university and began my career as a behavioural safety specialist, specifically for the construction phase of oil and gas projects. Soon after I joined the industry, I was assigned to an LNG plant in Nigeria for training and experience and eventually ended up at a gas plant in Norway before I returned to the UK. With both a psychology and training background I found myself working within a health, safety and environmental remit for various industries including healthcare, construction, manufacturing, and even the tobacco industry.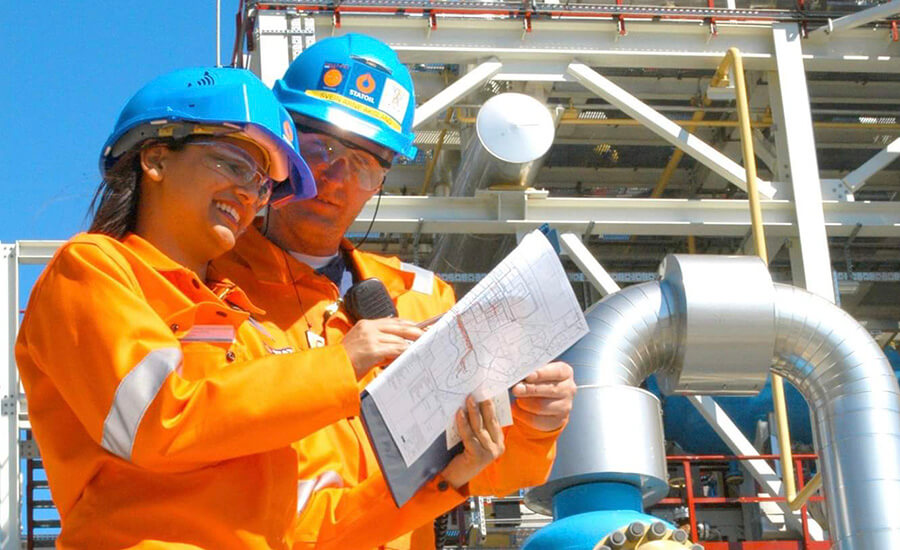 Beena and colleague at a gas plant in Norway, 2004. Image credit: Beena Sharma
---
What made you want to work in science and the environmental technology sector in particular?
When I moved to Scotland six years ago it gave me the opportunity to explore the 'E' in Health, Safety and Environment further, which was an area that I was always interested in but rarely got the attention it deserved in the industries I worked in. I volunteered on a Scottish climate change project, and this led me to think more deeply about the scientific and technological advances that were needed to achieve net zero by 2045 in Scotland. I knew this was a huge challenge with education, and changes in habit alone could not solve it.
I began to research solutions for hard-to-abate industries and areas that were a challenge to decarbonise, and set up my first business focused on a novel approach to insulating legacy buildings. I then worked on setting up a group of companies that included a solar PV installation company as well as a cleantech business that utilised an electrolysis technology to ozonate tap water for disinfection.
I was invited by my now business partner to help launch a biotechnical business that could create a circular food economy, taking food waste and creating microalgae for use in industries such as cosmetics, pharmaceuticals, and animal feed. This business incorporated 4 technologies, one of which was carbon capture. After some discussion with potential investors, it became clear that there was a huge interest and demand for carbon capture solutions. This led the team to decide to spin out CCU International as a separate entity and speed up the commercialisation of the technology which had been in development at the University of Sheffield under the lead of Peter Styring, Professor of Chemical Engineering and Chemistry.
---
Which aspects of your work motivate you the most?
The aspects of what I do that motivates me the most is the educational role that I play as the CEO of the business. I am regularly invited to speak on panels, podcasts, webinars and at conferences to share my knowledge with an industry that is transitioning and eager to learn, grow and incorporate new ways of thinking and doing things. It is extremely rewarding to see that people have come away from listening to me with a new perspective and being inspired to go away, take that learning, incorporate it in their ways of working and become innovators themselves.
According to the UN, carbon capture will be a key technology in achieving net zero. It is extremely rewarding to know that the CCU International technology will be a major contributor to this goal and that we can enable decarbonisation with the technology usage across multiple industries, both large and small, which otherwise would not have been possible.
---
What have been the biggest challenges for you as an entrepreneur?
As an entrepreneur my biggest challenge has been establishing myself in an industry and environment that is not well represented by women, and in particular women of colour. Often, it comes as a surprise to many that I would be heading up such a business and unfortunately many biases still exist within all genders and backgrounds. It makes it that extra bit harder and there can be a requirement to prove oneself as credible through knowledge or capability before the respect is given.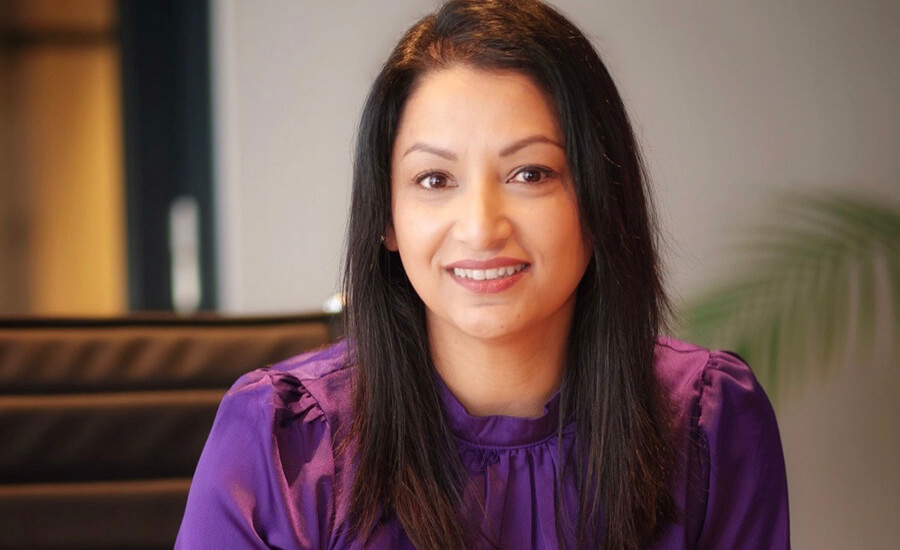 Image credit: Beena Sharma
The other big challenge has been around the education we provide for all our stakeholders. Innovation is not always welcome, especially in an industry or area where it may seem innovation is not needed. As the saying goes, 'if it's not broke, don't fix it', so stakeholders tend not to realise there is a problem until we educate them on the solution! And not many can accept there may be a better way of doing things than what they themselves have been doing for years!
---
What would be your top piece of advice for anyone thinking of starting up their own SME?
Starting up in business is a step that many think about doing but very few actually do. Most would be led to believe that you would need to work for months, maybe years on market research, business planning, strategy etc. before starting a business. My one piece of advice would be to start. Most of what you learn will come from doing. It is essential for entrepreneurs to fail, make the mistakes and learn what not to do next time so you have a better chance of success going forward. Many successful businesses emerge from failure.
---
What is it about the Flue2Chem project that is unique, what made you want to get involved, and what is the potential difference this project could make?
The Flue2Chem project is aimed at converting industrial waste gases into sustainable materials for use in consumer products. What is unique about the Flue2Chem project is that organisations that would normally be competitors have come together to find a solution for a problem that affects us all – as people, as businesses and as a planet. It is rare to see such cross-industry collaboration on this level and this allows both cross-learning and inspires others to come together, collaborate and innovate to solve problems that affect us all, much like the Flue2Chem project. It is a privilege to be part of the project by contributing our technology to the capture component.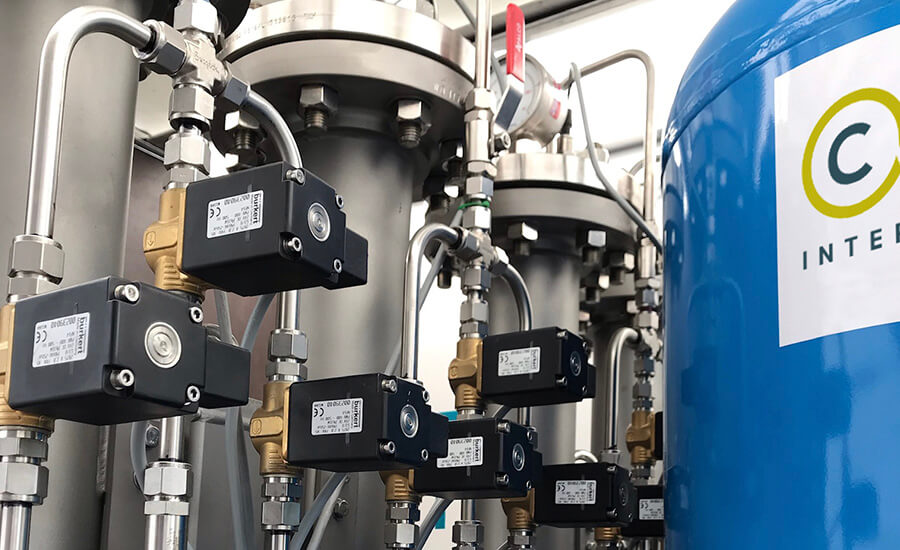 CCU International, carbon capture technology. Image credit: Beena Sharma
The project will play a key role in supporting the UK's 2050 net zero ambitions by providing a more sustainable feedstock for products such as household cleaning materials. The project could demonstrate how the UK could cut 15-20 million tonnes of carbon dioxide emission each year. The UK imports large quantities of carbon containing feedstocks that we use in the consumer goods industry. The project will demonstrate how we can secure an alternative domestic source of carbon for these goods and also demonstrate how industry can contribute towards achieving net zero.
---
Why do you think collaboration of this scale is so important?
Industry coming together to solve climate change issues is essential if we are ever to achieve net zero. Collaboration of this scale sends a strong message and emphasises that change in approach is needed and that innovation is key. This inspires others to do the same. Solutions are needed now and by bringing expertise and experience together we learn and adapt quicker. Solutions are needed now – not in years to come.
The impact this project will have has the potential to be huge, across multiple industries and certainly with how we look at not only capturing carbon emissions but also what we can do with the captured carbon dioxide, promoting a circular carbon economy where in time we learn to value carbon dioxide in a way that has never been done before.
Certainly, for the carbon capture storage community, this project will show that there is a use for captured carbon dioxide other than treating it as a waste and sequestering in underground oil reservoirs. Utilising captured carbon dioxide can create revenue streams for any business or process that emits carbon dioxide.
The collaboration demonstrates the commitment from industries to support decarbonisation, of those industries that are hard to abate whilst at the same time building a new UK value chain.