Creating a paper pulp bottle that holds different liquids was a challenge that led BASF to join forces with Pulpex. Using sustainable chemistry the partners came up with an award-winning formula.
---
Vikki Callaghan, Packaging Project Manager, BASF plc

Tony Heslop, Senior Sustainability Manager, BASF plc

Scott Winston, CEO Pulpex Ltd
---
Could you start by explaining how the collaboration and the idea for the product came about?
Vikki: We had an existing relationship with Diageo. BASF and The Innovation Team at Diageo had worked on other projects addressing packaging needs. When the team had this idea for an innovative packaging solution they came to us. The challenge put to us was 'Do you have the chemistry that will hold many different liquids in a paper pulp bottle?' I love a challenge and was excited to get talking.
Scott: Having worked with BASF before, they were our natural choice to explore this conundrum. Diageo had the idea and an early proof-of-concept of a paper bottle, but it wasn't utilising sustainable chemistry. The intellectual property was in place but the transformation of scientific proof-of-principle to scaled commercialised technology wasn't something that could be done alone. The partnership with BASF naturally continued into Pulpex as it formed and continued to grow, remarkably, throughout the Covid-19 lockdown. BASF's corporate purpose to create chemistry for a sustainable future was intrinsically aligned to meet our need to deliver a commercialisable product that could be produced at scale.
Tony: Following that first call in November 2019, we got together a couple of weeks later and enjoyed an intense deep dive workshop. This was going to take some time but if successful we knew this could be an impactful innovation. We set to work!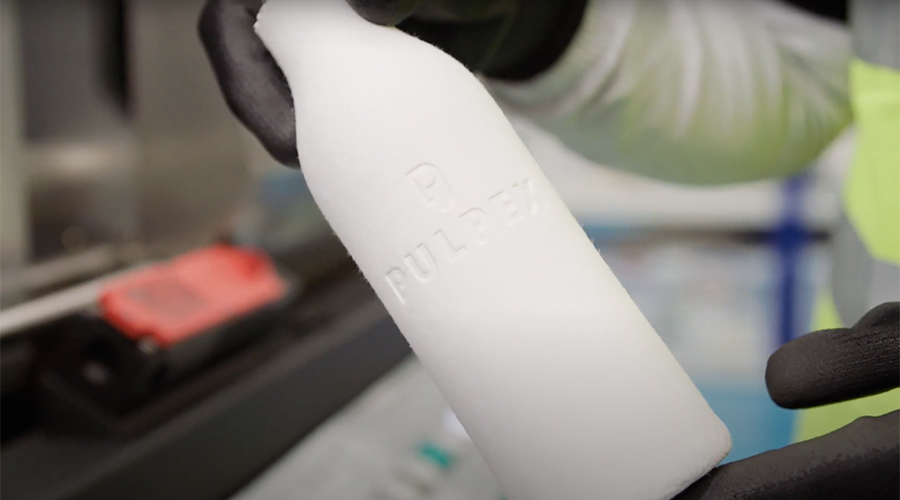 Testing out their bottle in the lab. Image courtesy of Pulpex Ltd.
---
What hurdles did you overcome in the development of the material?
Tony: The obvious hurdle was the pandemic. There were two years between our first and second face-to-face meeting. My initial thought was how do you drive an innovation process when you can't get together. Surely constructive and productive collaboration isn't possible? In fact, the inability to travel meant that we could talk more frequently despite our different geographical locations. Once we'd set up weekly online meetings, which evolved into smaller specialist break out groups, the process actually had many positives and the relationships, as well as the innovation, flourished.
Vikki: Of course, as with any innovation, we experienced technical challenges, too. There was no overall solution because we were looking at very diverse requirements and specifications. Different brand owners with different liquids meant there were many considerations and customised solutions required.
---
Sustainable packaging is a growing market with new products being launched. Can you explain where your product fits in and how is it different from similar materials?
Scott: Pulpex recognises the need to balance three critical aspects. Firstly, new packaging must continue to deliver established brand equity and meet consumer expectations on quality; secondly, any new packaging must technically deliver on performance through the supply chain starting with filling infrastructure compatibility and through distribution and critically, at end-of-life the packaging must be recyclable in existing infrastructure from collection to enable circularity, or where it does unfortunately escape to the environment, it must degrade and not leave an unintended legacy.
Vikki: The resulting fibre bottle is lightweight and offers brand owners a sustainable, environmentally-friendly alternative to plastic and glass bottles.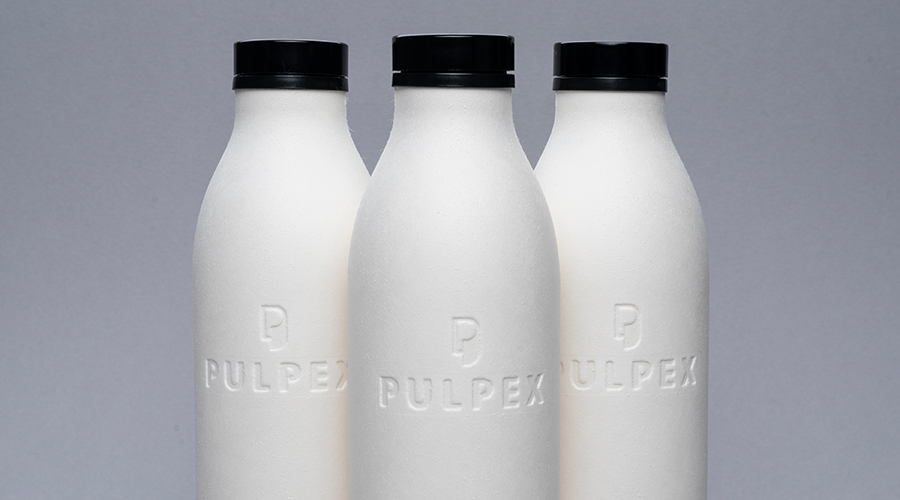 The final product. Image courtesy of Pulpex Ltd.
---
What are the main markets for the packaging? Are you able to comment on customers already using your product?
Tony: The innovation will be aimed at brand owners who want to have an alternative sustainable type of packaging, a product that is suitable for 'on the go' and that is easily recyclable through existing waste streams. The technology will hold a range of liquids from alcohol and detergent to shower gel, ketchup and engine oil.
Scott: Trials of the finished product have already started to take place with the most recent being at a corporate five-a-side football tournament at Wrexham AFC in May, where several hundred bottles were put to the test working with Severn Dee Water. Branded especially for the event and designed as a keepsake, the feedback from the public was resoundingly positive and it was great to see our bottles in action supporting those on the pitch.
---
What are the next steps for the BASF/Pulpex collaboration?
Scott: Having developed such a sustainable alternative packaging, our continuing sprint is scaling up! The technology has been developed and we are expecting to have bottles on shelves soon.
Vikki: We will have our ongoing quest of looking to hold a vast range of liquids and for different brand owners. We will have customised solutions, in different sizes, different shapes… the innovation and collaboration continues.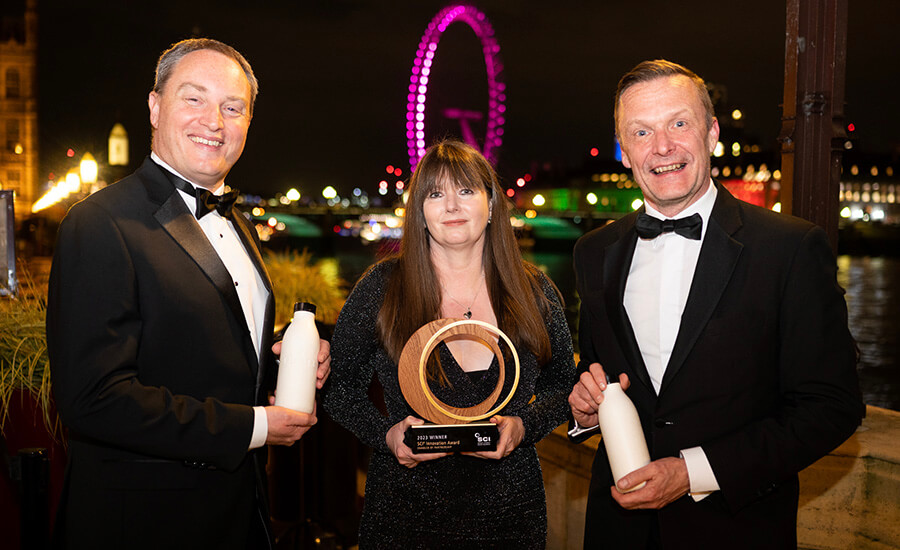 BASF and Pulpex won the SCI Innovation Enabled by Partnership Award 2023. Image credit: Andrew Lunn Photography
---
Links to previously published articles and videos (BASF/Pulpex/SCI)