Representatives from some of the world's most innovative and dynamic science businesses, as well as academics, entrepreneurs and politicians, convened at the Palace of Westminster in London on 10 May for the inaugural SCI Sustainability & Innovation Awards.
As well as celebrating the advancements in sustainability and chemistry, the event was an opportunity to highlight winners of some of SCI's most important awards, many of which have been presented over several decades to leading scientists and innovators.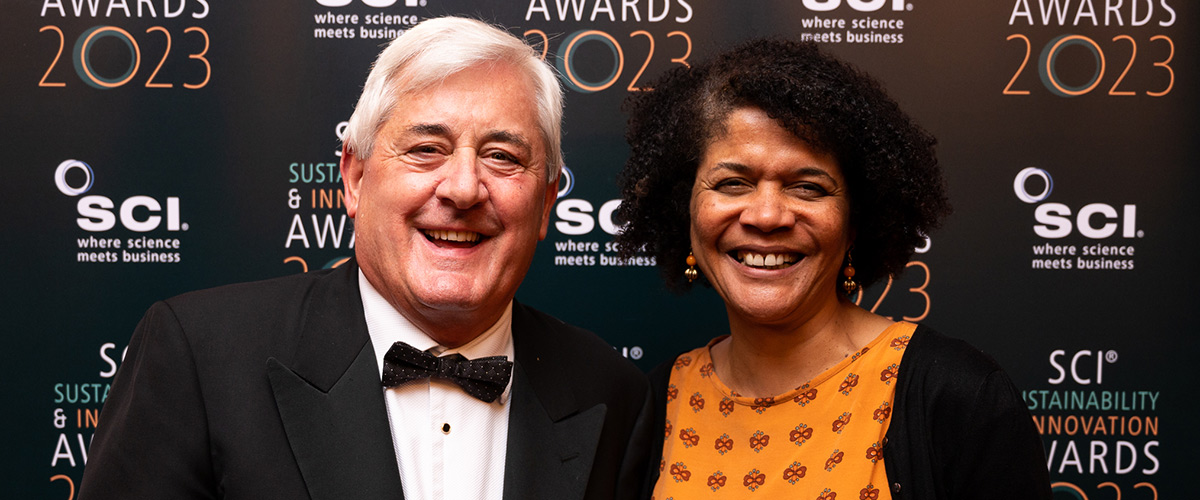 SCI President Paul Drechsler CBE and Chi Onwurah MP, Shadow Minister for Science, Research and Innovation.
'SCI's founders were the leading innovators and entrepreneurs of their day. They came together from diverse backgrounds to solve societal problems. What we see today builds on their achievements,' said Sharon Todd, SCI's CEO, as she welcomed guests to the event.
The science community was joined by policymakers and politicians, with MPs: the Rt Hon Greg Clark, Chair of the Science and Technology Committee; Stephen Metcalfe, Member of the Science and Technology Select Committee; and Chi Onwurah, Shadow Minister for Science, Research and Innovation attending.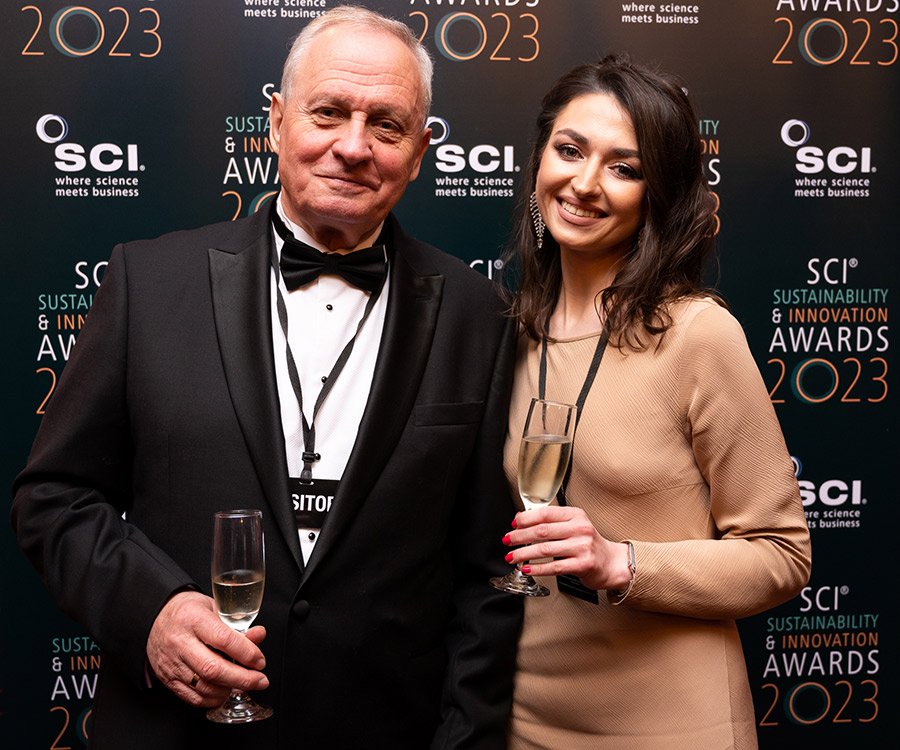 SCI was particularly honoured to have Oleksiy Golubov, President of the Ukrainian Chemists Union, and his translator Anastasiia Golubova, in attendance.
With UK policymakers and industrialists gathered, SCI's President Paul Drechsler CBE opened the event, calling on decision makers to recognise the important role that science, research and development, and industry played in making the UK a leading player in a competitive global economy.
'Our great scientists and innovators are leaders in their fields. For a nation the size of the UK, we have a huge presence in terms of the academic papers that sets the stage for innovation and technological leadership. But we need clarity on policy if we are to build on these developments and remain leaders,' Drechsler said.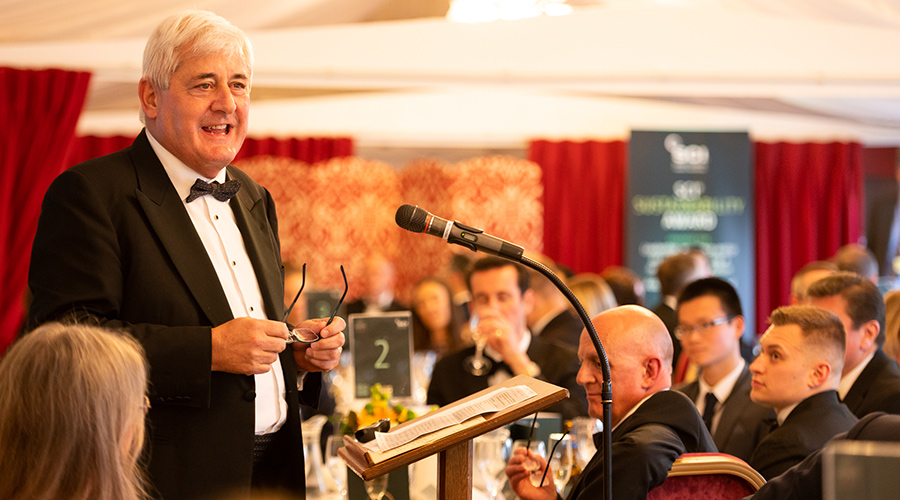 Paul Drechsler addresses the audience.
He also pressed home the positive impact that a well thought out industrial policy could have on the UK's economy. 'An industrial strategy, that has the incredible science that the UK produces at its centre, has the potential to provide £240 billion gross value added to the UK economy,' he said.
The economic growth that the UK could experience through a well thought out industrial strategy will be driven by sustainable and green technologies, a fact recognised by SCI's Sustainability and Innovation Awards.
---
The Sustainability Award
The SCI Sustainability Award was contested by five groups from six companies. The groups came from:
Dow, with the development of a process to recycle post consumer resins without compromised properties to enable re-use in packing.
Another Dow group designed and made the first fully recyclable materials for tyres, offering a lower carbon footprint in tyre production and improved riding experience.
Croda showcased its membrane plants, which reduce the energy requirements associated with removing water from aqueous products, thereby reducing the use of natural gas onsite in scope 3 emissions for shipping.
Johnson Matthey & Virent developed a process for turning carbohydrate-based feedstock into sustainable aviation fuel and bio plastics, while UCB shared its new synthetic routes to chiral medicines, resulting in improved efficiency and reduction in waste.
The SCI Sustainability Award went to Dow for its recyclable material for tyres, with Croda (2nd) and Johnson Matthey & Virent (3rd) receiving prizes too.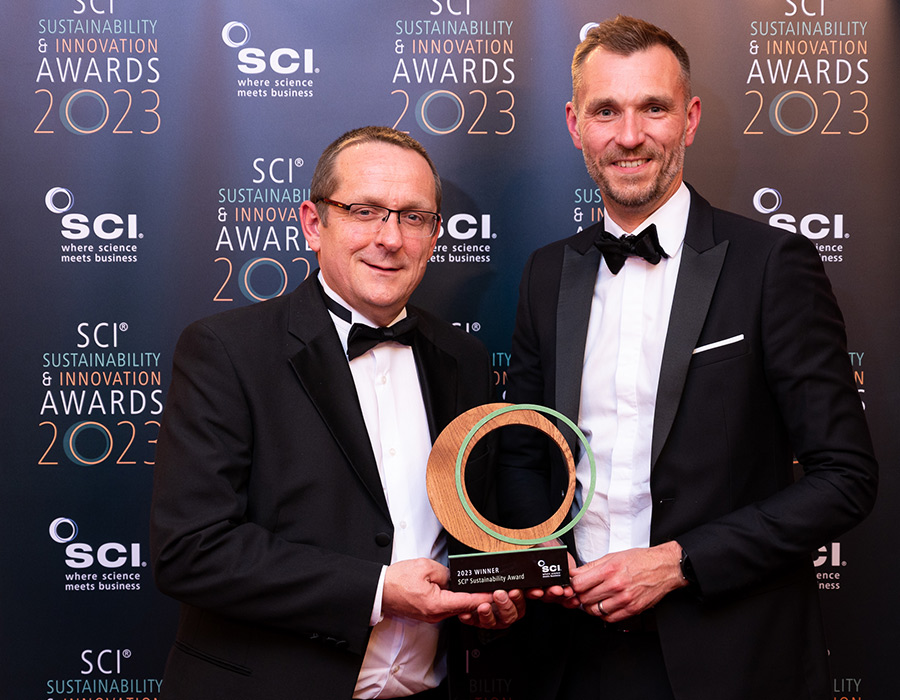 Dow walked away with the Sustainability Award for the company's recyclable tyre material, tailored for sustainable bike share schemes.
---
The Innovation Award Enabled by Partnership
Recognising that collaboration is key to innovation, the SCI Innovation Award Enabled by Partnership provided a platform for the 'who's who' in science and innovation to showcase combined outcomes areas from drug discovery to chemical catalysis.
Six groups were shortlisted: UCB whose collaborators included Drugs for Neglected Diseases initiative (DNDi), Enamine and University of Oxford shared its open data project to find a candidate drug molecule for medicine to treat covid-19.
A Johnson Matthey-led team, with collaborators including BMW, CNRS Montpellier and Technical University Berlin entered its automotive membrane electrode assemblies allowing hydrogen fuel cells to reach world-leading power densities without increasing the platinum loading.
GSK in partnership with the Francis Crick Institute showcased a new mode of industry-academia collaboration delivering technology to improve biomedical research productivity, while nurturing talent and forging greater connectivity across the UK science base.
Meanwhile, BP and Johnson Matthey provided a novel chemical catalysis and reaction engineering converting municipal waste into sustainable aviation fuel.
UCB, working with Medicines for Malaria Venture, are discovering and characterising orally available antimalarial Plasmepsin X inhibitors, which block the malarial parasites ability to infect animals.
Finally, collaboration between BASF and Pulpex provided a novel biodegradable paper packaging solution that could be used in various applications, including water bottles.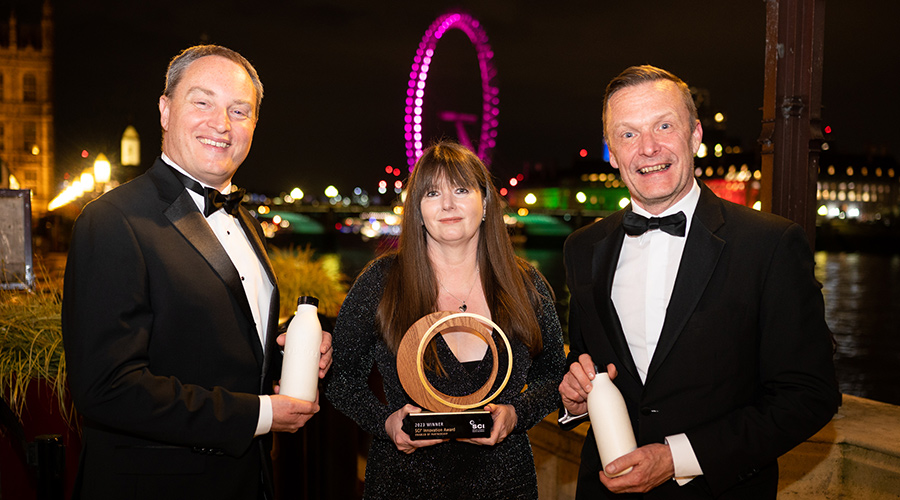 The winners of the Innovation Award Enabled by Partnership were BASF and Pulpex, with their 'impossible' paper bottle.
The winner of the SCI Innovation Award Enabled by Partnership was BASF and Pulpex. UCB, Enamine and University of Oxford, representing the Covid-19 Moonshot project, took second place; and Johnson Matthey and CNRS Montpellier, representing the GAIA hydrogen fuel cell project, came third.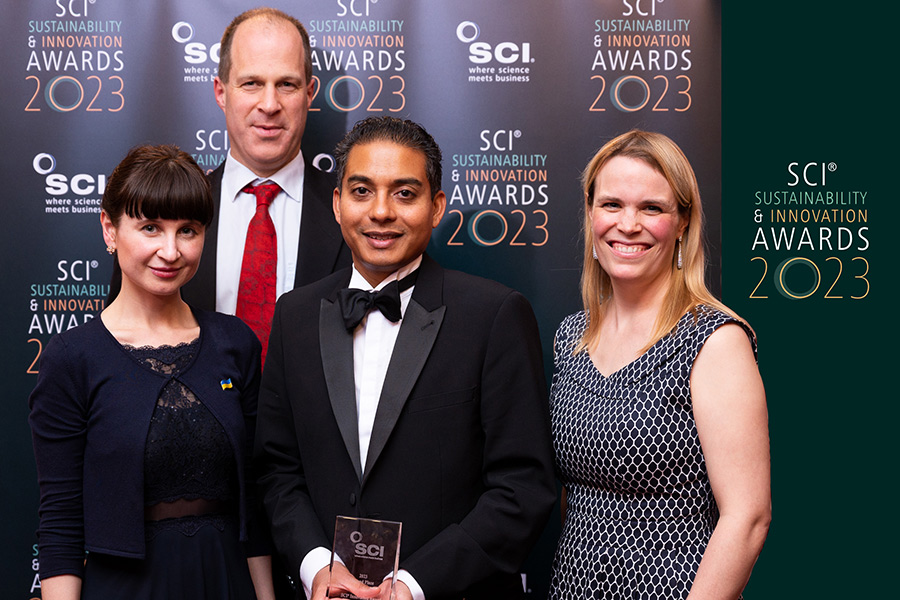 Representatives of the multi-partner Moonshot project, which came in second place.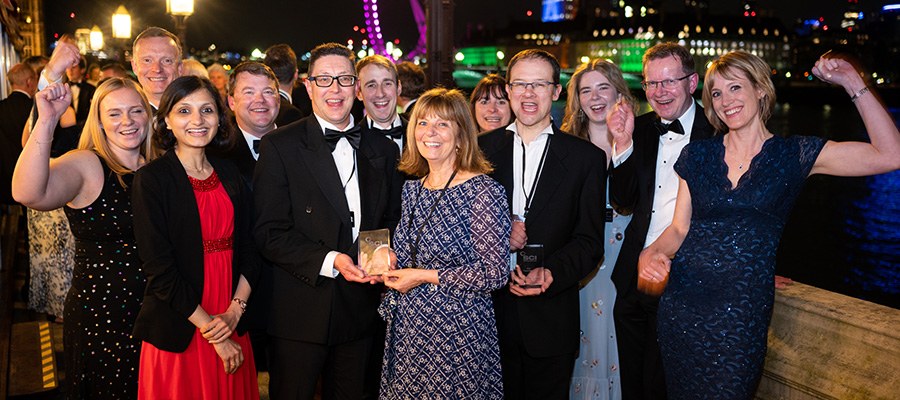 The GAIA project came in third.
---
Also recognised at the event were Sir Patrick Vallance, who was awarded the Lister Medal at the end of 2022; Team Phagel, winners of the BrightSCIdea Challenge 2023; Devon Crouch, from the University of Liverpool, awarded the Westminster Medal, which is selected from the Gold medal winners at the Parliamentary & Scientific Committee STEM for Britain 2023 event; Professor Tom Sheppard, from UCL, winner of the SCI Process Chemistry Award, and Elliot Davenport, University of Strathclyde, winner of SCI's Young Chemist in Industry Award.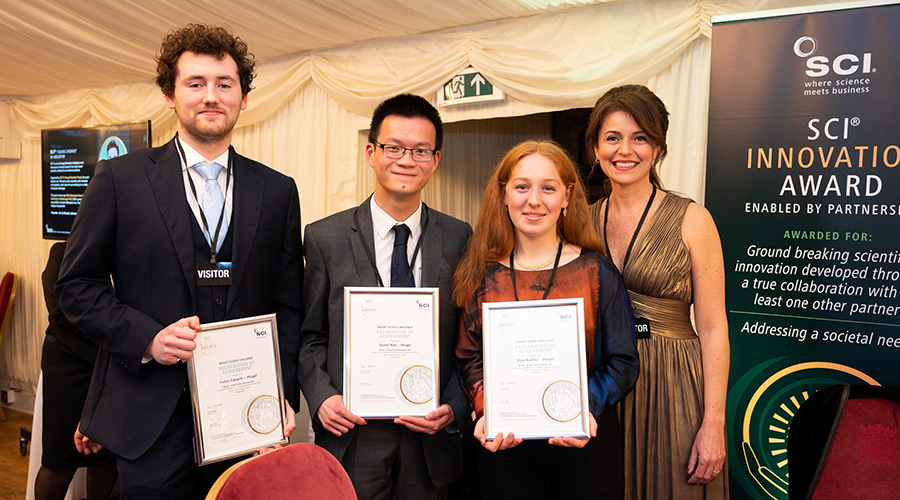 Team Phagel, the recent winners of the Bright SCIdea Challenge.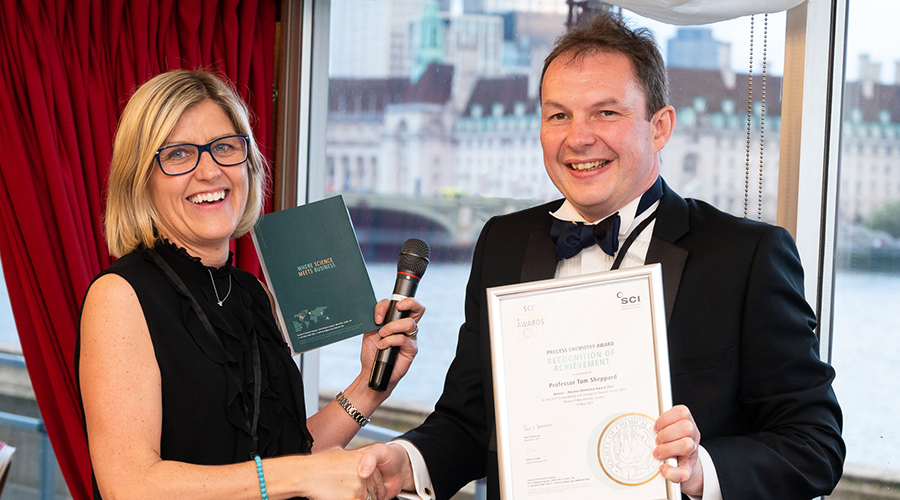 Professor Tom Sheppard, this year's recipient of the Process Chemistry Award.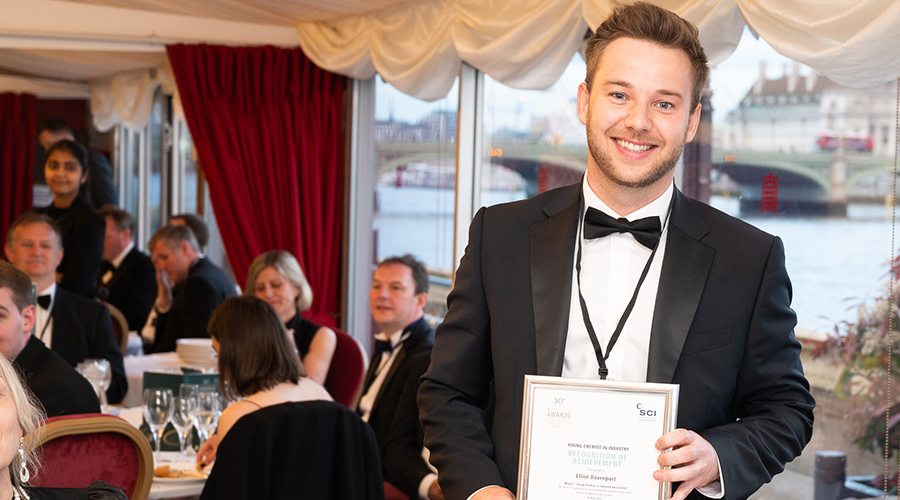 Elliot Davenport, recent recipient of the Young Chemist in Industry Award.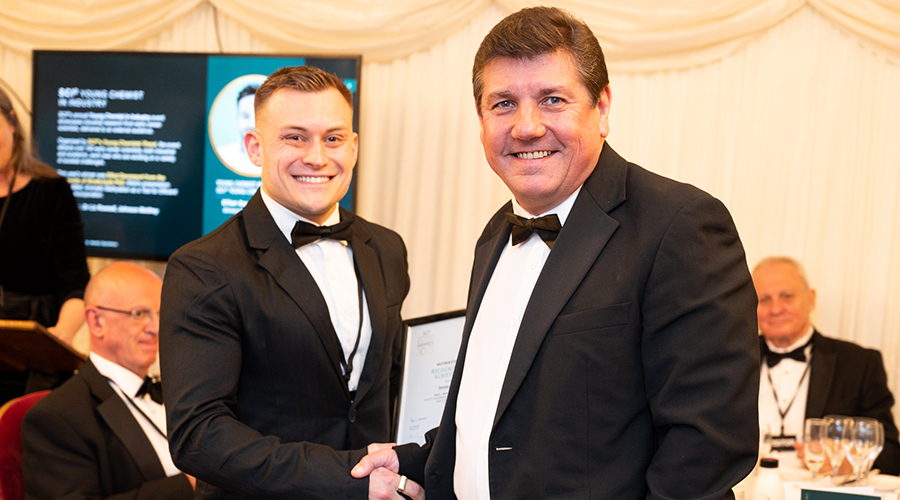 Devon Crouch, this year's Westminster Medallist, with Stephen Metcalfe MP.
SCI would like to thank Viscount Stansgate; the Organising Committee of the SCI Corporate Partner network, led by Dr Harry Kelly; and the Parliamentary and Scientific Committee, led by chair the Rt Hon Stephen Metcalfe MP and Leigh Jeffes.