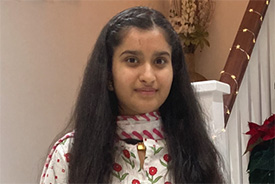 "SCI allows me a wider insight into the ever growing world of science."
What are your research interests?
Anatomy, Medicine.
Why SCI? How did you first get involved and why would you encourage your peers to join?
I first got to know about SCI from my father who worked on a project for SCI. He told me it's an organisation which published many scientific articles which I would very much enjoy reading. When I did some of my own research I learnt how SCI would allow me a wider insight into the ever growing world of science. I think my peers would say the same as we all enjoy reading and discussing scientific articles and papers both recent and old ones during seminars. We are all always looking for more interesting topics to talk about and I'm sure they would be delighted to join.
What do you hope to gain from your involvement with SCI?
I hope to gain a wider insight into the ever growing scientific industry. This opportunity would allow my knowledge and understanding in all aspects of science to be challenged and grow everyday. I wish to learn techniques and ideas about writing research papers myself in the future. Hopefully, further along the line I would like to mentor others who wish to do the same.
Aayushree Rawal
University of Bristol – Health Science – Applied Anatomy

External Links
Related Links