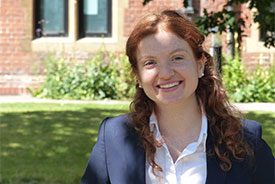 "They really invest in young scientists and provide many opportunities for their development"
What are your research interests?
Drug discovery, protein-protein interactions
How did you first get involved with SCI?
I presented my work as a poster at SCI's Protein-Protein Interactions 2016 meeting, which was specifically organised by the Fine Chemicals Group.
What do you hope to gain from your involvement with SCI?
I am keen to network with scientists so that we can share resources and exchange expertise.
Why would you encourage your peers to join SCI?
They really invest in young scientists and provide many opportunities for their development.
Sarah Madden
University of Cambridge - Department of Pharmacology

External Links
Related Links