Synopsis
The Annual Science Week Table Quiz, organised by SCI's All Ireland Group, returns for its 15th year.
Science, technology, engineering and maths all play a crucial role in all of our lives and are vital for Ireland's economic prosperity. Science Week is a great opportunity for us to celebrate our scientific achievements and find out more about the research and discovery taking place throughout the country. We encourage everyone to get involved, run their own event, volunteer at festivals or attend an event that will be happening countrywide.
What is Science Week Ireland?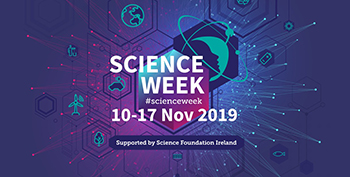 Science Week is an annual national celebration of the life-changing and fascinating worlds of science, technology, engineering and mathematics. The week-long festival highlights how science, technology and engineering are fundamental to everyday life, and demonstrate their importance to the future of our society and economy. The annual festival of events, activities, demonstrations, talks and interactive shows is thanks to the collaborative work of volunteers, teachers, researchers, companies and fans of the wonderful world of science. Communities all around Ireland - including schools, colleges, universities, research institutes, businesses and libraries, contribute to running 800 events annually.
Science Week 2019 will focus on climate action, seeking to help people understand climate change, how science and technology can help us create a positive climate future and the impact we as individuals can have on climate change.
Download the 2018 quiz questions (PDF, 704 KB)
Download the 2018 quiz answers (PDF, 134 KB)
Download the 2019 quiz questions (PDF, 1.46 MB)
Download the 2019 quiz answers (PDF, 852 KB)
---
Venue and Contact
---
Fees
Become an SCI Member and save on this and future events
See Membership Options
Sign up as an Event Member to join this event. SCI Full or Student Members receive discounts on event registrations
---
Booking Process
To enter their team in the competition, the lead booker will:
Register the team and pay the nominal fee
Send us an email with the contact details of the rest of the team at committeesupport@soci.org
Read our event booking terms and conditions
---
---