Synopsis
More than 20 years ago, in The Periodic Kingdom, Professor Peter Atkins wrote about the periodic table as an imaginary country, exploring its discovery, its mapping, its laws and administration. In this, the International Year of the Periodic Table, Professor Atkins invites a live audience with him on a journey back to that kingdom, looking closely at the mechanisms that lie beneath periodicity, before departing to new worlds where periodic tables are very, very different.
During his Public Evening Lecture, on Wednesday 23 October 2019, Professor Atkins will explore how the periodic table is the consequence of various types of symmetry, and invite the audience (with a lot of visual help) to think in four dimensions and see how its structure emerges; to understand, through symmetry, the origin of the force that holds atoms together.
What might the periodic table might look like in 'Lineland' or 'Flatland'? Or in a world without nuclei? Or with hundreds of new elements? Join Professor Atkins as reality comes up against relativity and electrons accelerate close to the speed of light. In short, see the table dissolve before your eyes.
---
Speakers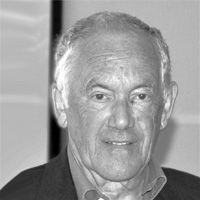 Prof Peter Atkins
University of Oxford
Professor Peter Atkins was educated at the University of Leicester, was a Harkness Fellow at UCLA, and became professor of physical chemistry at the University of Oxford and Fellow of Lincoln College in 1965, retiring in 2007. His initial research was in theoretical chemistry, but increasingly he turned to writing textbooks and books on science for the general public. They now number over 70; his Physical Chemistry is in its 11th Edition and is used throughout the world in a variety of languages. Professor Atkins continues to write and lecture widely and in 2016 received the Grady-Stack award from the American Chemical Society for the communication of chemistry to the public.
---
Programme
18.00

Registration and refreshments

18.30

Welcome and introduction

18.40

A Journey Through the Periodic Kingdom
Prof Peter Atkins, University of Oxford

19.25

Q&A

19.45

Networking reception

20.15

Close
---
Venue and Contact
---
Fees
This event is free to attend.
Become an SCI Member and save on this and future events
See Membership Options
Sign up as an Event Member to join this event. SCI Full or Student Members receive discounts on event registrations
---
Booking Process
Read our event booking terms and conditions
---