Your weekly digest of policy news, funding competitions, and calls for evidence.
What's been in the news?
COP26 programme announced
The United Nations Climate Change Conference (COP26) is taking place from Sunday 31 October to Friday 12 November. Hosted by the UK, in partnership with Italy, the event is being held at the Glasgow Science Centre. The conference is covened under the theme 'Uniting the World to Tackle Climate Change,' and provides a platform to discuss the actions required on a global scale to tackle the challenge. The programme for COP26 is now live on the COP26 website and gives an overview of all sessions available to the public in the Green Zone. The Green Zone will see over 100 exhibitors, 200 events and 11 sponsors taking over the space.
This year, SCI will be running a youth forum at COP26 on 4 November covering the following topics: fuels of the future, turning waste into gold and engineering nature. Read more about SCI's involvement and register on our event page to follow our socials for regular updates.

UK collaborators move next generation batteries to next level
Four organisations collaborating under the Cathode and Anode Supply Chain for Advanced DEmonstrator (Project CASCADE) have received a grant in the latest round of the Faraday Battery Challenge.
Johnson Matthey, Echion Technologies, Britishvolt and University College London (UCL) are collaborating to develop a 'next-generation, ultra-high power and fast-charging battery materials system for automotive applications. This latest development follows on from a project between Johnson Matthey and Echion which has established the 'commercial potential and roadmap' for the proposed technology system.
Dr James Cookson, Research Manager at Johnson Matthey commented: 'There is a growing demand for advanced cells with high power capabilities to support the transition to a net-zero future. To meet these ambitions, it is important we customise the materials inside the cell to work together optimally.'
For more information on this topic, please see the article on our news page.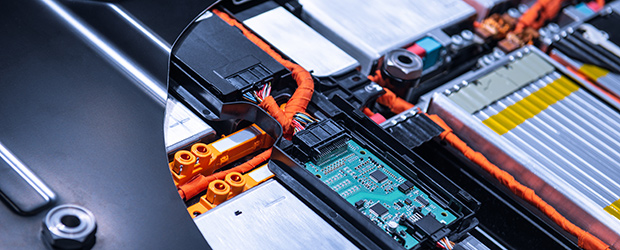 Funding for new ideas
The Department of Transport will be awarding 53 projects a share of £1.95 million for technology that creates greener and safer transport. Previous projects have included purifying systems to lower virus transmissions on transport and battery cooling system.
Transport Minister Trudy Harrison said: 'Backing innovation is a priority for us and I'm delighted to be supporting Britain's budding entrepreneurs, as they help us to ensure people can travel at ease and to solve the complex task of decarbonising our transport system.'
SCI is also supporting the next generation of entrepreneurs with the Bright SCIdea Challenge now in its 4th year. Budding student entrepreneurs have the chance to win £5,000 for a scientific business idea that they believe could benefit society. More information about applying can be found on our Bright SCIdea webpage.


UK trade negotiations
Submissions are welcomed on UK trade negotiations with the EU including views on the objectives of the Department for International Trade for Free Trade Agreement negotiations.
Deadline: 31 December 2021
Further information can be found here.

Horizon Europe
To find more on eligibility for Horizon Europe funding for your sector, you can view the national contact points here and European Funding and Tenders can be searched here.
Further information on the UK's association to Horizon Europe can be found here
Further information on the SME and start-up fund can be found here.
Future flight challenge phase 3: strand 2
UK businesses can apply for up to £65 million to develop integrated aviation systems and new vehicle technologies. Eligible projects must cost between £500,000 and £4 million.
Deadline: 3 November 2021
Healthy Ageing Challenge – Designed for Ageing
UK businesses can apply for a share of up to £14.4 million for service-led innovations to support healthy ageing. Project costs must be between £500,000 and £2 million and must last between 6 and 24 months.
Deadline: 17 November 2021
Biomedical Catalyst 2021 Round 2: Feasibility & Primer Awards
UK registered businesses can apply for a share of up to £12 million to develop innovative healthcare products, technologies and processes. Grants are available for project costs between £50,000 and £1 million and must last between 3 and 24 months.
Deadline: 1 December 2021
Farming Innovation Programme - small R&D partnership projects
UK registered businesses can apply for a share of £11million for Small R&D Partnership Projects as part of the Farming Innovation Programme. Projects must last up to 36 months and have total costs between £1 and million.
Deadline: 1 December 2021
Circular economy for SMEs – innovating with the NICER programme
UK registered businesses can apply for a share of up to £1million for circular economy approaches. Total project costs must be between $50,000 and £100,000 and last between 9 and 12 months.
Deadline: 8 December 2021
EUREKA GlobalStars Taiwan digital industrial collaborations
UK businesses can apply for funding through Innovate UK for collaborative R&D projects focused on industrial research. Grants are available for a total of up to £300,000 for each project which must last between 3 and 24 months and start by 1 August 2022.
Deadline: 15 December 2021
You can find further details of the funding calls on the Government website.