For over thirty years, SCI has supported and recognised the excellence of early career scientists, by aiding their studies in the form of an SCI Scholarship.
Since 1985 around 74 scholarships have been awarded which have not only given the recipients financial assistance, but have enabled them to broaden their network, and strengthen their skills and knowledge. SCI Scholars receive access to publishing and mentoring opportunities and are given a platform to present their work amongst esteemed scientists and industrialists, raising their profile within the scientific community.
In the past ten years alone, SCI has donated over £115,000 of its charitable funds to SCI Scholars and the scientists of the future.
We are delighted to announce that Joseph Anderson, from the GSK/University of Strathclyde Collaborative Industrial PhD programme, has been awarded an SCI Scholarship of £5,000 over two years to support his PhD project: Developing a versatile strategy for functionalisation of the bridge positions of bicyclo[1.1.1] pentane derivatives.
In addition to the scholarship, Joseph will benefit from publishing opportunities, access to a high-calibre network to help launch his career, and opportunities to present his work and raise his profile within the scientific community.
SCI Scholarships are prestigious and well respected by the industry. The SCI Scholars Fund was established in 1920 by the requests of Rudolph Messel and John Gray, both former presidents and founding members of SCI. SCI believes in nurturing the scientists of the future. Each year, SCI provides scholarships and bursaries to early career scientists including opportunities to attend or present at an international conference.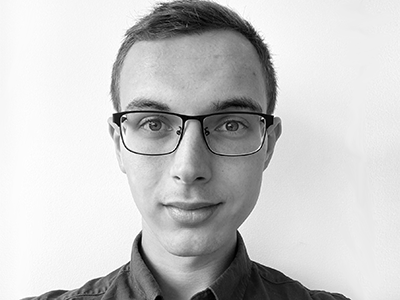 Here Joseph tells us about his work:
'I am originally from Anglesey, North Wales. I was fortunate to have very supportive school science teachers who encouraged me to pursue my enthusiasm for chemistry to the highest level. As an undergraduate, I was the recipient of two departmental Turbutt Prizes (2017 and 2018) and a GSK Prize (2019). In 2020, I graduated with a first-class degree and was awarded Hertford College Prizes for exceptional performance in my final examinations and MChem thesis.
'I then joined the GSK/University of Strathclyde Collaborative Industrial PhD programme, where I now greatly enjoy undertaking purposeful, applied chemical research within a progressive, world-leading healthcare company.
'I undertook my MChem degree at the University of Oxford, where my organic chemistry tutor, Dr Sarah Jenkinson, captivated my interest in organic synthesis. I completed two summer projects at Bangor University, working in the group of Dr Paddy Murphy on asymmetric organocatalysis (Tetrahedron 2021, 89, 132093). My final year MChem project was undertaken under the supervision of Professor Tim Donohoe, where I worked on sustainable cobalt-catalysed transformations of boronic acids. Aspects of this work were presented in the 2020 SCI National Undergraduate Online Poster Competition.
'I have a broad interest in synthetic organic chemistry and the application of enabling technologies and new synthetic methodologies within drug discovery. Specifically, my PhD project aims to develop a versatile strategy for functionalisation of the bridge positions of bicyclo[1.1.1]pentane derivatives (BCPs). BCPs are small, 3D cages of atoms with potential to improve the biological properties of molecules compared to flatter analogues. As such, they are of great interest in contemporary drug discovery and agroscience.
'Within GSK, increasing the diversity of new molecules we can access from a single BCP building block should reduce the time from molecule to medicine, allowing delivery of high-quality, novel therapies to patients more quickly. We have recently submitted a review article for publication which summarises the work in the field to date ("Bridge Functionalisation of Bicyclo[1.1.1]pentane Derivatives", Angewandte Chemie).
'I am very grateful and privileged to have been awarded an SCI scholarship. The funding and support provided will allow me to pursue a range of additional scientific development opportunities, as well as promoting my continued growth as a professional. The unique connections provided will be invaluable throughout my career, allowing me to connect more deeply to the wider scientific community than ever before.'
Joseph Anderson, GSK/University of Strathclyde - Collaborative Industrial PhD programme
Related Links: