'R&D investment is a critical way to turbo-charge Britain's growth.'
The UK Government is providing £95 million in funding to support research and innovation in the development of advanced materials at the Henry Royce Institute. Located at the University of Manchester, the Henry Royce Institute is the UK's national institute for advanced materials research and innovation. The latest round of funding follows an initial £258 million Government investment made over five years.
The new funding will allow the Institute to advance work supporting early stage research in areas such as biomaterials, smart materials and nano-engineered materials, which have applications across many sectors. Government-backed research from the Henry Royce Institute has included 3D bioprinting for healthcare uses, and transforming waste materials into sustainable plastics.
Visiting the Institute as the announcement of the funding was made, Grant Shapps, UK Government Secretary for Business, Energy and Industrial Strategy said: 'R&D investment is a critical way to turbo charge Britain's growth. Growing an economy fit for the future means harnessing the full potential of advanced materials, making science fiction a reality by supporting projects from regenerative medicine to robots developing new recycling capabilities, right across the country.'
Since it was set up in 2015, the Institute has worked with 295 UK SMEs and industry users. It has also facilitated 350 collaborations between academia and industry. Industry partners include Johnson Matthey, Siemens and Tata Steel.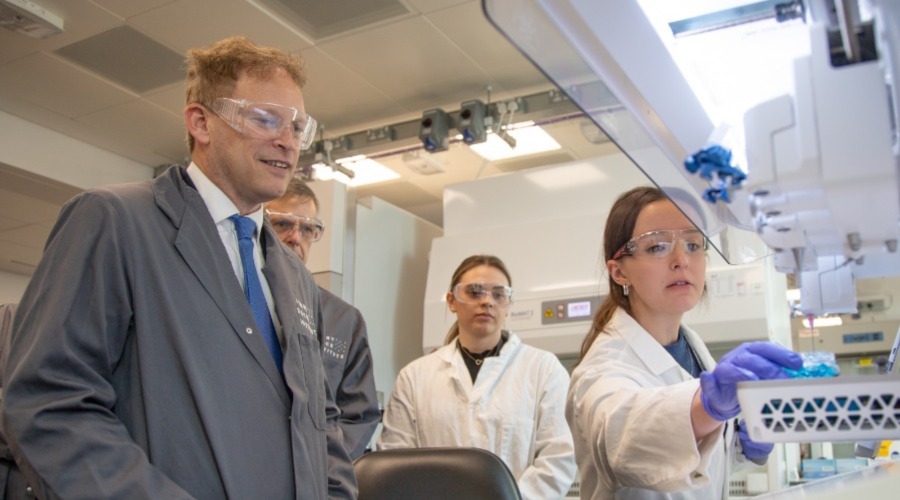 Grant Shapps at the Henry Royce Institute; Image credit: The University of Manchester
Welcoming the news, Stephen Phipson CBE, Chief Executive of MakeUK, formerly the Engineering Employers' Federation, said: 'If we are to maintain the UK's position as a leader in research and development, together with advanced manufacturing and materials, then facilities like this should be at the forefront of industrial strategy.'
Advanced materials and manufacturing was identified in the Government's Innovation Strategy as one of the eight technology families in which the UK has globally competitive R&D and industrial strength. Other technologies include: energy and environment, engineering biology, and bioinformatics and genomics.