For over thirty years, SCI has supported and recognised the excellence of early career scientists, by aiding their studies in the form of an SCI Scholarship.
Since 1985 around 80 scholarships have been awarded which have not only given the recipients financial assistance, but have enabled them to broaden their network, and strengthen their skills and knowledge. SCI Scholars receive access to publishing and mentoring opportunities and are given a platform to present their work amongst esteemed scientists and industrialists, raising their profile within the scientific community.
We are delighted to announce that Caitlin Fawcett, from the GSK/University of Strathclyde Collaborative Industrial PhD programme, has been awarded an SCI Scholarship of £5,000 over two years to support her PhD project.
In addition to the scholarship, Caitlin will benefit from publishing opportunities, access to a high-calibre network to help launch her career, and opportunities to present her work and raise her profile within the scientific community.
SCI Scholarships are prestigious and well respected by the industry. The SCI Scholars Fund was established in 1920 by the requests of Rudolph Messel and John Gray, both former presidents and founding members of SCI. SCI believes in nurturing the scientists of the future. Each year, SCI provides scholarships and bursaries to early career scientists including opportunities to attend or present at an international conference.
Here Caitlin tells us about her work: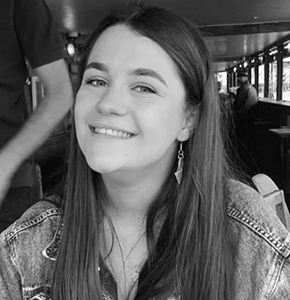 'I started my Chemistry career at Newcastle University, where I gained a First Class degree in Chemistry with Honours in Medicinal Chemistry, and was awarded the Roger Griffin prize for the top Medicinal Chemistry student. During this time, I undertook a year in industry within the Medicinal Chemistry department at GlaxoSmithKline, working on the synthesis of PROTACs as potential drug candidates to target conventionally 'undruggable' proteins. Following this, I returned to Newcastle to complete my masters research project, which involved the study of fluorinated Chemically Engineered Extracts. These novel fluorinated natural product mixtures were produced to expand the chemical space currently covered by small molecules within libraries intended for high throughput screening in the early stages of drug discovery.
'My PhD programme builds on prior experience in the area of drug discovery, and is part of a collaborative programme with GlaxoSmithKline and the University of Strathclyde, working jointly between the Medicinal Chemistry and Biopharm Discovery departments. My project involves the application of chemical approaches to the production of bispecific antibodies; a drug class which can simultaneously bind two antigens with high specificity, resulting in a range of novel mechanisms of action compared with more traditional monoclonal antibodies. The overarching aim of my project is to enable a high-throughput method which facilitates the rapid synthesis of bispecific antibodies in high yields and purities, which can be used as tool compounds in the development of novel drug candidates.
'Ultimately, I hope that the results of my project can be used by both academia and industry alike, in order to aid in research and development of the field of bispecific antibodies, resulting in the accelerated production in new medicines for patients.
'I am immensely grateful and honoured to be awarded with this SCI scholarship, in which the funding and support provided will allow me to access training beyond the scope of my PhD, accelerating my development as an emerging professional scientist, and increasing my exposure to alternative areas of science. I look forward to attending SCI events, to expand my growing network and connect me further with the scientific community. This will also provide me with invaluable knowledge and skills which I can transfer to my PhD, increasing the quality of research I can carry out.'
Caitlin Fawclett, GSK/University of Strathclyde - Collaborative Industrial PhD programme
Related Links: