For over thirty years, SCI has supported and recognised the excellence of early career scientists, by aiding their studies in the form of an SCI Scholarship.
Since 1985 over 80 scholarships have been awarded which have not only given the recipients financial assistance, but have enabled them to broaden their network, and strengthen their skills and knowledge. SCI Scholars receive access to publishing and mentoring opportunities and are given a platform to present their work amongst esteemed scientists and industrialists, raising their profile within the scientific community.
Caity was awarded an SCI Scholarship in 2022. At the end of their first year, SCI Scholars present an end of year report to SCI. Read on to find out more about what she has done in her first year as an SCI Scholar.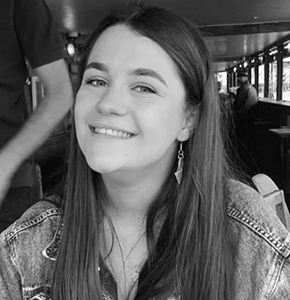 'I am immensely grateful to the SCI for awarding me with the prestigious SCI scholarship last year. It has provided me with both the funding and opportunities to thrive during my PhD.
My PhD research harnesses the rapid reaction kinetics and bio-orthogonal nature of conjugation and click chemistry, in order to bring together sterically encumbered proteins in a high yielding manner. This can allow the connection of two different antibody fragments to produce bispecific antibodies in a high throughput manner, allowing the production of large 'tool-kit' panels for explorational research into this rapidly expanding drug class. I am currently on secondment at the University of Strathclyde, and I also have a review manuscript in preparation related to bispecific antibodies, in collaboration with GSK and the University of Strathclyde.
The SCI scholarship has provided me ample opportunity to be actively involved with the society, for example attendance at in-person events such as college of scholars days, AGMs and evening receptions. These events have allowed me to expand my network, not only with the opportunity to meet with many new people, but creating real connections with people, in a great range of roles across the chemical industry. Discussions of my research at events such as these has provided me with advice and guidance which has allowed me to propel my project, and gain high quality results.
I have also taken part in the annual retrosynthesis competition, and attended the competition final held at the SCI headquarters in London. This exposed me to cutting-edge science, increasing my knowledge-base in an exciting and fast paced format. My involvement with the SCI has additionally provided me with the opportunity to interact with the C&I magazine, in which I carry out the structural editing of the organic chemistry highlights within each issue.
The funding I have received from the SCI scholarship has enabled my first external conference attendance, at the RSC Chemical Biology and Bio-organic Group Symposium, in which I took the opportunity to present my research for the first time. My poster was titled 'High Throughput Production of Chemically Linked Bispecific Antibody Fragments' and I was delighted to receive a great amount of interest and questions about my research. The funding has also given me opportunity to invest in my own personal development, expanding the skills and knowledge required for me to blossom as a researcher, and pursue my future career goals.
During the second half of my SCI scholarship I plan to continue to with my involvement with the C&I magazine, alongside attending SCI events to further develop my network. I look forward to the opportunity to share my research during an oral presentation at the AGM next year, and hope I receive interesting questions to discuss new and innovative ideas for my research. I also hope to attend my first international conference next year to discuss my research with like-minded scientists, and interact with cutting-edge science within my area of research. I plan to use my SCI scholarship funding to assist with the associated travel and registration fees.
I would like to once again express my gratitude to the SCI for providing me with these fantastic opportunities and their continued guidance and support, and look forward to my second year as an SCI scholar.'
Caitlin Fawclett, GSK/University of Strathclyde - Collaborative Industrial PhD programme
Related Links: