SCI recently became the UK Branch Office of the European Federation of Biotechnology (EFB). The EFB is the non-profit association of learned societies, universities, institutes, companies and individuals that promote Biotechnology throughout Europe and beyond, enabling biotechnology to serve its rightful role in society. EFB has an official journal, New Biotechnology, a central office in Barcelona, and scientific sections that host a wide range of conferences and meetings.
SCI was a founding member of the EFB, but the relationship dwindled. We are now rebuilding the collaboration for the benefit of our respective members through enhanced information sharing and networking. This new role supports SCI's interaction with a range of biotech related societies in the UK. An immediate benefit to SCI members is eligibility for free personal membership of the EFB.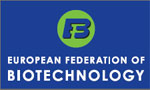 SCI will promote EFB activities to our members, support public engagement and communication re biotech and be involved in organising conferences, through our biotech and related groups. EFB will promote relevant SCI activities via its newsletter which reaches over 12,000 readers.
The EFB Microbial Physiology Section has established a Synthetic Biology group with SCI support: information about this will be circulated to members of the SCI Biotechnology group.
For more information contact: secretariat@soci.org.
Related Links