26 Jun 2018
For over thirty years, SCI has supported and recognised the excellence of early career people, by aiding their studies in the form of an SCI Scholarship.
Since 1985 around 74 scholarships have been awarded which have not only given the recipients financial assistance, but have enabled them to broaden their network, and strengthen their skills and knowledge. SCI Scholars receive access to publishing and mentoring opportunities and are given a platform to present their work amongst esteemed scientists and industrialists, thus raising their profile within the scientific community.
In the past ten years alone, SCI has generously bequeathed over £115,000 of its charitable funds to SCI Scholars and the scientists of the future.
Emma Grant was awarded an SCI Scholarship in 2018. Here, she tells us about herself and her research project.
My education at Culloden Academy instilled a passion in me for chemistry and human biology. I was awarded the Dux medal for outstanding academic achievement and offered a placement at Lifescan, Johnson and Johnson which introduced me to the pharmaceutical industry, and inspired me to pursue a career in science.
When commencing my degree at the University of Glasgow in 2012 I was torn between studying chemistry and biochemistry. I had strong interest in genetics and molecular biology, and was invited into the Head of College Scholar's List Scheme for students of outstanding academic ability. I was awarded a scholarship for a summer research project and I joined Dr Adam West's group, studying CRISPR-Cas9 technology, a revolutionary technology which enables the highly selective and efficient modification of DNA.
However, I had always been drawn to organic chemistry and decided to pursue a Masters' degree in Chemistry with Medicinal Chemistry. My passion for synthesis and the drug discovery process lead to me being awarded one of three industrial placements (2015/16) at one of the world leading pharmaceutical companies, AstraZeneca. In 2017 I graduated with a First Class MSci achieving the highest attainable mark for my research project studying imaging agents for multiple sclerosis. I was awarded first place prize for my oral presentation at the SCI National Undergraduate Research Symposium, titled - New Selective PET Imaging Agents for the Sphingosine-1-Phosphate Receptors: Novel biomarkers for Multiple Sclerosis Drug Discovery.
Upon completing my degree I wanted to pursue a PhD which sits at the interface of two disciplines, synthetic organic chemistry and molecular biology, and the collaborative PhD programme between the University of Strathclyde and GlaxoSmithKline provided me with this opportunity. My project falls within the realm of chemical biology, a rapidly evolving discipline which has the potential to revolutionise our vision of molecular pathways and the complex mechanisms of life.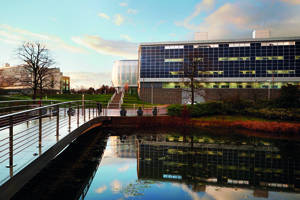 Emma is an industrial PhD student at GSK, Stevenage →

My research on the design and synthesis of photoactivatable probes to study protein-ligand interactions, aims to develop a new platform of drug discovery. I am designing a photoactivatable fragment library which has the potential to mitigate the limitations of traditional drug discovery, primarily by covering a wider chemical space with compounds of higher ligand efficiency.
This platform could provide an alternative technique to traditional screening, by broadening the chemical space available to discover novel binding ligands, and so leading to higher quality medicines.
Emma Grant
PhD Student
University of Strathclyde
The 2018 cohort of SCI Scholars will be recognised at our AGM on Wednesday 4 July 2018. Click here to find out more and register your attendance!
Related Links