On Tuesday 5 February 2019, delegates from across the chemical industry gathered at SCI HQ in London to launch the new SCI Mid-Career Group. The day was filled with interesting talks and lively discussion about what can be done for mid-career professionals.
Cassie Sims
Our Mid-Career Committee; Robin Harrison, Gemma White, Mihiro Sunose and Lee Dingwall. All Images: Andrew Lunn/SCI
The mid-careers event – Leaders of the future: Innovation for mid-career professionals – was an informative day filled with talks from leaders across the industry. Delegates were treated to inspiring career advice, opinions from senior industry professionals and encouragement of the support that companies and SCI will provide.
SCI's Executive Director Sharon Todd began the day by introducing SCI and speaking about the UK chemical industry in a changing global landscape. Her presentation covered the global megatrends – population growth, environment and resources, consumer need and societal dislocation – emphasising that these all present opportunity for disruptive innovation in the chemical industry. She also presented figures demonstrating that a generation of leaders will retire in the next 10 years, opening the floor to the first lively discussion of the day.
Robin Harrison, Global Innovation Director at Synthomer, spoke next about his own career, and the skills and qualities that mid-career professionals should focus on for their career progression in the chemical industry. He spoke of the importance of seeing a career full of risk as a career full of opportunity and challenge. The careers advice presented was informative and broad, with the main focus being on adaptability, continued learning and networking.
Ian Honeywell, Talent and Development Manager at Johnson Matthey, offered a HR perspective. The importance of support from managers and leaders, along with fostering ambition and developing learning agility, were emphasised.
Simon Hirst, CEO of Sygnature Discovery, gave a talk that supported the comments of the previous speakers, adding in suggestions that mid-career professionals should engage with the wider businesses that they are involved in, support innovation, and find a mentor.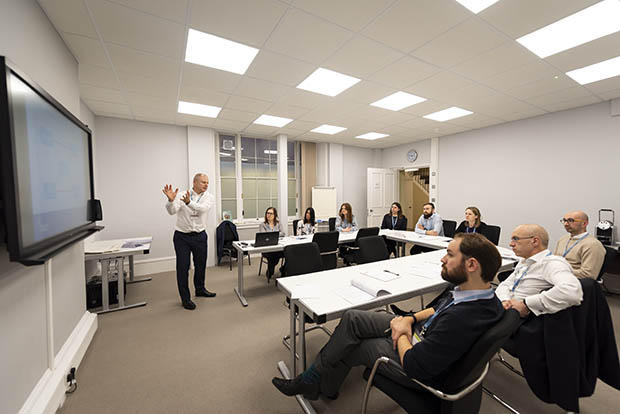 One of the event's afternoon workshops.
The afternoon comprised of breakout workshops, which were led by Synthomer, Johnson Matthey and Croda. Each covered a different key issue relating to mid-career professionals – career management, networking and stepping out of your comfort zone. The feedback reiterated the importance of the information delivered in the earlier sessions. A huge emphasis was put on networking, such as different networking strategies and event structures.
Speaking of the day, Gemma White, HR Talent Programme Lead at GSK and Chair of the SCI Mid-Career Group and said:'It was really great to see that the event had broad engagement from mid-career professionals, as well as HR and senior leaders, who play an important role in supporting mid-career development.
'For identification of new leaders to drive future innovation in the chemical industry, it is important that we invest time and energy in supporting this next generation. It was very clear from the event that everyone is in agreement that there is a real need for this and the SCI Mid-Careers Group are passionate about filling this current gap.'
Overall, the day highlighted some of the key areas that mid-career professionals need to develop and be supported in and launched the new SCI Mid-Career Group.
If you wish to join the Mid-Careers Group, email committeesupport@soci.org for more information.