18 Oct 2017
The academic community are producing research papers at an exponential rate, so much so that good research and innovation can easily become lost in the sheer volume of information produced. How scientists and industry can shift through the noise was the basis for SCI's Fine Chemicals group 'What can big data do for chemistry?' event, held on 11 October 2017.
Delegates heard from experts on the importance of computational research in drug discovery and development, as well as the chemical sciences. Highlights included talks from Prof Gisbert Schneider, ETH Zurich, on his work into big 'dada' in medicinal chemistry and the need for a balance between 'the mind and the machine', as well as an update from Dr Aileen Day on the data science project at the Royal Society of Chemistry, which is working towards building a database of their work that can help disseminate knowledge to researchers.
The machine
Artificial intelligence (AI) was a common theme at the event, with many of the speakers from biotechnology companies. This included Dr David Sheppard from BenevolentAI, an AI company focused on the health sciences and drug development.
With the volume of research and breakthroughs in technology that we have collected to date, it is surprising that the biomedical discovery process has remained the same for over 50 years, Sheppard said. Scientists are therefore looking for new, creative ideas to find pharmaceuticals by forming multi-disciplinary teams, such as the group at BenevolentAI.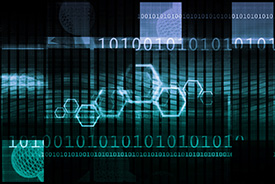 While an impressive display of how far technology and AI has developed in recent years, can this system provide a viable and dependable alternative to current methods? Success in repurposing current clinical agents for motor neurone disease (MND) show this could be the case.
Working with the Sheffield Institute for Translational Neuroscience, BenevolentAI's technology has been able to identify a drug candidate that shows positive results in preventing the death of motor neurones, which would slow the progression of MND. Sheppard noted that, during the first phase of drug discovery, the company's AI system were able to identify the top 100 targets for further investigation in just 20 minutes.
Implementing this technology into pharmaceutical methods could significantly reduce the amount of time to get a drug to market from the initial discovery phase, which currently takes 12 years, and provide the industry with a novel and arguably necessary rejuvenation of the drug development process.
By Georgina Hines