This year's Westminster Medal winner was Sophie Morse, a final year PhD Student at Imperial College London's Department of Bioengineering, for her poster, Getting drugs to the brain using ultrasound and microbubbles.
Georgina Hines
Nick Bourne, Inna Baigozina-Goreli, Sophie Morse, Sue Wharton and Stephen Benn. Image: SCI
Sophie was presented with the Westminster Medal, which is given to the young scientist who best communicates her research to a set of experienced judges, by SCI Trustee Inna Baigozina-Goreli and Nick Bourne, who is a member of SCI's London group on 13 March 2019.
The Westminster Medal is awarded at the annual STEM for Britain event, where the best and brightest young scientists are invited to Parliament to showcase their research to MPs and other policymakers. The event is hosted by the Parliamentary & Scientific Committee, which is Chaired by Stephen Metcalfe MP.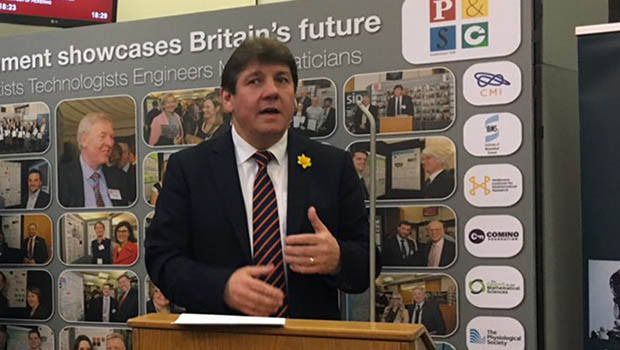 Stephen Metcalfe MP speaking at the event. Image: SCI
Posters were presented in five categories: engineering, biological and biomedical sciences, mathematical sciences, chemistry, and physics. The winner from each category were then interviewed and judged on their ability to communicate their science to a lay audience.
The winner of this round then received the Westminster Medal, which is sponsored each year by SCI in honour of Dr Eric Wharton, who founded SET for Britain (as it was formerly known) and was a long-time SCI member instrumental to the ongoing success of our London group.
The results in each category were:
Engineering

Gold – Sophie Morse, Imperial College London – Getting drugs to the brain using ultrasound and microbubbles
Silver – Lachlan Jardine, University of Cambridge – The effect of cooling on turbine performance
Bronze – Kari Clark, UCL – Sub-nanosecond clock and data recovery in an optically switched data centre network

Sophie, Lachlan and Kair. Image: STEM for Britain

Biological & Biomedical Sciences

Gold – Rebecca Sheperd, Lancaster University – Exploring adipocytes to improve bone health
Silver – Max Grogan, King's College London – Microbial and metabolomic responses to serotonin in the murine gut
Bronze – Sophie Harrington, John Innes Centre – Understanding the molecular regulation of senescence in wheat

Sophie, Rebecca and Max. Image: STEM for Britain

Mathematical Sciences

Gold – Kristian Kiradjiev, University of Oxford – Modelling removal of toxic chemicals from flue gas
Silver – Marina Jimenez-Munoz, University of Kent – How do bird population vary across Britain? Spatially-explicit integrated population models
Bronze – Francesca Romana Crucinio, University of Warwick – Sequential Monte Carlo for fredholm equations of the first kind

Francesca, Kristian and Marina. Image: STEM for Britain

Chemistry

Gold – David Fallon, GSK – The design and synthesis of bromodomain photoaffinity probes
Silver – Felicity Noakes, University of Sheffield – Investigating the cytotoxicity of water-soluble organic intercalating ligands as potential cancer theranostics
Bronze – Isabel Wilkinson, University of Oxford – Target identification studies of a utrophin modulator for treatment of Duchenne Muscular Dystrophy

Felicity, Isabel and David. Image: STEM for Britain

Physics

Gold – Katie Ley, University of Surrey – Radiation dosimetry has never looked so stylish: glass jewellery beads as thermo-luminescent dosimeters
Silver – Lorenzo Zanisi, University of Southampton – Galaxies, dark matter and blood pressure
Bronze – Amalia Thomas, University of Cambridge – Force networks in photoelastic avalanches

Amalia, Katie and Lorenzo. Image: STEM for Britain
Congratulations to all of the winners from this year's STEM for Britain! We look forward to seeing more young talent in 2020.
Related links: