10 Aug 2012
On 12 July 2012, the All Ireland Group organised its second 'Green Chemistry in Ireland' event at Dublin City University. Subtitled 'Sustainable Catalysis and Emerging Environmental Technologies,' the day brought together a number of academic speakers, interested parties and postgraduate students, working with green chemistry-related projects, and created a forum by which students and academic speakers could exchange ideas and perspectives on aspects of their work.
Postgraduate education, including an opportunity to improve communication skills and listen to Prof Sir Harold Kroto's research and view on science education, was the main goal of the day. Dr Nick Gathergood, Chair of the Organising Committee, opened proceedings, and welcomed delegates from across Europe.
We were delighted to be able to present Prof Sir Harry Kroto and his talk 'Carbon in Nano and Outer Space' during the course of the day. Prof Kroto shared the Nobel Prize for Chemistry in 1996, with Richard Smalley and Robert Curl, for discovering C60, also known as buckminsterfullerene.
C60 was discovered when the team attempted to simulate atmospheric conditions found in cool red giant carbon stars. They hoped to prove that various carbon chain compounds could exist in the space between stars. They succeeded and discovered the existence of a whole new form of carbon.
The discovery of C60 (which resembles a soccer ball) and its unique properties, prompted new investigations and research into fullerenes as well as catalysing the advancement and birth of nanoscience and materials engineering, making the team's findings have a huge impact on materials science as we know it today.
Prof Kroto gave a heart-warming and hugely entertaining talk and reflection on his experiences and the events leading up to the discovery of C60, as well as his ongoing academic activities to this day. He also was keen to highlight many of his views on the challenges facing humanity in areas such as education (scientific as well as in general), sustainability and the environment, as well as the challenges that science itself as a field faces in the modern world.
His work in relation to the Vega Science Trust and GEOSET (Global Educational Outreach for Science, Engineering and Technology) served as a very inspirational focal point in his talk. He stressed the importance of training young researchers in the communication skills which enable chemistry to be accessible and relevant to all.
The first speaker of the day, Dr Andrew Marr from QUB, discussed his ongoing research on the design and implementation of chemo-catalytic and bio-catalytic systems in the synthesis of 'value-added' chemicals from biomass materials. He emphasised the growing need for finding alternative sources of raw materials for industry that do not rely on fossil fuels and explained how chemical and bio-catalysis can be used to create unique systems which can produce such raw materials, important for multiple industries.
Dr Marr described the biological production and chemical manipulation of a typical renewable 'platform' chemical, 1,3-propanediol (from waste glycerol as feedstock; produced in biodiesel production) and the potential it holds to produce valuable compounds by subsequent homogenous catalytic transformations. He also described the use of 'sol-gel' methods in homogenous catalysis (suspension of catalyst in ionic liquid/silica gel media) as a means by which to recycle and re-use expensive catalysts in these combined systems and to improve the overall efficiency and recyclability of chemical steps in the process.
The next academic speaker, Dr Robert Raja, gave a detailed and highly interesting lecture on the theory, design and utilisation of 'single site' heterogenous catalysts and linking them to the production of important raw materials in industry. Dr Raja discussed the solid-state chemical principles of zeolite materials, metal-organic frameworks (MOFs) and the advantages that such porous solids offer in catalysis.
Further discussion led to the design and manipulation of the atomic structure of some of these solids and how they could be optimised to catalyse specific chemical reactions in the 'green' production of Nylon-6. He also elaborated on the implementation of these solids to act as site directed organocatalytic materials and explained chemical methods by which such sites could be engineered. He also talked about the creation of synergistic materials, in the form of multifunctional nanoparticles, which could have great implications in areas such as biomass conversion and realisation of the 'Hydrogen economy', by being able to both produce and store hydrogen inside the porous networks.
Several green chemistry projects from postgraduate students across Ireland were also showcased, in a series of short talks throughout the course of the day between the academic speakers.
The talks covered a broad scope of topics including; the environmental evaluation and application of novel ionic liquids as solvents, catalysts in organic synthesis and as gas absorption/separation media, photocatalytic generation of hydrogen, nano-functionalised coatings in bio-fouling prevention, biological production of novel feedstock materials in pharmaceuticals as well as pharmaceutical analysis within surface waters. Many of the projects were based from research within DCU, with postgraduate talks also from TCD, NUIM and UCD students.
There were also prizes sponsored by the EPA in Ireland for the best poster and student talk. This year the standard of the talks and posters was high and several prizes were given for the top two talks and top three posters. Congratulations to Wayne Fogarty (NUIM) for winning best student talk and Cecilia Fenech (DCU) as runner-up.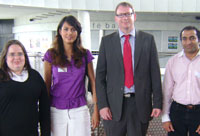 Well done also to Nadège Ferlin (Univ. de Reims, France), Mukund Ghavre (DCU) and Zahra Gholamvand (DCU) for best posters. A special mention for Dr James Chapman, a postdoc at DCU, who gave an outstanding presentation, is required. The quality and impact of his talk and slides was inspirational for all students and delegates.
The Green Chemistry in Ireland II conference organising committee (Nick Gathergood, Shelly Long, Alan Coughlan and Adam Porter) would like to thank our generous sponsors SCI, EPA, Dublin City of Science, RSC and DCU. Special thanks to Dr David Birkett from SCI's Materials Chemistry Group, for joint organising Prof Sir Harry Kroto's talk.
Related Links