4 Mar 2015
It has been a year already since the visit to the Canal Museum and the SCI London Group have organised another social event. Instead of boats and barges the theme is beer and bloomers as we are visiting both the garden of Chiswick House and Fuller's Griffin Brewery on Friday 12 June.
The day will start bright and early at 9.45am on the forecourt of Chiswick House (pictured right) to meet our tour guide who will take us on a tour of the historic gardens of Chiswick that were recently restored in 2010. We will be able to see the grand vistas, hidden pathways and a dazzling array of flowers, shrubs and specimen trees whilst listening to our guide, who will explain some of the history of the gardens which were the birthplace of the English Landscape Movement and the inspiration for great gardens from Blenheim Palace to New York's Central Park.
After we have worked up an appetite walking round the garden we will have a leisurely walk to the nearby Mawson Arms for a pub lunch and a drink. On the menu are the traditional pub favourites such as fish and chips, steak and ale pie, as well as vegetarian and less traditional options to suit all tastes. It will also be possible to sample some of Fuller's speciality beers.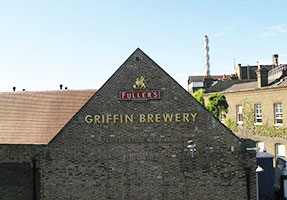 Best not to drink too much though in order to leave room for the tutored beer tasting that will take place at the end of the tour of Fuller's Griffin Brewery. The Mawson Arms is conveniently situated next to the brewery and the tour will start from the specials board in the pub. On the tour we will see behind the scenes of the working brewery, which dates back to 1828, and learn about the history of the brewery trade. The tutored tasting completes the end of the scheduled day at about 4.30pm so it could be back to the pub for a final drink, or if already topped up, time to teeter home.
Tickets for this event cost just £20 per person and is open to SCI members and their guests.
Spaces for the event are limited, so you are advised to book early. To book your place, please click on the link below.
Claire Skipper
Chair, SCI London Regional Group
Related Links: