13 Nov 2013
The SCI London Group was privileged to receive a private visit to the UCL Grant Museum of Zoology with a guided presentation by Mark Carnall, the Museum Curator, on 12 Nov 2013.
The museum originates from 1828 when Robert Grant was the first Professor of Zoology and Comparative Anatomy in England and upon arrival at the newly founded University of London (later University College London) found no teaching materials with which to conduct his courses.
He immediately began to amass specimens, material for dissection, diagrams and lecture notes and these form the basis of the museum today.
In over 170 years much has befallen the museum. In 1884, a ceiling collapse destroyed a number of specimens, the 1890s saw more ceiling collapses and flooding and by the 1970s the roof was completely missing.
During World War Two the whole collection was evacuated to Bangor, and on more than one occasion, the museum has been under threat of closure. In recent years, however, the museum has gone from strength to strength.
The collection has also grown considerably, becoming a 'museum of museums' as material from other London institutions ended up at UCL, either as transferrals to UCL zoologists or when other London universities closed down their zoological collections.
Today the Grant Museum includes collections from King's College, Imperial College, and Queen Mary College London. Other collections now in the museum came from the Royal Free Hospital Anatomy Department , the Ferens Institute of Otolaryngology, The Royal College of Surgeons, the Zoological Society (London Zoo), and Expedition Material Including a very small collection of specimens from Discovery, Challenger and the Great Barrier Reef expeditions.
Following an excellent curator's presentation, SCI members and guests were able to wander around the museum, examining the display of the vast collection of skeletons, mounted animals and specimens preserved in fluid.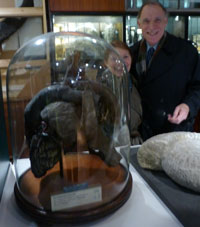 Many of the species are now endangered or extinct including the Tasmanian tiger or thylacine, the quagga, and the dodo. Also on display were some of the museum's 20,000 microscope slides from scientific research material.
In 1997 the collection was renamed in honour of its founder Robert Grant and was opened to the public every day between 1pm and 5pm. In March 2011 the museum was moved from the Darwin Building to its current impressive location in the Rockefeller Building, in the space formerly occupied by the medical school library.
The museum web page, below, gives full information on this hidden resource.
The evening finished with a drinks reception.
Dr Fred Parrett (pictured with elephant heart)
SCI London Regional Group
Related Links