The College of Scholars Day returned to SCI on 2 December 2015 where we were joined by 30 early career members. Designed to help members to build skills for their future career, delegates on the day were able to learn from the experience of others, and to take part in practical exercises and activities to strengthen their CV.
This year we introduced a workshop challenge, whereby participants were asked to plan an event or activity to promote SCI to their colleagues and network of contacts on returning back to work or study. Participants were split into 4 teams. They were given the project brief and allocated 30 minutes to agree an activity and prepare their presentation.
We received excellent presentations from all of the teams, with innovative ideas and exciting suggestions being made. Surprisingly all teams came up with ideas covering very different topics and methods of implementation which made the judging even more challenging! We were presented with ideas ranging from 1 day events to national competitions, all of which were underpinned by SCI's desire to demonstrate 'where science meets business'. Despite the tough competition we were delighted to be able to choose a winning team who would like to work with universities across the country to help students to meet potential employers of the future, and improve their communication skills too.
The competition was judged by Robin Harrison, Synthomer, Alan Heaton, Chair of SCI's Early Career Support Subcommittee, and Martin Elliott from SCI's Science and Enterprise Group who were greatly impressed by the way the teams used the workshop time so efficiently to come up with 4 very viable options for SCI to take forward. The successful team was made up of Paul Brack from Loughborough University, Giuliamonica Leonardi from UCL, Hibaaq Mohamud from University of Surrey and James Adams from University of Manchester who are now looking forward to organising their winning event.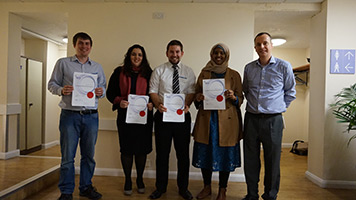 All members of the winning team (pictured left), who came up with a winning formula inspired by a strange combination of Alan Sugar meets Simon Cowell, will also receive complimentary registration to an SCI conference of their choice in 2016.
The day also included a series of presentations opened by Prof Alan Heaton, Principal SCI College of Scholars and Chair of ECSSC. This was followed up with presentations on careers in academia (Prof Joe Sweeney, ECSSC member and Professor at University of Huddersfield) and industry (Sharon Todd, SCI Executive Director) and from SCI Ambassador, Charles Perez-Storey.
The various breaks throughout the day offered delegates the chance to network with the speakers and their peers. In celebration of some excellent networking, we are delighted to share that the winners of 'Top Networker' were: Chinenye Ifinnwa, Sarah Hedberg, James Adams and Yassin Hjiei-Andaloussi who will all receive professionally printed business cards to help them with future networking.
The day was rounded off with some wine and snacks giving participants another chance to network with each other.
SCI would like to thank everyone who participated in the event, and we look forward to seeing the outcomes of the planned activities.
Related Links