'Great Speakers - Great Day - Very Interactive - Thank You!'
SCI's College of Scholars was originally set-up in 2008 to help SCI Scholars make the most of the opportunities an SCI Scholarship provides and make them aware of the SCI resources available to support them. SCI has recently expanded the college to include all SCI early career award winners, along with early career members who are active in SCI's network - for example as ambassadors or via our interest groups.
The 2016 SCI College of Scholars' Day* was held on 29 November at SCI, London. Around 20 early career members from different parts of the UK attended the event. Some even journeyed from as far as Aberdeen, enduring overnight coach travel! They participated in workshops, engaged in skills presentations, and heard about the SCI initiatives which they could be involved in. All those who attended were formally enrolled into the College of Scholars and given certificates to mark their achievement.
After a brief introduction from SCI's Membership Manager, Karen Hobbs, the first session of the day began. Alan Baylis, Chairman of the SCI Board of Trustees and Chair of the Agrisciences Group, gave a presentation on the essentials of networking. Alan explained the importance of networking, especially when engaging in a career change, or finding new collaborators and ideas for research. He emphasised that when professionals look for jobs they do so first and foremost by networking (rather than using adverts or agencies). For him, networking was a vital tool when he was made redundant. Indeed, the very reason he joined SCI was to strengthen his network and look for new career opportunities. He explained the importance of being open-minded when it comes to networking - his most effective networking opportunities have arisen when he least expected it, such as meeting a new business contact whilst on holiday. Finally, he offered the audience tips on effective networking - use open body language, relax and play to your strengths.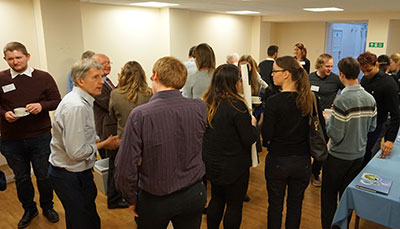 After Alan's talk the delegates retired to the Garden Room for a buffet lunch and the chance to put the networking tips they had just learnt, into practice. They definitely made the most of the opportunity, judging from the buzzing atmosphere in the room and the flow of conversation which could be heard! The networking lunch 'was a great opportunity to meet and interact with people who I wouldn't have met otherwise.' (Natalie Theodoulou, GSK). As James Womack (Graduated SCI Scholar and University of Southampton) explains further 'I spoke to several other people about the science they were working on and was impressed to hear about projects completely outside of my own field of study. I think this is one of the strengths of SCI - bringing together people from diverse scientific backgrounds to share knowledge and experience.'
After lunch, a session on SCI Early Career activities took place. Callie Seaman (SCI's Early Careers Committee), gave a talk on the SCI Mentoring Programme and Anand (Arnie) Patel spoke about being an SCI Ambassador. In her presentation, Callie explained that the SCI Mentoring Programme is a new member benefit which SCI has been developing this year. Currently operating under a pilot scheme, the programme now has six confirmed partnerships. Callie explained that the aims of the programme are: to deliver an exciting new benefit for SCI Members; to match early career members with a mentor who will help them to address specific goals or issues in their career; to support members' careers through training, development and employment opportunities; and to act as both an inspirational tool for the mentee and a rewarding experience for the mentor. The definitions and qualities of a mentor were explained, as well as what to expect from the programme and how to get involved.
Next up, Arnie Patel, SCI Ambassador at University College London, gave his talk on the SCI Ambassadors' Scheme. Introducing himself and his background, the audience was fascinated to learn that as well as training for the 2018 Commonwealth Games six times a week, Arnie is completing a PhD in bioluminescence, alongside performing his ambassadorial duties for SCI. Arnie was motivated to join SCI because he felt there was a lack of available opportunities in science, and very few visible job opportunities in chemistry and the chemical industry. By becoming involved with SCI, he was given access to the industrial world, which gave him an understanding of who the main players are. The bridge between academia and industry became more apparent and where he fitted within the academia and industrial arena became clearer. His reasons for becoming an SCI Ambassador are both personal and professional - it will allow him to have greater contact with his fellow students at UCL, and the experience gained from the position will add value to his CV, hopefully opening doors for job opportunities in the future.
There are currently 12 SCI Ambassadors representing SCI in universities and industrial sites, and this number is set to grow in 2017. Early career members are encouraged to apply to the scheme to help spread the word about SCI and advance their own experience. Becoming an ambassador also gives access to SCI's College of Scholars.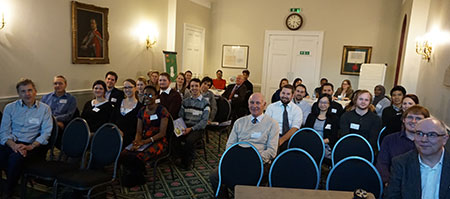 After Arnie's talk, Craig Duckham, Chair of SCI's Food Group, started a new session on how to run effective committee/business meetings. Craig emphasised the importance of preparation and planning when organising meetings as demonstrated by a clip from a John Cleese training video which was played to the audience. It is vital that an agenda is prepared ahead of the meeting to give it structure and ensure timings can be adhered to. Meeting organisers should arrive early so they can check that the room is set up as required and find out if any housekeeping announcements need to be made. Craig gave tips for chairing a meeting and making sure that everyone's voice is heard. The advantages and disadvantages of holding virtual meetings were discussed - the pitfalls were demonstrated by an American training video which caused much amusement amongst the participants. Craig ended the talk with his advice for what to do post-meeting - draft actions and minutes should be sent within two weeks of the meeting to keep momentum going. Finally, he left us with the thought that meetings are there to get business done and should not be held just for the sake of holding a meeting.
After a short tea break, where photographs of the new SCI Scholars being presented with their certificates were taken, the group split into two. Members of the Agri-Food Early Career Forum retired to have their committee meeting, whilst the remaining delegates returned to the Council Room for a workshop session.
Tim Reynolds (SCI Early Careers' Committee) introduced the session by presenting the SCI Early Careers Committee three-year plan. The plan is divided into four categories; career opportunities and recruitment advice, skills training, membership growth, and entrepreneurship and innovation. It was the entrepreneurship and innovation category which the audience were asked to input on. The winning team from last year's College of Scholars' Day came up with an idea for a national dragon's den-style competition which is designed to help students to meet potential employers and improve their communication skills.
Tim handed over the remaining part of the introduction to two members of the organising team - Hibaaq Mohamud and James Adams. James and Hibaaq explained how far the project had progressed. Funding had been secured from Synthomer and planning meetings have taken place with the aim to launch the competition in 2017. A project timeline has been developed and the first draft of a poster has been produced, along with an advertising campaign.
For the workshop session, the delegates were split in to two groups and asked to provide feedback on the draft poster, suggest a name for the competition, propose wording for a tweet which could be used to launch the event along with a suitable hashtag, and create a list of marketing channels and target audiences that could be used.
Both groups had an hour to come up with their ideas, after which they were asked to feedback to the larger group and the Early Careers Committee. Both groups came up with some really innovative and exciting ideas and suggestions, and it was clear that a lot of thought has gone in to developing the proposals. After the event, volunteers even came forward to assist James and Hibaaq with delivering the project. We are now looking forward to working with the James, Hibaaq, and the organising committee, to review the ideas and see how they can be put into practice.
The day ended with tea and coffee in the Garden Room, after which all were invited to join the SCI Public Evening Lecture, given by Prof Gideon Lack, on stemming the tide of allergies.
Thank you to Callie Seaman and Tim Reynolds from the Early Careers Committee and the SCI Membership Team for organising the event.
A selection of the feedback we received from the event:
'Thanks for organising a great event! I enjoyed the group workshop'- James Womack, Graduated SCI Scholar and University of Bristol
'The networking and effective meetings workshops were really useful'- Natalie Theodoulou, GSK
'The event was really enjoyable and a great chance to meet a lot of people from different areas of science.'- Paul Brooks, Synthomer
'The event was well organised and the networking talk was really helpful.'- Emem Paul Udoh, University of Aberdeen
*Places at College of Scholars' Days are by invitation only. If you are interested in attending the next College of Scholars' Day and are not already an active early career member or award winner, why not consider becoming an SCI Ambassador? Please contact communications@soci.org for more information.
Related Links: