By rethinking the way our products are designed and changing the way we use plastics, we can tackle the blight of marine litter and the general accumulation of plastic waste. But, as Professor Richard Thompson said in our latest SCItalk, systemic issues and historical excesses have made this no easy task.
Contrary to popular perception, plastic is not the villain. When it comes to marine littering, we are the ogres, with our single-use bottles bobbing in the oceans and the detritus of our everyday lives littering the coastline.
We are the reason why 700 species are known to encounter plastic debris in the environment. It is because of us that plastics have beaten us to the bottom of the deepest oceans and glint in the sun near the summit of Mt. Everest.
According to Richard Thompson, of the Marine Institute School of Biological and Marine Sciences at the University of Plymouth: 'Plastic debris is everywhere. Its quantity in the ocean is likely to triple between 2015 and 2025.'
As Professor Thompson pointed out all of these facts to his audience in our latest SCItalk on 23 March, he outlined potential solutions. However, there is no ignoring the depth of the issues at hand when it comes to the litter in our seas.
The problems
1 - The weight of history
Society has gradually woken up to the menace of discarded plastics and, laterally, to the threat of microplastics and nanoplastics. The problem is that we left the barn door open decades ago. So, all of those plastic microbeads from shower gels, fibres from clothing, and tyre wear particles polluted our seas for many years before it came to public and scientific attention.
Professor Thompson said that 300 papers were published globally on microplastics in the last academic year alone, but research in the area was relatively thin on the ground before Thompson and his colleagues released their pioneering study on microplastics in Science in 2004.
2 - Bad habits
'The business model for the use of plastics hasn't really changed since the 1950s,' Professor Thompson said. According to him, we have had 60 years of behavioural training to just throw products away, and our waterways reflect this attitude.
According to Professor Thompson, 50% of shoreline litter items recorded during the 2010s originated from single-use applications. Without a sea change in our attitude towards single-use items, this problem will persist.
>> Why are we ignoring climate change and what can we do about it? Read more on our blog post.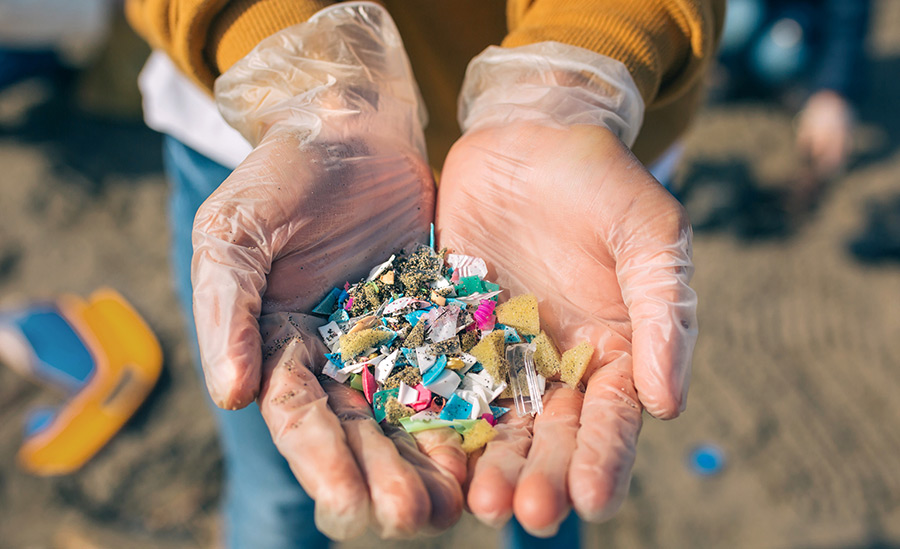 Microplastics have been subject to great scrutiny, but much of the research is quite recent.
3 - We need to talk about nanoplastics
The problems with larger plastics and even microplastics are now well documented. The worrying thing, according to Thompson, is that there are knowledge gaps when it comes to nanoplastics in the natural environment. What are the effects of nanoplastic ingestion? What are the effects of human health? Time will tell, but Thompson was keen to ask if we really need that information before we take action.
He was more sanguine about the effects of microplastics. 'The concentration of microplastics is probably not yet causing widespread ecological harm,' he said, 'but if we don't take measures, we'll pass into widespread ecological harm within the next 50-100 years.'
The solutions
It seems counterintuitive to think of petrochemical plastics as a sustainable solution; and yet, despite the environmental problems posed by their durability, they do have a role to play in a greener approach.
'If used responsibly, plastics can reduce our footprint on the planet,' Thompson noted. Indeed, the lightweight plastic parts in our cars and in aviation can actually help reduce carbon emissions. But despite their merits, how do we keep plastic litter from our seas?
1 - Design for end of life… and a new one
To illustrate a flaw in the way we design plastic products, Professor Thompson gave the example of an orange coloured drinks bottle. While the bright colour may help sell juice drinks, there is an issue with recycling these coloured plastics because their value as a recyclate is lower. Clear plastics, on the other hand, are much more viable to recycle.
He argues that many products aren't being designed with the whole lifecycle in mind. 'We're still failing to get to grips with linking design to end of life,' he said, before highlighting the importance of communicating how products should be disposed of right from the design stage.
Basically, our products should be designed with end of life in mind. 'If we haven't even designed a plastic bottle properly,' he lamented, 'what hope do we have with something that's more complicated?'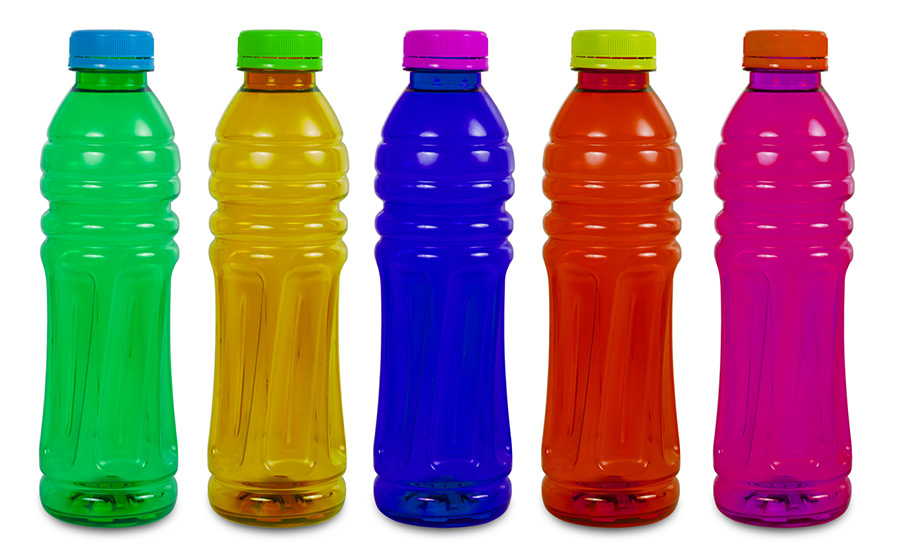 Those brightly coloured plastic bottles look nice and fancy, but they can be challenging to recycle in a circular economy.
2 - Ever recycle? Ever fail? Recycle again. Recycle better
Professor Thompson argued that better practices are needed to help divert materials away from our seas (and it should be noted that there are other types of discarded materials to be found there). If we recycle greater quantities of end of life plastic products and bring them into a circular economy, he said, 'we'd decouple ourselves from oil and gas as the carbon source for new production because the carbon source we use would be the plastic waste'.
He said more could also be done with labelling so that customers know whether, for example, a product is compostable and which waste stream it needs to be placed in to achieve that. He also noted that addressing our single-use culture would be a good place to start if we want to change the business model of linear use.
3 - Broaden the discussion and pull those policy levers
The good news is that there is an appetite for change. 'Ten years or so ago there was no consensus that there was a problem,' Thompson noted. 'I would argue that this has changed.' However, he also feels that it is essential to gather reliable, independent evidence to inform interventions, rather than espousing solutions that could make things worse.
'We need to gather that evidence from different disciplines,' he said. 'We need to have at the table product designers and couple them with the waste managers. We need to have economists at the table. We also need to bring in social scientists to look at behaviour. We've got to think about this in the round.'
He also felt that policy measures – such as mandating recycled content – could be a good option, along with better design and disposal.
The tools we need to tackle plastic pollution are already at our disposal. We just need to act more responsibly – which, unfortunately, has been part of the problem all along.
As Professor Thompson said: 'It's not the plastics per se that are the problem – it's the way we've chosen to use them.'
>> For more interesting SCI talks like Professor Thompson's, check out our YouTube channel.
>> Find out more about the work of Professor Thompson and his colleagues here: https://www.plymouth.ac.uk/research/marine-litter.