The Middle East has established a hugely successful chemicals industry based on low cost ethane feedstock. Now, as ethane supplies become limited and Saudi Arabia, the region's largest producer, increases its focus on jobs creation, producers are starting to move downstream and diversify their product offerings – a move that involves not just increased chemicals synthesis but also the creation of major plastic processing centres.
'Moving downstream is the way of the future for the Middle Eastern chemicals industry. The days of just building a cracker and a polyethylene (PE) polymerisation unit are essentially over.' says Arthur Steinbock, a consultant with McKinsey. 'Countries like Saudi Arabia are going to look for projects that create more employment and that involves going downstream – either in terms of plastics conversion or further chemicals synthesis.'
The Middle East has used its ethane feedstock advantage over the last 10 years to become a leading producer and exporter of olefins and polyolefins. Low cost ethane has been the feedstock of choice for new cracker projects in the region. But ethane supplies are becoming more limited, which means that many new crackers are relying on a less cost-competitive mix of feedstocks that includes propane, butane and even naphtha.
Saudi Kayan Petrochemical's new petrochemicals complex, which is currently being started up in Al Jubail, Saudi Arabia, is based mainly on butane and ethane. The complex includes Saudi Arabia's first production plants for polycarbonate (PC) and amines. Saudi Kayan is 35% owned by petrochemicals giant Saudi Basic Industries (Sabic), which is also moving into new product areas in the region. The company is building the region's first acrylonitrile butadiene styrene (ABS) plant at its Petrokemya site in Al Jubail and also plans to diversify into oleochemicals by building the region's first production plant for distilled natural alcohols.
Sabic says the oleochemicals plant will enable new investments in downstream industries in the region. 'Sabic's diversification into oleochemical products is in line with the company's strategy and drive to increase its performance chemicals portfolio,' remarks Sabic's general manager for functional chemicals, Rusmir Niksic.
Companies in the Middle East are also developing differentiated products through joint venture partnerships. Saudi Arabia's National Industrialization Company (Tasnee), for example, is developing an acrylic acid project with Dow Chemical and a superabsorbent polymers (SAP) with Evonik. Tasnee also plans to build a polyether polyols plant with Saudi Advanced Industries Co (SAIC), based on propylene oxide (PO) feedstock from Rabigh Refining and Petrochemical Co's (Petro Rabigh) new refinery and petrochemicals complex in Rabigh, Saudi Arabia.
Petro Rabigh intends to diversify its output as part of a proposed expansion of its complex. The company, a joint venture between stateowned Saudi Aramco and Japan's Sumitomo Chemical, says new products will include ethylene vinyl acetate copolymer, polyols, superabsorbent polymers and nylon 6. Ziad Labban, Petro Rabigh's president and ceo, says production will go beyond basic commodities into more specialty products such as thermoplastics, suitable for smaller businesses and niche markets.
Create more job opportunities
'Through this park, we will be able to add value to the Saudi economy, create more downstream value from our petrochemical products – PE, polypropylene (PP) and monoethylene glycol (MEG) – and create more job opportunities,' Labban says. About 5000 more jobs are expected to be created at the industrial park, in addition to the 2300 already employed by Petro Rabigh, he adds.
Acquisitions are also expected to contribute to product diversification in the Middle East. Most significant is Sabic's acquisition of US-based engineering plastics producer GE Plastics in 2007. The impact of that acquisition on Sabic's Saudi operations has yet to be seen, but commentators believe it could help the company move further downstream in future. Sabic was not available to comment.
In Kuwait, Petrochemical Industries Company (PIC), a subsidiary of state-run Kuwait Petroleum Corporation (KPC), and Dow had planned to create a $17.4bn (€13.2bn) petrochemicals and plastics joint venture but the deal fell apart at the end of 2008. The joint venture with Dow would have given PIC access to chemicals it does not currently produce. Kuwait's chemicals strategy was thrown into disarray when the joint venture with Dow was called off, observes Steinbock. 'It appears as though there is still a decision process going on. Chemicals is a priority, as well as the oil sector.'
Other countries in the Gulf Cooperation Council (GCC) are also increasing their focus on product diversification in chemicals and plastics. Each country is motivated by different issues. While job creation is critical for Saudi Arabia, it is less imperative for the other smaller GCC countries, such as Qatar, the United Arab Emirates (UAE) and Kuwait.
In Qatar, development of the chemicals sector is more about creating projects based on interesting technologies, suggests Steinbock. 'They want to put the country on the map in terms of being at the forefront of innovation.' For example, Qatar is developing two exportoriented gas-to-liquids (GTL) projects – one with Sasol and the other with Shell. The projects are capex intensive, rather than labour intensive, and will be the first GTL facilities in the GCC, he notes.
The UAE sees product diversification and plastics conversion as a way to build a diverse economy, says Steinbock. 'There the policy push is less to employ more people. It's much more about diversifying the economy. They want to move into plastics conversion, and other chemical products.'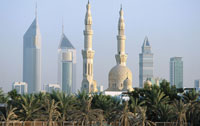 Abu Dhabi National Chemicals (Chemaweyaat), which is owned by International Petroleum Investment Company (IPIC), Abu Dhabi Investment Council and the Abu Dhabi National Oil Company (ADNOC), is planning a naphtha-based project which will produce a broad array of products. Abu Dhabi is also emerging as an important hub for plastics converters. The Abu Dhabi Polymers Park is located close to the Borouge petrochemical and polymers complex, and offers incentives such as duty-free imports and exports, and competitively priced infrastructure and utilities.
Diversification of the chemicals sector is part of the UAE's plans to diversify its economy in all directions, with an emphasis on tourism and Formula 1, and development of the country as a cultural centre. 'The very broad product range of the Chemaweyaat project is consistent with the diversification objective that Abu Dhabi has for its economy as a whole,' observes Steinbock.
Oman is also planning further chemicals investments, and is studying a major new project in Duqm. However, development of the sector has been constrained by the availability of hydrocarbons. 'If and when new gas and oil fields are found and exploited, there may be a boost in new chemicals activities,' remarks Steinbock.
Saudi Arabia is the most populous GCC country, with a population of approximately 27m, including 8.4m ex-patriots. The Saudi workforce is expected to double within the next 10 years. 'Over the next 10 to 15 years they will need to create hundreds of thousands of jobs every year to cater for the explosive growth in the workforce,' Steinbock says. 'Employing the population is probably one of the highest priorities of policymakers in Saudi Arabia.'
When allocating feedstock, the Saudi Ministry of Petroleum is prioritising those projects that produce a variety of downstream products and therefore create the maximum number of jobs. Stimulating investment in plastics conversion is the most logical route, because it creates the most jobs for a given feedstock allocation and with the least investment cost, says Steinbock. 'The equipment you need for plastics conversion is much less expensive than the equipment you need for further chemicals synthesis.'
It would be more economical from a purely business perspective, he notes, to produce the plastics in Saudi Arabia and ship them to China where they would be converted at a lower cost and where a large proportion of the end market is located. However, the most pressing concern is jobs creation.
The Saudi government has established the National Industrial Clusters Development Program (NICDP), which aims to encourage the growth of small and medium-sized enterprises (SMEs) in the plastics and packaging, automotive, solar, metals processing and consumer goods sectors. A key objective of the clusters programme is to help move the country towards a knowledgebased economy that can exist alongside the current oil-based economy, says Laith Alshebel, vice president of the NICDP's plastics cluster. The economy is heavily reliant on crude oil exports, with some downstream petrochemicals manufacturing, he says. 'And not much value is added in these petrochemicals and refined products.'
Creating a knowledge-based economy in Saudi Arabia will reduce the country's reliance on fossil fuels, which are expected to diminish in the future, he continues. At the same time, demand for oil and gas could slow as alternatives, such as biofuels, solar power and nuclear energy, become increasingly available, he adds.
Developing a plastics cluster will involve the production of intermediate plastic products, based on resins produced in Saudi Arabia as well as some imports, Alshebel explains. The initiative aims to attract new types of plastics processing to the country, avoiding competition with the existing local processors. 'We are not trying to attract normal conversion industry to the kingdom. We are trying to attract specialised applications that add high value to the GDP.'
Talks are under way with foreign investors
Talks are under way with foreign investors, and the programme is in the process of granting conditional land, he says. New investors might produce automotive end parts such as oil pans, air conditioning vents and cup holders, for example, he adds.
The clusters programme aims to improve the investment environment for SMEs, whether by recommending new legislation, designing vocational training or working with resin producers to create product development centres. Building up Saudi Arabia's skills base is essential, says Alshebel. The emphasis should not just be on vocational training, but also on building skills through manufacturing.
Saudi Arabia's polymers conversion capacity is expected to reach at least 2.5m t/year by 2012 from the current level of 1.8m tonnes/year, according to the NICDP. Growth will be boosted by the replacement of imports of converted plastics, such as films and components, and also by strong demand from the infrastructure and construction industries and from consumers, Alshebel says.
Currently, the country has about 800 downstream plastic processors, although most are operating at low rates, he says. Most are Saudi companies, producing products such as PVC pipes and T-shirt bags for the local market, although there are some joint ventures with foreign partners producing more specialised products. 'Perhaps 20 of the processing companies are operating at very high international standards, and are actively exporting to the nearby region and, for specialised products, as far as Europe and North Africa,' he adds.
Creating a local demand for resins will help petrochemicals producers in the Middle East sustain their business, even if raw material prices increase, says Alshebel. It will also help Saudi petrochemical producers defend any cases against claims that they are dumping product in other countries, he notes. 'The minute they have a sizeable local demand they will be able to defend their cases more strongly.'
In general, petrochemical companies themselves are not moving into plastics processing, which is a fragmented industry with a wide range of applications, ranging from toy manufacturing to packaging. One exception is Tasnee, which has a facility to compound PP and PE and is building a biaxially oriented PP (BOPP) plant. Tasnee also produces acrylic sheets and PC sheets, made from imported material.
Revenues from plastic compounding in Saudi Arabia amount to only approximately $300m, compared with revenues of $20bn for chemicals products produced in the country, according to McKinsey.
For most of the GCC countries, chemicals represent a small but significant piece of the puzzle, says Steinbock. 'Chemicals is one of the industries in which the region is recognised as a global leader. The region is obviously a global leader in oil and gas, and chemicals is right behind.'
Anna Jagger is a chemicals industry writer based in London, UK.