In recent years, the paper industry has faced the dual challenge of increasing electronic media use and the global recession. Despite these difficulties, there remain opportunities for growth in certain sectors of the market. But those opportunities will depend on the ability of specialty paper coatings to provide the necessary performance characteristics. Without coatings, paper does not have the strength, gloss, printability or resistance to grease and moisture that is required in most of these growth areas.
The market for specialty chemicals used in the paper industry is estimated by SRI Consulting to be $16bn, with the majority of products used in coatings. Globally, Europe accounts for about 34%; North America, 24%; Japan, 14%; and China, 10%. 'In publication papers, North America reached its peak in 2000 and growth has slowed since then. Western Europe is catching up with this trend, but real growth will only be seen in emerging markets like China, where demand for higher quality products is increasing,' notes SRI Consulting's principal analyst Ray Will.
Packaging applications also have a bright outlook. Paper is a renewable resource, and as such there is a trend to switch from plastic to paper packaging. The recent decision in the US to classify styrene as a possible carcinogen may result in a bigger move away from insulated foam cups to paper drinking cups. And as the economic recovery proceeds and manufacturing productivity increases, there will be greater demand for product packaging. At the same time, however, there is interest in using less packaging and also growing concern about the chemicals present in packaging materials, particularly those that come in contact with food. Even so, the consensus among paper chemical suppliers is that the opportunities will outweigh the challenges.
Coat of many functions
Paper coatings serve many functions. They provide a smooth, glossy surface that improves the appearance of printed papers, such as magazines and catalogues, and provide protection that allows paper products to hold up to wear and handling. Coated papers also enhance the advertising value of packaged goods. In addition, they provide functional properties, including release, vapour or gas resistance or barrier to moisture, water, grease, oil and corrosion. 'Packaging is being used more and more as a vehicle to engage consumers on the store shelf, establishing a key connection between consumer and brand, and paper coatings make that possible,' notes Jim Vaughn, global product manager for paper chemicals with Omnova Solutions.
Many factors affect the selection of a paper coating formulation, including the paper type, source and grade; coating operation and equipment; end use application and associated performance requirements; and, importantly, cost. Paper can generally be classified as one of three types: paper, paperboard and specialty paper, according to Flavio Marchi, global business manager for the paper business at Dow Coating Materials (DCM). Coated paper can be further broken down by the printing process – web offset and sheet offset are the major types, accounting for 70–75% of the market, but flexo and digital printing are growing. The ink characteristics as well as the actual printing processes are quite different for each, and the coating must be designed to perform under these different conditions.
A key trend impacting the paper industry today is the increasing speed at which paper machines are running, with speeds as high as 6000 feet/min becoming common. Solids content is also rising, with levels at 70–72% today, compared with 64- 68% just a few years ago, according to Jim Watson, DCM's global paper technical service manager. 'Paper coatings today need to provide all of the functionality described above, and withstand ever greater shear rates experienced in these machines. Runnability and stability are therefore ever more critical,' he says.
Material categories
To impart desired performance characteristics to paper, coatings contain a binder, pigments/fillers and certain additives that improve both processability and the final surface properties. In coatings for paper, the polymeric binder typically accounts for only 15–20%, and the pigment is the major component of the formulation. For many packaging applications (paperboard), however, the ratio is reversed, according to Don Hoesl, global marketing manager for Michelman's Paper Business Unit. 'In our coating formulations, the pigment, which we call a filler because it is added for function, not appearance, only accounts for 10–15% of the mix, while the binder is often the major and most important component.'
Whether for paper or paperboard, the common binders include styrene butadiene (SBR), styrene butadiene acrylonitrile (SBA), styrene acrylic, 100% acrylic and vinyl acetate polymers. Starch is a natural binder that is often used for cost reduction in paper coatings. Where light fastness and extended durability are required, in specialty paper products and some packaging, for example, acrylics are often preferred, says Watson, but they carry a higher cost.
Vinyl acetate can also provide some UV resistance, is cheaper and is often used for recycled and bleached board. Binder selection is based on several factors, including the glass transition temperature (Tg), particle size and degree of cross-linking in the resin, according to Robin McCann, business director for Omnova's paper chemicals business. These interrelated properties must be carefully chosen to provide the optimal strength and gloss, as one is gained at the expense of the other. 'Careful optimisation is critical for meeting the specific needs of each paper producer,' she adds.
The most common pigments/fillers include clay for smoothness, calcium carbonate and precipitated calcium carbonate for brightness, and titanium dioxide (TiO2) for opacity. In graphic grades, according to William J. Haskins, market segment manager – packaging at Georgia-Pacific Chemicals, calcium carbonate and platy-kaolin clays are the primary pigments used in coating formulations. Paperboard coatings often use platy-clay as well as talc and mica because they are cheaper, have porosity control and provide better coverage over darker surfaces.
Several other ingredients used at very low levels – often 1% or less – impart other functional characteristics to paper coatings. The following may all be found in paper coating formulations: defoamers; crosslinking agents to prevent softening of the binder during the printing process; lubricants – primarily calcium and ammonium stearate, but also other stearates, waxes and polyethylene emulsions – to improve movement of the coating through the rolls during the high pressure/temperature calendaring process; optical whiteners to increase brightness; biocides for antimicrobial protection; dispersants, mainly polyacrylates, for improved pigment/filler performance; and rheology modifiers – carboxymethycellulose (CMC) and acrylic emulsions – to adjust runnability. A final category of ingredients includes materials added to impart barrier properties to coatings. These additives include polyolefin and wax emulsions, and fluorocarbons.
Because of the pressures the paper industry faces, cost is a critical driver in selecting paper coatings, even though they contribute <10% to the overall cost of paper production. At the same time, rising raw material costs and shortages of key ingredients – TiO2, the acrylics chain and butadiene, in particular – compound this issue. 'Consolidation and reorganisation of players – the BASF acquisition of Ciba and the exit of Cytec from the market are just two examples – has given specialty chemical suppliers some additional leverage, but coating formulators continue to have difficulty passing on these rising costs to customers in the paper industry given the current market conditions,' notes SRI's Will.
Addressing the costs
Fortunately there is some room for coating suppliers to manoeuvre. 'Paper coatings do have some flexibility. There are numerous different processes to choose from, and different material inputs, including choices of polymers and fillers and filler loading levels. Even the quality of the recycled fibre can be adjusted. All of these factors can be manipulated to optimise material cost,' says Will. The binder is the highest cost ingredient within coating formulations, and thus suppliers are seeking to develop alternative chemistries. They are also looking to improve the efficiency of additives and pigments/fillers. Overriding these efforts is the understanding that paper manufacturers are unwilling to sacrifice performance for lower cost. 'To remain globally competitive, paper mills must constantly push for process improvements: the highest productivity at lowest total cost,' explains Marco Levi, vp and general manager for emulsion polymers with Styron. 'Latex plays a critical role in attaining these goals because latex properties determine the total amount of coating necessary to achieve required printability and how fast the coating process runs.'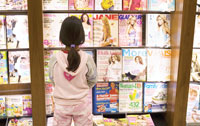 To help paper coaters control their costs, Omnova introduced its new GenCryl Platinum Series of styrene butadiene acrylonitrile (SBA) latexes that allow for savings of 10–15% through high strength and high efficiency. 'Our customers are faced with unprecedented raw material costs and shortages in categories. Their goals are security of supply and reduced total cost in use,' states McCann.
Dow's new Evoque pre-composite polymer technology was launched for the architectural paint industry,but is now being explored in paper and paperboard coatings containing TiO2. Designed to improve the efficiency of TiO2, the polymer surrounds and attaches to the surface of the TiO2 particles, resulting in more evenly dispersed TiO2 pigments. With the addition of Evoque to the coating formulation, the TiO2 level can be reduced up to 20% with equal optical performance.
Many suppliers are, in fact, investing significant R&D resources in reformulating their paper coating products. 'About half of our R&D budget currently goes towards finding substitutes for ingredients that have increased dramatically in price, are of limited availability or in some cases have been discontinued,' says Hoesl. Other cost-related research efforts include improving processing speeds, reducing drying time or otherwise increasing productivity and efficiency, which can reduce energy and other resource consumption, adds Marchi.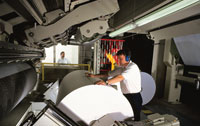 'Sustainability is indeed a consideration for all paper coating suppliers, and new chemistries are becoming available that contain a greater degree of sustainable functionality,' says McCann. Many suppliers are looking to increase the compostability and repulpability of paperboard used in the food packaging industry. While paperboard is recyclable, packages contaminated with food cannot be recycled. Unfortunately, paperboard treated with coatings containing waxes, polyolefins and fluorocarbons for moisture and grease resistance cannot be composted. Finding bio-based, biodegradable alternatives that provide similar performance is a real challenge.
Coatings manufacturer Topchim has developed barrier coatings based on vegetable oils to substitute wax and PE-foils for hydrophobic packaging applications, and coatings based on nano-pigments to improve the printing quality of colour laser jet paper, according to marketing and communications manager Leo Vonck. Its water-based barrier coating contains a dispersed biopolymer that has a high solids content but low viscosity and exhibits improved handling at higher temperatures. The product is approved for a wide variety of paper and board coating applications, including food contact packaging. Michelman, which develops and manufactures its own proprietary emulsions, is also targeting R&D efforts in this area.
Recent advances
While biobased binders are a major development, most technology advances in paper coating are incremental in nature. In recent years, an array of new latexes has been introduced that have improved film formation and barrier properties for functional coatings, according to Haskins. Additionally, he says that suppliers of platy-minerals have continued to focus on developing new generation products that have enhanced barrier properties.
Other recent unique technology advancements include new latex binders, allowing decreased fibre costs, lower total coating formulation costs and decreased overall processing costs, all without reducing printing performance, according to Levi. 'These advances come from past and ongoing polymer research and paper mill application development efforts, always in close cooperation with customerpartners with an intimate understanding of their processes and needs,' he comments.
It can be a real challenge to introduce step change technologies for paper coatings because of the conservative nature of the paper industry. 'Paper production is highly capital intensive,' explains Watson. 'Paper producers must be sure that new materials and processes will be effective before they will invest in new technology. As a result, it can take 5–10 years to get new chemistries adopted.'
Even so, it is clear that specialty chemical and coating suppliers serving the paper industry are committed to providing their customers with improved technologies that address their needs for high performance at lower cost. 'Future paper coatings will continue to push the frontiers of improved productivity and reduced costs through innovative process improvements, and will continue increasing sustainability without sacrificing performance,' Levi concludes.
Cynthia Challener is freelance science writer based in Calais, Vermont, US.