Chemicals giant BASF has set up a global cross-industry coalition, CELAB, to build a circular economy in the self-adhesive labelling industry. Working in Europe and North America, the coalition's current focus is on scaling up matrix and release liner recycling.
Pharma major Bayer is selling a biologics facility at its Wuppertal site, Germany, to a German subsidiary of WuXi Biologics. The two companies will also enter into a long-term sublease agreement and a transitional service contract. WuXi Biologics will use the facility to manufacture Covid-19 vaccines and other biologics. Bayer will provide services and contribute its own resources to support the production of vaccines and other biologics. The total value of the transaction amounts to ca €150m.
German research institute BioMed X is collaborating with Janssen R&D, a subsidiary of Belgian headquartered Janssen Pharmaceuticals, to discover transport mechanisms in the human intestinal tract, which could be used for oral delivery of biologics.
US biotechnology company bluebird bio, based in Cambridge, MA, will separate its genetic disease and oncology businesses into independent companies. Bluebird bio will retain focus on genetic disease and will launch its oncology business, Oncology Newco, as a new entity.
German pharma major Boehringer Ingelheim is collaborating with Google Quantum AI to investigate quantum computing in pharmaceutical R&D. The three-year partnership is co-led by the newly established Quantum Lab of Boehringer Ingelheim.
Multinational global drug delivery and manufacturing company Catalent is set to acquire the manufacturing and packaging operations of biotechnology company Acorda Therapeutics, which focuses on therapies for neurological disorders. Catalent will acquire Acorda's CGMP facility in Chelsea, MA, in the transaction expected to close in Q1 2021.
Massachusetts Institute of Technology spinout Continuous Pharmaceuticals, headquartered in Boston, MA, has received $69.3m US government funding to manufacture three critical medicines, including ones for Covid-19 patients, in the US. The monies will also enable construction of a GMP-certified facility for producing small-molecule drugs.
A subsidiary of the UK's big data and analysis company DeepMatter has entered a multi-year, limited-use data licensing agreement with the life science business of Merck KGaA to provide proprietary chemical structure and reaction data for Merck's applications.
US immunotherapy company EVOQ Therapeutics, a spinout from the University of Michigan, is collaborating with multinational biopharmaceutical company Amgen to develop drugs for autoimmune disorders. In exchange for exclusive rights to selected autoimmune programmes, Amgen will make upfront and milestone payments potentially totalling more than $240m, as well as pay royalties on sales of resulting therapies.
Fujifilm is investing $40m in CDMO Fujifilm Diosynth Biotechnologies to establish a process development and manufacturing facility in Boston, MA, for viral vectors and advanced therapies. The facility is scheduled to begin operations in Autumn 2021.
UK recycling technology company, Itero, based in London, plans to build a plastic waste recycling plant at the Brightlands Chemelot Campus in Sittard-Geleen, the Netherlands. The plant will use Itero's patented pyrolysis technology to convert waste plastics into oils, wax and gas that can be used to produce plastic and petrochemical products.
German specialty chemicals company Lanxess is in negotiations to acquire the French manufacturer of disinfection and hygiene solutions Theseo. With this acquisition, Lanxess will expand its range of products in the animal hygiene market and will be able to offer products for the animal nutrition industry. The transaction is expected to complete mid-2021.
UK drug discovery focused CRO Sygnature Discovery, based in Nottingham, is investing £3m in new instrumentation and equipment to strengthen its high-throughput screening (HTS) and translational oncology service-offerings.
$83m
Cash price paid by US pharmaceutical company Charles River Laboratories International to acquire antibody disc-overy company Distributed Bio based in San Francisco, CA. The transaction includes contingent additional payments of up to $21m based on future performance.
$124.5m
Total payment to be paid by US pharma major Pfizer to US biomolecular condensates company Dewpoint Therapeutics as part of a research collaboration between the two companies. The partnership will develop therapeutics for the genetic disorder myotonic dystrophy type 1.
$1.45bn
Potential amount to be paid by French pharma major Sanofi to acquire UK-based biopharmaceutical company Kymab. Sanofi will gain global rights to Kymab's human monoclonal antibody, which has the potential to treat a wide variety of immune-mediated diseases and inflammatory disorders.
$450m
Potential amount to be paid by French pharma major Sanofi to acquire UK-based biopharmaceutical company Kymab. Sanofi will gain global rights to Kymab's human monoclonal antibody, which has the potential to treat a wide variety of immune-mediated diseases and inflammatory disorders.
German science and technology company Merck KGaA has acquired the German-based mRNA CDMO AmpTec. The deal will allow Merck to develop and manufacture mRNA for use in vaccines, and treatments and diagnostics applicable to Covid-19 and many other diseases.
British CDMO NextPharma looks set to acquire two sites from the Swiss CDMO Lonza. The sites in Ploërmel, France, and in Edinburgh, Scotland, both produce lipid oral-dose drugs as liquid-filled hard capsules and soft gels. Lonza plans to continue making one type of lipid capsule for nutritional and consumer health customers. The deal is expected to close in Q1 2021.
Swiss pharma major Novartis has invested in US drug delivery and specialty pharmaceutical company Credence MedSystems. Novartis will use Credence technology for its injectable medicines and the investment will increase Credence's manufacturing capacity for its drug delivery systems.
US pharmaceutical company Neurogene, which focuses on genetic medicines for neurological diseases, is collaborating with the University of Edinburgh, UK, to develop gene therapies. Neurogene will provide financial support for Stuart Cobb's laboratory in exchange for the right to license any applicable intellectual property at agreed-upon economic terms. Neurogene will be responsible for late stage preclinical and all clinical development of any products generated under the collaboration.
French drug discovery CRO NovAliX and Chinese artificial intelligence company Chemical.AI are collaborating to develop an AI toolkit for drug discovery. The first project focuses on enhancing Chemical.AI's computer-aided synthesis planning system for predictive retrosynthesis.
US pharma major Pfizer invested $120m during the second half of 2020 in four clinical-stage biotech companies as part of the Pfizer Breakthrough Growth Initiative. Through this scheme Pfizer is investing up to $500m in biotechnology companies, which will also get access to Pfizer's scientific expertise to ensure the continuity of promising clinical development projects of interest to Pfizer.
Germany's Berlin-based CDMO ProBioGen has agreed for US biopharma company AbbVie to use its proprietary technology to produce afucosylated proteins, which could be used in treatments for cancer and infectious diseases.
The £40m hub, which will house the Rosalind Franklin Institute, on the Harwell Science and Innovation Campus in Oxford is finished, with the construction company Mace handing legal ownership to UK Research and Innovation. The Franklin, funded by Engineering & Physical Sciences Research Council, will now start a specialist scientific fit out.
Saudi Arabian chemical company SABIC and UK's Plastic Energy are set to build a commercial unit in Geleen, the Netherlands, to produce SABIC's proprietary polymers made from used plastic. The unit is expected to become operational in the second half of 2022.
Chinese pharma giant Shanghai Pharmaceuticals has begun construction of an $1.18bn biopharmaceutical industry park in Zhangjiang. The facility will focus on R&D sectors such as gene and cell therapy and therapeutic antibodies.
Shell Canada is investing in a waste-to-low carbon fuels plant based in Varennes, Québec. Shell will have a 40% interest in the plant, which will use technology developed by Canadian clean technology company Enerkem. Commissioning of the first phase of the C$875m facility is scheduled for 2023. In the meantime, Shell in the UK has withdrawn from the waste-to-jet-fuel Altalto project, which was a collaboration with Oxford-based sustainable fuels technology company Velocys and global airline British Airways.
Oil group Total is collaborating with 174 Power Global, the US-based solar project development company, which is part of the South Korean Hanwha Group, to develop 1.6 GW of US solar and storage capacity. The 50/50 partnership covers 12 utility-scale solar and storage projects in Texas, Nevada, Oregon, Wyoming and Virginia that are due online in 2020-24. In addition, Total is to acquire a 20% stake in India's Adani Green Energy from multinational conglomerate company Adani for $2.5bn.
Sabic's Lexan HF4019SR polycarbonate has been used by Brazilian lighting manufacturer, Industrias Arteb, for the front bezel of a new compact sports utility vehicle (SUV). The increasing use of light emitting diodes (LEDs) for automotive light has led to expanded material options due to their lower operating temperatures and increased design opportunities. The high flow of the material means it can be used for complex headlight mouldings with thinner profiles that can be processed using lower clamp forces.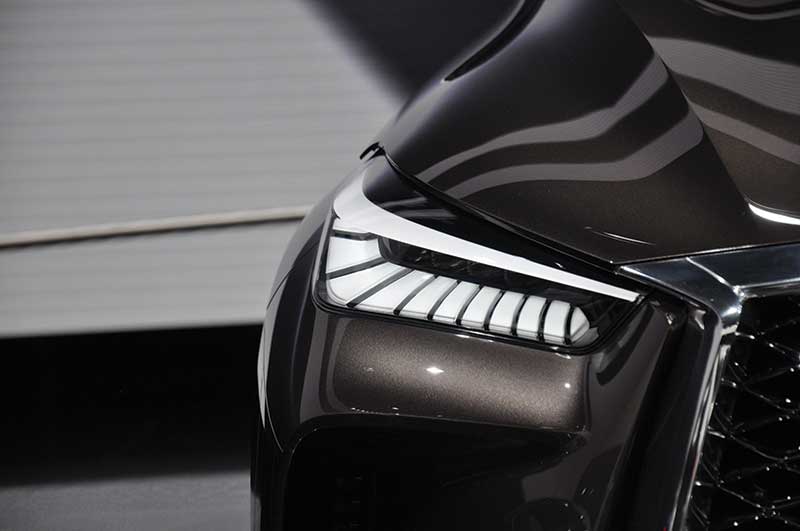 German biocide developer Vink Chemicals has introduced parmeteol PSG, a green alternative for biocide formulations based on zinc pyrithione or other preservatives requiring labelling and safety warnings. It is based exclusively on nature-identical active ingredients, and is free of formaldehyde, organic halogens and sensitising substances. It is a preparation of potassium sorbate and sodium benzoate – active ingredients that come from the food industry, where they have been used as preservatives.
The Bayferrox range of weather-resistant, colourfast inorganic pigment produced by Lanxess, Germany, can add colour to 3D-printed and also other concrete structures such as the star-shaped Urban Star sculpture at a former US Army barrack complex in Augsburg, Bavaria. The 84 x 84cm cubes, most coloured with Bayferrox pigments and others made from translucent concrete with embedded coloured LED lights, form a meeting place and have a flat, pyramid-shaped pitch to prevent water accumulation and ice formation.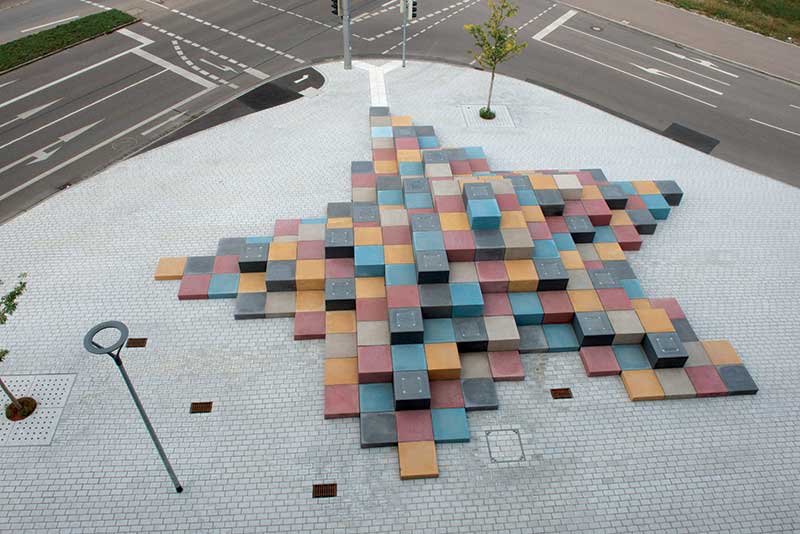 Evonik Coatings Additives, in Germany, has introduced Tego Foamex 812, a new defoamer to meet increased regulation of wood coatings. It does not contain any biocides or reportable SVHC substances and can also be used for other applications, including pigment concentrates, printing inks with food contact, automotive and can coatings.