Recessions and crises have come and gone, but global chemical firm Scott Bader is still manufacturing adhesives, resins, composites, and functional polymers after a century.
As the company celebrates its 100th birthday and 70 years of employee-ownership, SCI spoke to CEO Kevin Matthews about the role its products play in creating wind turbines and lightweight vehicles, future supply chain challenges, and becoming carbon neutral by 2028.
In your 2036 vision, you outline strategic goals to become fully sustainable. Would you mind telling us about them?
Our 2036 vision is about creating an organisation that makes a positive impact on the world in a number of different dimensions. Environmental sustainability is one of our main strategic goals and we plan to achieve this by pioneering the circular economy and protecting our environment. Our vision also includes our colleagues. How do we bring out the best in everyone and support them?
We want to make the maximum impact on society and develop products that have a meaningful impact – to deliver value to society, including through the charitable arm of our activities (The Scott Bader Commonwealth). Our vision is derived from the UN Strategic Development Goals and it is there to capture the whole environmental, social and corporate governance framework. It allows us to develop the business in a broader platform than just its financial metrics.
How important is innovation in your drive towards sustainability?
It's fundamental. Many of our markets are being driven by the move to lower energy use and lightweighting. We have a significant engagement in the construction of wind turbine blades and battery packs. We also have product lines for coating the insides of pipes so that you don't have to pull them all out and remediate them. These products enable in-line remediation, which improves water security.
Increasingly, there are questions around the materials themselves and the supply chain. We have active projects to improve our carbon footprint and we are introducing products that have a higher percentage of bio-based raw materials. These are relatively easy steps, but they are important. We are also thinking about how we can fundamentally redesign the polymer platform so that it is within the circular economy and is carbon neutral. We are increasing our R&D spend by 25% to drive that agenda. We believe this is what we need to do to keep the business sustainable in the long term.
What's in the pipeline in terms of innovative technologies?
We have just launched a range of functional, bio-based polymers that act as thickeners in personal care products such as hand and sun creams, cleansing lotions and mascaras. The other big technology push has been around upgrading the performance of our adhesives. One of the things we are looking to do is bond together different materials, whether that's aluminium with a composite or steel, for example. Obviously, you cannot use welding for that, so the importance of adhesives is increasing as we move towards super-lightweight vehicles – electric vehicles particularly – but also drones and delivery shuttles.
We are also working hard to take out some traditional composite materials that have less positive environmental toxicology profiles so that we can move to more benign raw materials. We are developing styrene-free composites that will be used in quite significant quantities in a range of different applications. We are moving into 3D printing resins to recognise the shift in the market towards delocalised manufacture and complex parts, and we will probably launch a range in the next quarter. We were also successful in developing the first ever curved, lightweight, carbon fibre car bumper in 2020 with one of our key partners in North America: Shape Corporation. The carbon fibre bumper replaced the metal bumper in the new General Motors Corvette without losing any performance and significantly reduced its weight.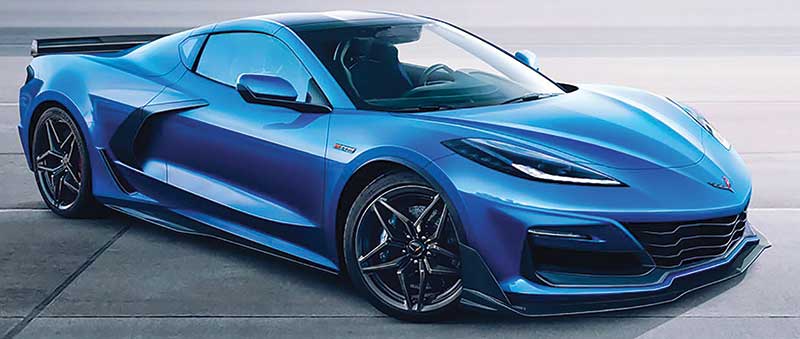 Scott Bader's Crestapol urethane acrylate resin produced the first ever curved pultruded carbon fibre bumper for the 2020 Chevrolet Corvette
In which other industries do you find Scott Bader products?
We supply the materials to make the hulls of many different types of boats from kayaks and surfboards, all the way up to super yachts. We have also been working on fire retardant systems for the rail industry. For instance, we have just been qualified to supply fire retardant panels for one of the leading global manufacturers of lightweight trains.
Our products are also used in wind turbines. One of the roles Scott Bader plays is to create a very smooth surface to reduce drag. Our gelcoat that covers the surface of the blade is absolutely critical to the efficiency of the blade in terms of generating energy. When the wind turbine blades are spinning around, you've got strong shear forces, and the blades must be strong enough to withstand that weathering.
How much has the formulation of your resins and gelcoats changed in recent decades due to tightening regulations and our increased knowledge of the environmental effects of certain chemicals?
They are constantly changing and improving. The approval process is quite long for adhesives, so you tend not to want to change them too frequently, although the environmental impact is relatively low because you're using small amounts of these products. As certain materials have become less acceptable, the primary focus has been on reformulating them across our range and then re-qualifying to get the same performance. For gelcoats, we are mostly focusing on moving to styrene-free products and, in terms of performance, getting that super strong external interface.
Scott Bader's Crestabond structural adhesive being applied
In what ways have your manufacturing processes improved down the decades?
The chemistry and chemical industry generally operate unit processes that are similar to what it ran 20-30 years ago. Now it is about the data being generated by those processes and how the data are used, both in terms of optimising the supply chain and giving insights into how you could use different manufacturing processes to get to the same end point. Most of our focus is on optimising our energy and waste systems.
Is there anything in particular you're doing to reduce waste and optimise energy usage?
We have implemented several initiatives around optimising energy use in our manufacturing plants and office buildings. For instance, in Dubai we need to pre-heat some of our materials, so we put them in black tanks. The material heats up on its own from direct sunlight, so you're not expending extra energy on heating. It's a simple solution but it's low cost and effective. In South Africa, we've installed solar panels, and in the UK we've been changing our boiler technology to use the minimum amount of energy to get the most efficient heating. We have started to move towards renewable energy as much as possible and we're aiming to be carbon neutral by 2028. We have also partnered with World Land Trust to offset our carbon emissions every year through their Carbon Balanced programme.
What do you think are the biggest challenges for the industry in terms of reducing its environmental impact?
The challenge, as far as I can see, is how you move from a petrochemical supply chain that has been optimised over more than 100 years, to a supply chain where you are using bio-based or recycled materials and doing that in a cost-effective way. Another challenge is the availability of material. For instance, we have seen substantial disruption to the supply chain in the past few months as a result of the extreme weather conditions caused by the polar vortex in North America. If the UK moves most of its vehicles to electric over the next 15 years, that's also going to have profound implications for the petrochemical supply chain and the viability of refineries. There is a real challenge to rebuild supply chains that are resilient.
Every year, 5% of Scott Bader's total profits are given to charitable activities. Could you tell us more about these activities?
We had a strong performance in 2020, so our charitable donation increased to 7.5% of total profit in 2021. Through the Scott Bader Commonwealth, we have schemes that support local charities and more significant charitable donations that support the construction of schools in Bangladesh, Africa, and other areas. Our philanthropic disbursements are focused on education and local people. For instance, a building on our site called Keep House was not needed, so we converted it into a set of offices that we let out to local charities at significantly below market rate. Sustainability for us is not just about environmental sustainability, but social equality as well. It's about sharing the benefits of wealth creation.