Designed to last at least 50 years, plastic pipes will increasingly be used in applications from hydrogen transport to irrigation, Lou Reade reports
Plastic remains under fire as an unsustainable material for many reasons: its heavy reliance on crude oil; its role in ocean pollution; and the tiny proportion that is collected and recycled.
But while all varieties of plastic tend to get lumped together negatively, there is a gulf of difference between a PET drinks bottle and a PET 'sneeze screen' - or between PVC clingfilm and PVC medical tubing. The longevity of plastics may be a problem for food packaging, for example, but not for a car bumper. Used wisely, plastic can be the most appropriate material in many critical applications.
In the case of plastic pipes, it could actually boost sustainability. This is partly because plastic pipes are designed to last at least 50 years, which helps to save resources over the long term. They will increasingly be used in applications from hydrogen transport – a key decarbonisation initiative – to irrigation, which will become more pronounced due to climate change.
Hydrogen economy
The hydrogen economy is a major initiative to reduce carbon emissions. The principle is simple: burning hydrogen produces only water as a by-product, while burning carbon-based fossil fuels further raises CO2 levels.
Many countries, including the UK, are looking to introduce hydrogen into the gas network – either as a blend with methane, or on its own. However, running hydrogen through existing gas pipes requires a level of risk assessment, due to the different nature of the gas. Factors such as its chemical effect on the pipe must be assessed. In addition, as a smaller molecule it has greater potential to permeate the pipe – and be lost into the environment.
Plastic pipe is preferred to steel, due to the lower cost of construction and maintenance. However, the plastic pipe industry is governed by many exacting standards – and this would be no different for transporting hydrogen.
At the recent Plastic Pipes XX conference – held in Amsterdam, The Netherlands, in 2021 – several speakers addressed this emerging use of plastic pipes.
'It is evident that very little information exists on the compatibility between long-term exposure and the transport of hydrogen in polyethylene gas distribution pipelines,' said Stephan Kneck, application development and technical service specialist at Borealis, which produces pipe-grade polyethylene.
In collaboration with the Danish Gas Technology Centre, Borealis has studied hydrogen transport on a small-scale pilot grid. The partners used polymer pipes from the Danish and Swedish gas distribution grids – some of which had already been exposed to natural gas.
The project was looking to assess whether critical properties, such as slow crack growth, tensile properties and polymer structure, changed under the influence of hydrogen. PE80 pipes – typical for gas transport – were buried 1m underground and exposed to pure hydrogen for four years. They were typically dug up each year and tested. The researchers found no appreciable difference between 'new' pipes, and those that had previously been used in the gas network.
'Four years of continuous hydrogen exposure – and subsequent laboratory tests – indicate no influence on pipe durability,' said Kneck.
Sjoerd Jansma, a consultant at Dutch testing firm Kiwa Technology, presented details of a project that determined hydrogen transport in a different type of pipe. Thermoplastic composite pipe (TCP) consists of several layers, including a plastic liner, an aluminium layer and synthetic fibre reinforcements. Jansma used two different methods to assess the permeation of hydrogen through the pipe. One assessed the permeation rate of each layer; the second determined the permeation of the entire pipe.
'The two permeation rates obtained correspond very well – and are extremely small in comparison to the permeation of hydrogen through a solid-wall PE pipe,' he said.
Permeation rates – of either individual layers or the entire pipe – were carried out at 42bar. The permeation rate of hydrogen was calculated at around 30L/year, for a 1km stretch of pipe. 'Permeation in this high-pressure system will be 175 times less than in a normal polyethylene piping system at 2bar,' he said.
Partly as a result of these tests, TCP pipe will form the basis of a hydrogen gas transport network in the Netherlands, which has initiated an aggressively 'pro-hydrogen' policy to replace natural gas.
You have embedded carbon from the manufacturing process – but also from the installation and maintenance of the pipe. For this reason, the pipe's longevity is also an important factor.
Neil Wallace Managing Director, Aquaspira, UK
Dry times
The effects of climate change are already being seen in the form of extreme weather events such as flooding and drought. In a recent market report, Plastic Pipes – Europe, 2022, consultancy Ceresana said these effects could drive greater use of plastic pipes. For example, increased incidences of drought are likely to cause crop losses unless irrigation systems are installed. Extreme weather phenomena in Europe will increase demand for plastic pipes in irrigation by nearly 2%/year, it said.
Drought has also affected water availability for the general population. In Hungary in 2020, residents of Pernik suffered a near-empty local reservoir – and extreme drought. After implementing daily water cuts that lasted up to 18 hours/day, the city set up a more permanent solution: a 12km pipeline to feed water from a more distant reservoir.
The pipeline was constructed from oriented PVC (PVC-O) pipe, which is very light and strong. Chemically, it is identical to PVC. However, a post-processing step stretches the pipe in both transverse and axial directions. This orients the PVC molecules, which helps to increase pipe strength. Water inside can be pumped under pressure at up to 300L/second. The material is up to 12 times less dense than steel pipe – making it far faster and easier to install. This allowed the pipeline to be completed in 37 days – bringing fresh water back to Pernik's 100,000 residents in just over one month.
PVC-O's smooth internal walls also help to raise hydraulic pumping capacity, compared with comparably sized plastic pipes. Molecor of Spain, which manufactured and supplied the pipe, claims an advantage of 15-40%.
A number of similar projects have been initiated worldwide – showing how strong, light pipe can be installed quickly to overcome extreme weather incidents.
12x
A pipeline constructed from oriented PVC (PVC-O) pipe was used to feed water 12km to a drought-affected town. The material is up to 12 times less dense than steel pipe – allowing installation to be completed in just over a month.
PVC window frames are now made largely from recycled plastic – covered by an outer layer of virgin resin. However, plastic pipes typically shun the use of recylate, because of the need to guarantee long-term performance.
Cool delivery
Plastic pipes also play an integral role in low-carbon energy solutions, including a system that uses water from a lake to heat and cool one of its buildings. Centre Patronal, a Swiss employers' organisation based in Lausanne, recently installed a system that pumps in water from nearby Lake Geneva. Deep water is drawn in, heated or cooled with heat pump technology, and returned to the lake after use. This eliminates the need for a conventional, energy-intensive air-conditioning system.
The system relies on 800m of polyethylene pipe, supplied by Agru of Austria. 'We were able to convince the planner of the advantages of solid-wall extruded plastic pipe, compared with the originally planned glass-reinforced plastic (GRP) pipes,' says Markus Ebster, Head of XXL piping systems at Agru.
The pipe itself was assembled by Hydrokarst Swiss in the delta of the Rhone river in France, then towed the 20km to the installation site. This is a common, energy-efficient way of transporting plastic pipe.
The lake is 310m deep at its deepest point, and the assembled pipeline was lowered to a depth of 80m. Here, the temperature remains at around 4-8°C year-round, ideal for operating a heat pump, says Agru.
'The end of fossil fuels is foreseeable,' says Ebster. 'This technology, using engineering plastic, allows for a climate-neutral energy supply.'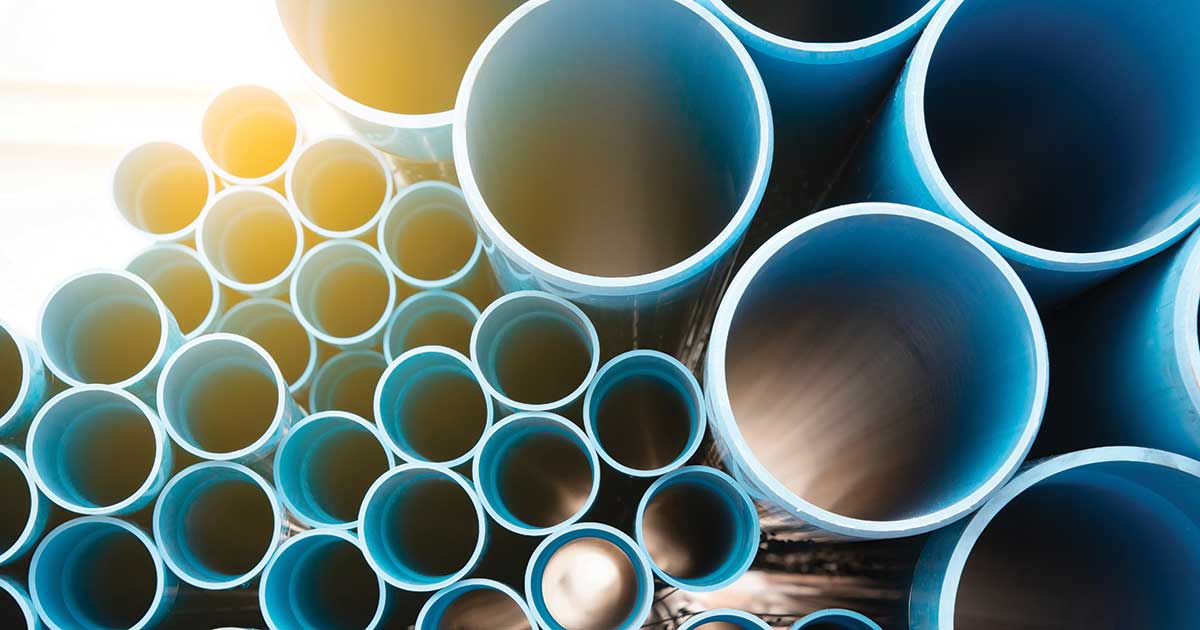 Recyclate in the pipeline
One way to raise the sustainability of plastic products is to incorporate more recycled material. PVC window frames, for instance, are now made largely from recycled plastic – covered by an outer layer of virgin resin. However, plastic pipes typically shun the use of recyclate, because of the need to guarantee long-term performance.
'Many pipes don't use recyclate at all,' says Nigel Cassidy, Professor of geotechnical infrastructure engineering at the University of Birmingham, UK. 'And I don't think anybody would buy a pressure pipe made of recycled plastic.'
15bn
The US recently signed into law a $1 tr-plus Infrastructure Investment and Jobs Act which covers all types of infrastructure, from bridges to roads. It includes a $48bn commitment to improve water infrastructure – with $15bn dedicated to replacing 'ageing lead pipes'.
Pressure pipes transport commodities such as gas and water at high pressure, so must have a very low risk of failure. However, pipes with a lower performance threshold, such as sewage or drainage pipe, could safely use more recyclate, he says.
He is involved in a project, with local pipe manufacturer Aquaspira, to do this. Other elements, such as embedded sensors and steel reinforcement, will further help to reduce embedded carbon – with the potential for a net-zero pipe by the end of the decade.
'We are already using 100% recycled plastic in our test pipe,' he says.
Aquaspira's standard pipe comprises a steel-wound core overlaid with HDPE. It is typically used for drainage and buried underground in applications ranging from airports to construction sites.
'It's all about reducing the embedded carbon in projects like these,' says Cassidy. 'The pipe is lighter, so is easier to install. It incorporates recyclate. And it has sensors that monitor environmental conditions, helping it to last longer.'
However, the embedded carbon in a product does not just come from the raw materials. The majority will be from its manufacture, use and maintenance.
'You have embedded carbon from the manufacturing process, but also from the installation and maintenance of the pipe,' says Neil Wallace, Managing Director of Aquaspira. 'For this reason, the pipe's longevity is also an important factor.'
Adding steel to the pipe raises its strength, allowing its size to be reduced. This, in turn, means that a smaller trench is required, simplifying installation and reducing excavation – so there is less material to remove from the site. 'Think how many vehicle movements you are saving,' he says.
Prior to COP26 in Glasgow in 2021, Cassidy contributed to an article on the embedded carbon in infrastructure products such as pipes, which formed part of a longer publication (Addressing the climate challenge, University of Birmingham, 2021). While the embedded carbon in the virgin plastics – typically HDPE or PVC – is higher than for materials such as concrete, the authors argue that assessing the 'cradle to grave' lifetime of a product should also take installation processes such as excavation into account.
Processes such as excavating and backfilling of soil have an embedded carbon cost, typically ignored in calculations because their contribution is far smaller than that of a virgin plastic pipe. However, this would be reversed for a pipe that uses recycled material.
So far, the test pipe – complete with sensors – has undergone 'positive' trials at the National Buried Infrastructure Facility (NBIF), on Birmingham University's Edgbaston campus.
'We could build and supply this pipe today from Aquaspira's factory,' says Cassidy. 'But it would be a bespoke product.'
A commercial version is between 18 months and three years away, he says.
Plastic is never going to be flavour of the month from a sustainability perspective. However, more responsible use of the material – in appropriate applications such as in plastic pipes – may do something to overcome its shattered reputation.
'The whole point of a plastic pipe is that you don't want the material to break down – you want it to last,' says Wallace. 'This is the heart of the matter.'
Material gains
Plastic pipe manufacturers say their product has many advantages over traditional materials such as steel, concrete or clay. A key attribute is its light weight. A pipe made from oriented PVC – a 'stretched' form of PVC with high strength – can replace steel pipe that is around 10 times its weight. This means it can be installed far more easily, with minimal use of heavy machinery – which is both faster and cheaper.
In addition, plastic is immune to corrosion and can withstand extreme weather conditions. Plastic pipe to transport gas or water typically has a lifespan of 50 years, so will need minimal maintenance.
One potentially huge boost for plastic pipes – if only in the US – came in the form of the $1tr-plus Infrastructure Investment and Jobs Act, which was recently signed into law. While the Act covers all types of infrastructure, from bridges to roads, it includes a $48bn commitment to improve water infrastructure – with $15bn dedicated to replacing 'ageing lead pipes'.
However, PPI, an organisation that represents US pipe manufacturers, added that pipes have broader use than clean water transport, citing gas pipelines, protective pipe for telecoms cables, and $7.5bn for a hydrogen and natural gas fuelling network.
'Plastic piping provides sustainable, environmentally responsible choices that are a perfect fit for the projects being funded in the Act,' says David Fink, President of PPI.