Cath O'Driscoll
For paints and coatings manufacturers, surface area is an important parameter – directly linked to profitability. It's this fact that explains why the trend to put more electric vehicles on the roads is causing so much buzz, says William Brunat, PPG's Global Director of product development Automotive Coatings and Mobility.
'A typical mid-size car has a surface area of 80-90m2, both external and internal. But look at the surface area of the electrodes and cathodes inside a battery pack and the area is up to ten times that – up to 1000m2. Which means a lot more area to paint.'
By 2035, EU law demands all new cars will be electric. By 2025, PPG forecasts that the 'total addressable EV coating market' will be worth around $2.5bn/year (see graphic, below) – including coatings for the battery packs as well as their constituent lithium-ion battery cells.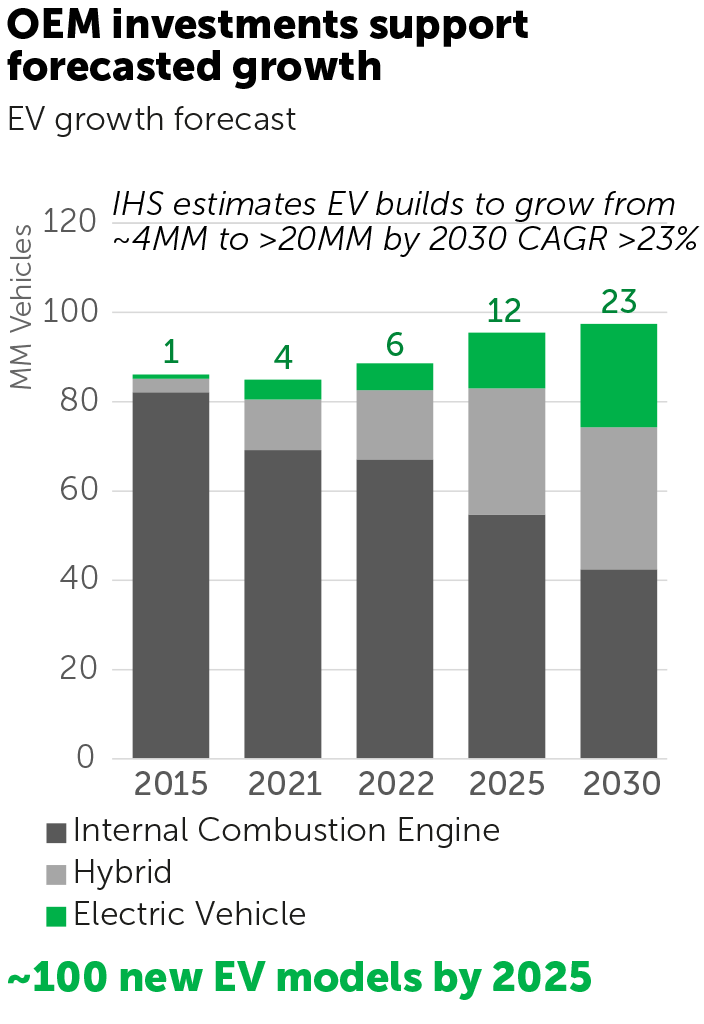 PPG
EVs currently have battery systems of 400-600V – set to increase to more than 1000V as driving range increases in the latest models. That's not only crucial for vehicle performance, but also a big potential safety issue, Brunat says. Dielectric coatings applied to EV battery packs already play a pivotal role in providing insulation to isolate electrical arcs that can cause thermal events. PPG's latest innovation, however, goes one step further. PPG's Envirocron Extreme Protection thermally conductive powder coatings are the first to combine dielectric protection and thermal conductivity in a single multifunctional coating. Such a thermally conductive powder improves heat transfer between the battery cells and the cooling elements by up to 20% – which should not only extend the lifetime of the battery pack but also boost mileage or driving range.
It's not yet clear by how much on road performance will improve, but based on computer simulations in the lab, Brunat says he anticipates an increase in mileage of a few single digit percent.
UV cured coatings are another important innovation, he notes. Traditionally, battery cells are covered by a layer of insulating polymer tape, which could lead to uncoated and thus unprotected areas. Replacing the adhesive tape by coatings avoids that problem. In addition, coatings offer a much higher and more durable adhesion to the cells allowing new improved concepts of battery packs like the cell-to-pack design. The coatings can be either a dielectric powder coating similar to those used for cooling elements, or a UV cured liquid coating, which allows extremely fast production cycles as they cure in seconds, compared with typically 20 minutes for traditional powder coatings. As always, choosing the best coating process is 'often a compromise between cost and performance and PPG has developed clear decision criteria allowing us to make the right choice, increasing overall safety by providing a better dielectric protection,' he acknowledges.
Fire safety is yet another major consideration for battery packs, says PPG colleague Shuang Ma, Technical Manager Automotive Coatings and Mobility. PPG's CoraChar coatings are intumescent, Ma explains, meaning they expand in the presence of high heat or fire to provide an insulating layer that protects the vehicle/battery from thermal damage. At just 0.6mm film thickness, CoraChar coatings can withstand 1200°C fire for over 30 minutes while keeping the temperature of the substrate or battery pack below 400°C. A spray on formulation, CoraChar also has the advantage of being solvent free.
Elsewhere in the automotive sector, PPG is also making waves with its automated refinish paint mixing system MoonWalk. Traditionally, cars involved in a collision are repainted at bodyshops, requiring specialist paint mixers to blend the exact matching colour shade. This process is not only messy and labour intensive, but it's also wasteful and can lead to expensive errors, says Matteo Carraro, PPG MoonWalk Segment Manager, EMEA Automotive refinish. Instead of manual mixing, with MoonWalk the user loads the required tinter, additive and thinner bottles into the rack. The system checks each bottle's barcode, automatically dispensing the correct amount of products and a label.
A big challenge is the fact there are hundreds of thousands of different car colours on the roads and every colour has seven to ten variants depending on where the batch was made, the robot involved and other factors. One of the breakthroughs is to track and predict these colour variants, says Jo de Watcher, New Business Manager collision, EMEA Automotive refinish. 'Every OEM colour has a date when it came onto the roads. We track and forecast these variants so if we have a three-year old car to repair, we have a variant available.'
The work is aided by a spectrophotometer device that reads the reflectance data after light of different wavelengths is shone on the car body.
Importantly, Carraro says users get a fast return in investment from MoonWalk not only because of the reduction in waste but also due to higher throughput from six to 10/12 repairs per day. There are now more than 1000 units installed around the world, and the system received the 2021 Sustainable Innovation Award from the British Coatings Federation.