Abu Dhabi-based energy company Masdar has signed a Memorandum of Understanding with Port of Amsterdam, SkyNRG, Evos Amsterdam, and Zenith Energy to explore the development of a green hydrogen supply chain between Abu Dhabi and Amsterdam, the Netherlands. The project's goal is to support demand for green hydrogen in the Dutch and European markets.
The project will focus on producing green hydrogen in Abu Dhabi with export to the Netherlands through the Port of Amsterdam. The hydrogen would be used in key European sectors including sustainable aviation fuel, steel making and bunkering for shipping. It will also be supplied to European offtakers via pipeline, truck and barge. The partners said that they will 'explore several hydrogen transportation methods, with a focus on liquid organic hydrogen carriers'.

Masdar are collaborating to look deeper into sustainable aviation fuel
In a separate development, Masdar is partnering to look at the feasibility of developing the region's first project producing sustainable aviation fuel using renewable hydrogen and municipal solid waste. Masdar's project partners are: ADNOC, BP, Tadweer, and Etihad Airways. The announcement of the project was made during Abu Dhabi Sustainability Week, which ran from 14 to 19 January. The partners said that if the conclusions from the study were positive, they would then work towards developing the UAE's first commercial-scale sustainable aviation fuel capacity in Abu Dhabi.
---
Meanwhile, Eni and Snam are partnering to develop and manage Italy's first carbon capture and storage (CCS) project. Through an equal joint venture, the project will be developed in phases, with phase one of the Ravenna CCS Project capturing 25,000 tonnes of CO2 emitted from Eni's natural gas treatment plant in Casalborsetti, Italy. The captured gas will be piped to the Porto Corsini Mare Ovest platform and injected into a depleted offshore gas field. The partners said that the project represented a 'fundamental step to respond to the decarbonisation needs of steel mills, cement plants, ceramics and chemical industries and more generally the hard-to-abate industries'. The first phase of the project is set to create some 500 new jobs.

Carbon capture and storage progress in Italy
Looking to meet demand for renewable diesel, ExxonMobil has said that its majority-owned affiliate Imperial Oil Ltd will invest $560 million to build what is said will be Canada's largest renewable diesel facility. Located at Imperial's Strathcona refinery, the new facility is slated to have a capacity of 20,000 barrels of renewable diesel per day, and the bio-based feedstock will be sourced locally. The facility will also use low-carbon hydrogen produced with carbon capture and storage technology via an agreement with Air Products. Agreements are in development with third parties for the supply of bio-based feedstock, ExxonMobil added. Initial construction has begun, and biodiesel production is expected to begin during 2025.
Today we announced a final investment decision of $720 million for our Strathcona renewable diesel (RD) facility.

The facility will produce more than 1 billion ltrs/year of RD & is anticipated to realize 3 million tonnes/year in emissions reductions.https://t.co/8CKvDFKrsX pic.twitter.com/IpCFSiE6BQ

— Imperial Oil (@ImperialOil) January 26, 2023
Canada's government has joined the First Movers Coalition (FMC), a body launched by US President Biden during COP 26 held in Glasgow, Scotland, UK, in 2021. The FMC provides a platform for international businesses to work collectively to create market demand for cleantech solutions, as a means to encourage scale-up emerging technologies needed for the move to net-zero. Other FMC government partners include India, Japan, Germany, Singapore, and the UK. In a statement Canada's government said that the FMC represented a 'valuable opportunity for the Canadian clean tech entrepreneurs to display their leadership on the world stage and enable a wide range of Canadian businesses to access the clean tech solutions they need to achieve their net zero goals and build the clean and profitable supply chains of the future'.
---
Looking to develop more sustainable crop protection products, Bayer has said that it will collaborate with Oerth Bio, an agricultural biotech company. Bayer says that Oerth Bio's protein degradation technology has the potential to generate products supporting its sustainability objectives. Oerth Bio was founded in 2019 by Bayer's investment arm, Leaps by Bayer, and Arvinas, a clinical-stage biotechnology company focused on the development of targeted protein degradation therapeutics. 'We expect protein degradation technology, already in use in medicine, to be an important cornerstone for the development of new crop protection products that reduce the impact on the environment significantly,' said Dr Robert Reiter, Head of R&D at Bayer's Crop Science Division.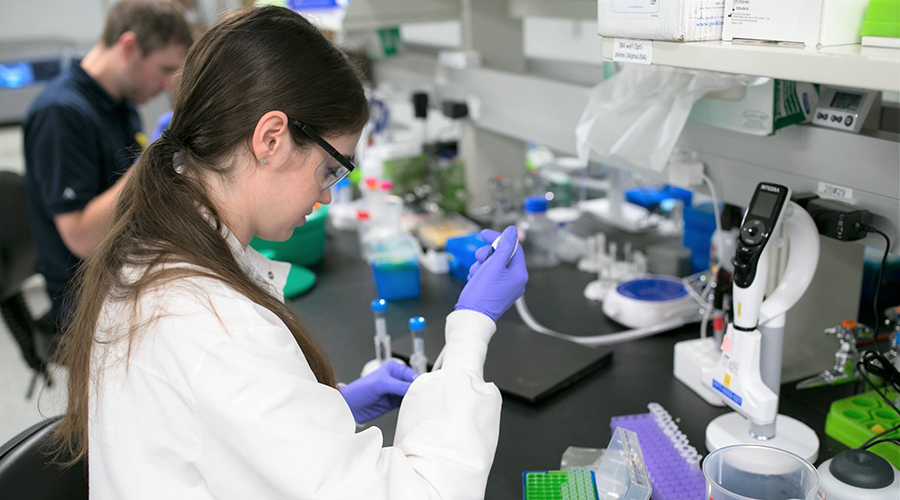 Oerth Bio scientists evaluating PROTAC molecules in vitro. Image credit: Bayer/Oerth Bio
In what it said to be a 'world first', GOOD Meat, a cultivated meat brand of the company Eat Just Inc, has received regulatory approval from the Singapore Food Agency for use of serum-free media in the production of cultivated meat. GOOD Meat said that: 'This technical and regulatory milestone will lead to greater scalability, lower manufacturing costs and a more sustainable product. It also paves the way for the production of large quantities of real, high-quality chicken from cells instead of slaughtered animals.' The company added that it remains the only cultivated meat producer in the world with the ability to sell to consumers. Since its launch in Singapore, the company says that its chicken has been featured on menus at fine dining establishments, and outdoor stalls alike.
In a free SCItalk webinar on 23 March, Professor Mark Post of innovative food company Mosa Meat – creator of the first cultured beef burger – will discuss ongoing developments in the field of cultivated meat, discussing the processes his team has developed to create beef, taking cells from a cow and using natural processes to nurture and grow them into real beef; as well as developments in reducing cost and removing animal components from production processes. Register here – it's free!
Mosa Meat co-founder, Professor Mark Post (above) will give a SCItalk lecture on cultivated meat on 23 March. Image: Mosa Meat