The UK claims to be a research and development superpower but is failing to reap the rewards of commercialising advances in science and technology, warns SCI
Political parties must be "decisive and bold", adopting an ambitious industrial strategy to keep pace with the economic growth of international rivals
Such a strategy could grow the economy by £230bn between 2024-30 whilst creating 240k highly paid jobs, according to research by L.E.K. Consulting
11 July 2023: An 'ambitious and practical' industrial strategy for life sciences and clean tech could boost the economy to the tune of £230bn by 2030, according to research commissioned by SCI.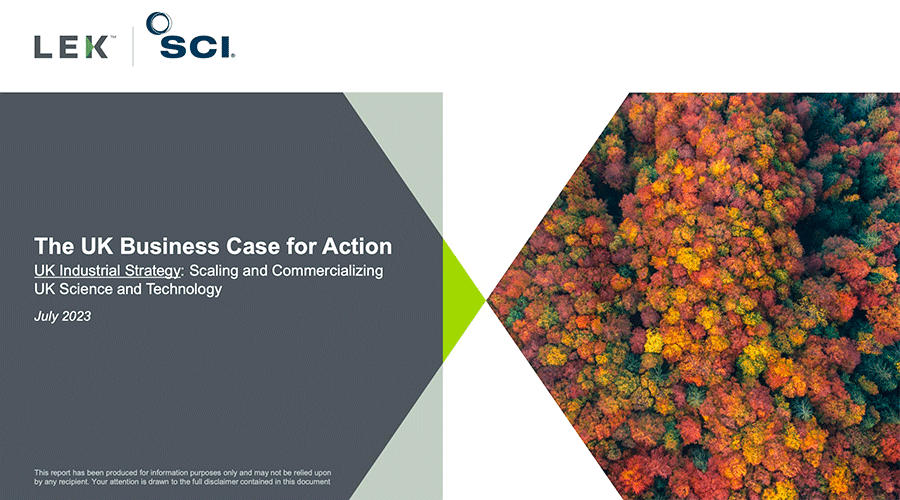 Download the report, UK Industrial Strategy: Scaling and Commercializing UK Science and Technology, here.
Analysis by L.E.K. Consulting illustrated that an industrial strategy, focused on exploiting the UK's strengths in science and innovation to drive scale up and commercialisation, had the potential to boost the economy significantly. A comprehensive plan could create approximately 180,000 high- value jobs in the clean tech sector, and 60,000 in life sciences. Based on the research, the report highlighted opportunities such as:
Increasing support for R&D spending, to bring the UK in-line with international leaders
Facilitating greater collaboration between government and industry in the development of a holistic strategy
Providing mechanisms to bridge UK business "from create to make" – supporting the development of a greater manufacturing footprint
Targeted action to address skills shortages in critical parts of the UK economy, to enable the UK's businesses to access, attract and retain skilled international talent
The research illustrated the potential of a new industrial strategy by setting out a means to deliver £230bn of increased value to the UK economy, inclusive of aspirational aims such as increasing our share of pharmaceutical exports, and the proportion of UK science and technology businesses that succeed to IPO.
The reports suggests that industry considers that the "lack of a stable government policy that delivers a long-term, cross-party commitment to an ambitious industrial strategy" could be a hinderance to the UK delivering further on its economic potential. This absence of a consistent, comprehensive plan is thought to be creating a degree of confusion, and inhibiting start-ups and companies from investing in new science and innovation in the UK.
The report also notes that the global 'clean tech' market, worth approximately £1.2tn, is set to grow globally by 12% a year by 2030, but a lack of an industrial strategy may mean that more focused countries will leave the UK behind.
SCI Chief Executive Sharon Todd said:
'For too long, "industrial strategy" has been used as a catchphrase rather than a tangible and actionable plan to drive economic growth. The UK has a world-leading science base, and we need to maximise this commercial potential. An ambitious and practical industrial strategy focused on our science base would mean the UK would attract investment from global scientific companies, rather than lose out to other countries.
'More focus needs to be given to creating value from science, supporting start-ups to scale and creating an environment that attracts valuable scale-up capital.
'This research forms the business case for the SCI's forthcoming Science and Innovation Manifesto. If adopted by the main political parties, this plan would spur both economic growth and make sure that billions of pounds in largescale commercial science investment are not lost to better prepared rivals.'
L.E.K. Consulting Vice-Chair for Sustainability John Goddard said of the SCI commissioned research:
'The UK has an enviable reputation in science and technology development, yet successful scale up and commercialisation is far more elusive. Globally, there is increasing focus on national industrial strategies with significant progress being made. Now is the time for the UK to grasp this opportunity to accelerate our GDP growth.'
---
Download the report, UK Industrial Strategy: Scaling and Commercializing UK Science and Technology, here.