Patrick Wittek was awarded a Seligman APV Travel Bursary to attend the 13th edition of the International Congress on Engineering and Food in Melbourne, Australia. Read his report below.
"In September 2019, I had the great opportunity to attend the 13th International Congress on Food and Engineering in Melbourne (Australia). This congress is a quadrennial event with a focus on food engineering and brings together experts and representatives from the production sector, science, technology and government.
"At this congress, I could showcase my research on the structuring of meat analogues in extrusion processing to an international audience with both an oral presentation and a poster presentation; the title of the presentation was: "Role of the protein composition and rheological properties on the structuring of soy-based meat analogues in extrusion processing".
"My oral presentation was placed in a session on alternative proteins and food supplements and their processing and consumption challenges, with three other very interesting presentations on proteins and their various applications. After my presentation, I was able to discuss my results with several other scientists, which gave me many new prospects for my current and future research. It was a good opportunity to exchange ideas and knowledge with people working in similar areas.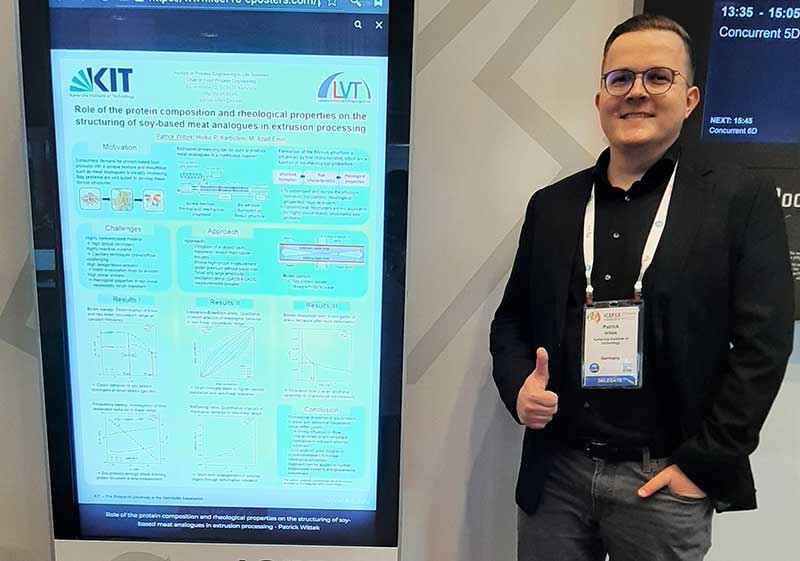 "Besides the feedback on my research and the gained insights, I also learned many new things from all the other great presentations. Intersecting research topics and approaches I discovered will definitely facilitate my further research. Especially the keynote presentations were very interesting and gave me access to topics and approaches I could get nowhere else.
"I want to thank SCI for providing me with the Seligman APV Travel Grant, which enabled me to attend a world-class congress on food engineering. I had the chance to present my research on extrusion processing to an international scientific community, discuss scientifically with renowned experts in food engineering and network with other researchers in the field of extrusion. The attendance was an invaluable experience for me and a big impact for my future scientific career."
Patrick Wittek
PhD Student
Karlsruhe Institute of Technology (KIT), Germany
Related Links