Event review: conference and gala dinner
A two-day conference, 'New Frontiers in Colloid Science', was held at Lord's Cricket Ground in London on 1-2 April 2008. This meeting was jointly organised by the RSC Colloid and Interface Science Group and the SCI Colloid and Surface Chemistry Group to celebrate the career of Professor Brian Vincent. Brian retired from the post of Leverhulme Chair of Physical Chemistry at the University of Bristol at the end of 2007. Over many years, he has been a fantastic servant of UK science, and throughout his career a leading light of both the SCI and RSC Colloid Groups. Brian has had an enormous influence on colloid science in the UK, and through his work with IACIS and ECIS he has also had a significant impact on colloid science across the world. Brian has received many honours, including the SCI Founder's Lecture and Award, the SCI Distinguished Service Award, the RSC award in Surface and Colloid Chemistry and the Rehbinder Lecture and Medal (Moscow). He has had numerous invitations to give lectures throughout the world and has published over 250 papers, articles, books and patents. He has also been very active at the academia/industry interface, and has been a consultant for many of the leading companies that use colloid technology worldwide.
The conference consisted of a small number of invited speakers, who covered a wide range of polymer, colloid and interface science. The speakers (travelling from the UK, Australia, the United States and the Netherlands) had all either worked for, or collaborated with Brian during their careers, and they reflected Brian's worldwide influence on colloid science. The talks highlighted the wide applicability of polymer and colloid science in areas as diverse as particles to model space dust, paint films, nanotechnology and drug delivery systems (see Conference downloads). The topics chosen reflected the areas of colloid science where Brian has made significant contributions and also provided a perspective on where these areas are heading in the future. Over 100 delegates attended the meeting (of whom almost a quarter were from overseas) representing both academic and industrial affiliations.
The choice of the conference venue, Lord's Cricket Ground, London, reflected Brian's passion for cricket, and fittingly, the conference dinner was held in the Long Room at Lord's. Both the meeting and black tie dinner were truly memorable events and a fitting tribute to one of the stalwarts of colloid science.
Gala Dinner, Lords Cricket Ground, London, 1 April 2008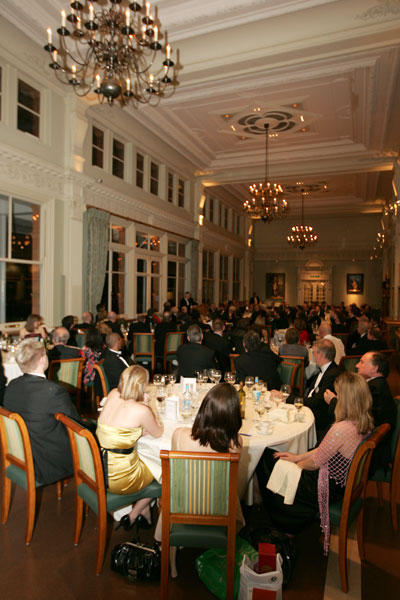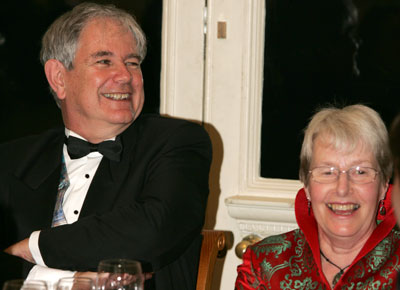 Prof Vincent and his wife Mary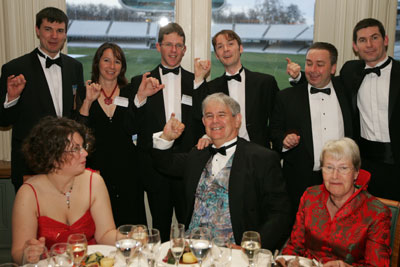 Prof Vincent with family and friends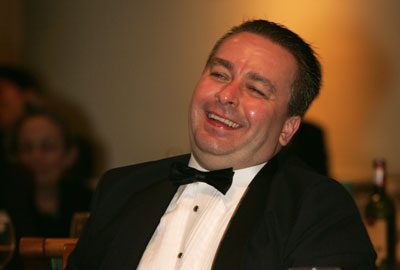 Pete Dowding – Organising Committee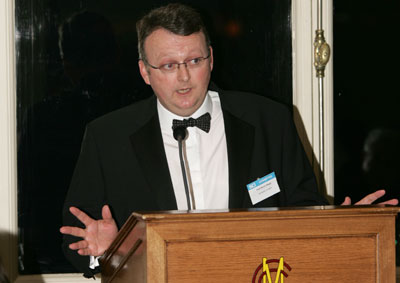 Simon Biggs – Organising Committee
Related Links: