26 Mar 2018
Obesity and malnutrition is a global epidemic, with 1.9bn adults in 2016 worldwide categorised as overweight. 650m of these individuals were obese.
With obesity comes a plethora of associated chronic diseases, the worst of which can lead to death. One of the biggest problems comes in the form of type II diabetes – a condition caused by increased glucose levels in the blood. Type II has been linked to heart disease and stroke, neuropathy, and kidney failure.
Typically, this form of diabetes is developed in patients over the age of 40 but it is becoming increasingly common in children who have weight issues.
Alison Tedstone, the government's Chief Nutrionist, said: 'Overweight and obese children are likely to carry this health problem into adulthood, increasing their risk of type II diabetes, heart disease and some cancers.'
Last year in the UK, the government introduced measures to tackle this problem – the food industry must reduce sugar levels by 20% in the top nine food categories linked to obesity. Foods to be targeted are biscuits, cakes, breakfast cereals, and yogurts, amongst others.
'Tackling the amount of sugar we eat is not just a healthy thing to do, but an issue of inequality for many families. If businesses achieve these guidelines, 200,000 tonnes of sugar could be removed from the UK market per year by 2020,' Tedstone said.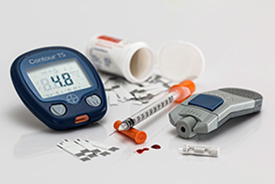 Diabetes patients use kits to control their blood glucose by measuring levels before and after meals.
The UK government has even suggested approaches to the problem: reformulating products to reduce levels of sugar, decreasing the size of the product and therefore the number of calories it contains, and encouraging customers to buy less sugary products.
Industry tactics
Nestle was one of the first food industry giants to announce its plans for sugar reduction, declaring its intention to decrease the sugar content of some of its products by 10% using a unique technique it proclaims 'structures sugar differently'.
The method, influenced by 'natural' sugar, can reduce sugar in Nestles chocolate by up to 40%, the company says, without compromising on taste. This sugar dissolves faster even when less is used, so an identical level of sugar is perceived by the consumer, it says.
The announcement – made in November 2016 – proclaimed the company was seeking to patent the process and hoped it would be implemented early this year.
Speaking at the time, former CEO of Nestle UK and Ireland Fiona Kendrick, said: 'These innovations will help us to reduce sugar in confectionery when they are combined with other, more common methods like reformulating recipes and swapping sugar for other non-artificial ingredients.'
Public lecture
At her upcoming 'Overcoming obesity: A taste of things to come' lecture, Alison Tedstone will discuss the scientific and economic evidence behind the government's recommendation for the food industry to reduce sugar levels by 20% in certain food categories.
The event will be held on Wednesday 23 May 2018 at SCI's London offices (14/15 Belgrave Square, London SW1X 8PS) as part of our series of Public Evening Lectures. Registration will open soon.
By Georgina Hines
Related links: