Early career scientists were given the chance to voice their questions about the future of science to MPs and ministers at the House of Commons at the 2019 'Voice of the Future' event.
Rebecca Aris
On 12th March, scientists and representatives from learned societies and STEM disciplines came together to quiz MPs and senior political figures, including members of the Science and Technology Select Committee, the Minister of State for Universities, Science, Research and Innovation, Chris Skidmore MP, and the Shadow Minister for Industrial Strategy, Science and Innovation, Chi Onwurah MP, and the Government Chief Scientific Advisor, Sir Patrick Vallance MP.
The annual event, which is hosted by the Royal Society of Biology and the House of Commons Science & Technology Committee, mimics the format of a Select Committee hearing.
SCI attended this year's Voice of the Future event, along with six representatives in the early stages of their careers. Paul Brooks (Synthomer), Niall Thomson (Syngenta), Ryan McDonald (Croda), James Wickson (Croda), Callum Hall (GSK) and Joe Hamlin (Johnson Matthey) represented SCI's growing corporate and industrial membership base, and had the opportunity to pose their questions to the panel.
A packed committee room as roles are reversed as young scientists and engineers question the @CommonsSTC in the Voice of the Future event. #VOF2019 pic.twitter.com/dWaQZ7zjGh

— Carol Monaghan MP 🏴󠁧󠁢󠁳󠁣󠁴󠁿 (@CMonaghanSNP) March 12, 2019
Launching the proceeding, Speaker of the House Rt Hon John Bercow MP, spoke about the importance of science as a subject. For those with an interest and passion for science, he declared, it is 'the route to potentially great happiness, real distinction and a very successful career.' He then touched on the need for more experts and those enthusiastic about science in Parliament.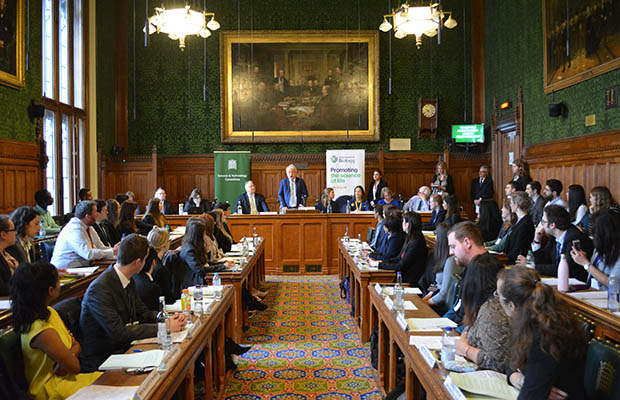 John Bercow, MP, addressing the audience. Image: Royal Society of Biology
The first panel session then commenced, made up of members of the Select Committee, Norman Lamb MP, Vicky Ford MP, Stephen Metcalfe MP and Carol Monoghan MP.
On the subject of important topics for UK science policy in 2019, Vicky Ford MP identified three of the great challenges the world currently faces in this space as climate change, demographic change and the digital revolution. With those issues bringing massive challenges, she explained, we need to make sure that we continue to invest in science and technology whilst ensuring we address those three key areas.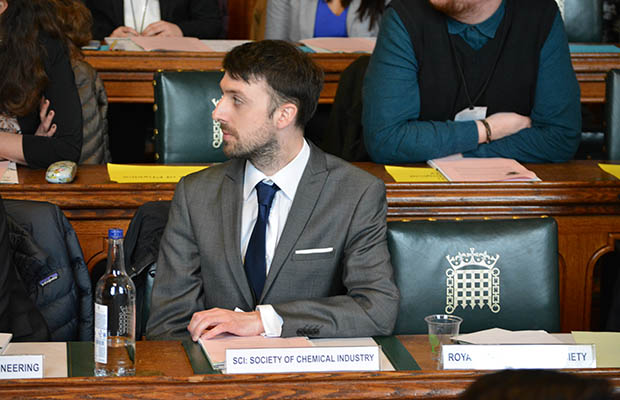 Paul Brooks, Synthomer, representing SCI. Image: Royal Society of Biology
Engaging young people with engineering was a vital question discussed. Engineering brings £486 bn to the UK economy, and yet every year we have 20,000 fewer engineers than we need, combined with the lowest levels of women engineers in Europe. Bringing engineering into the curriculum, positive female role models for young people, engaging with parents, and ongoing engagement with young people were all solutions discussed.
Ryan McDonald, representing SCI, asked the panel how we could ensure, post-Brexit, that the UK science sector and its outputs are not forgotten in EU policy and decision making. In response, Norman Lamb spoke of the vital need to be part of Horizon Europe and to contribute to it, and also the importance of an immigration system that facilitates movement of scientist across Europe.
In the second panel, the Government's chief scientific adviser, Sir Patrick Vallance, was challenged on many topics including renewable energy, public confidence in STEM experts and developments in genome editing. On technologies such as CRISPR, he believed it should only be applied for therapeutics if it doesn't harm any individual and if it doesn't increase inequality in any way.
Enjoyed participating in #VOF2019 hosted by @RoyalSocBio. I was questioned by young scientists and engineers on #scicomm, #sustainable #decarbonisation, #citizenscience and #antimicrobialresistance. You can listen to the full event at: https://t.co/hysb7esiRG #BSW19 pic.twitter.com/gzFn7fA8eb

— Sir Patrick Vallance (@uksciencechief) March 12, 2019
Chris Skidmore MP, who was appointed Minister of State for Universities, Science, Research and Innovation in early December 2018, addressed questions on apprenticeships, tuition fees, GMO regulation and environmental issues in the third session of the event.
On behalf of SCI, Jim Wickson, asked him about collaborative research in nuclear power following our withdrawal from Euratom, and how the UK would achieve its binding carbon targets in the face of the withdrawal. Skidmore responded that even in the case of a no-deal Brexit there had been agreements to ensure that the nuclear industry continue to operate as normal. Going forwards, Skidmore was confident that we have taken steps to protect existing structures but also that we can continue to participate in this field of science in which we are a world leader.
The overriding message in the final session, with Labour's Shadow Minister for Science, Industrial Strategy, Science and Innovation, Chi Onwurah MP, was the importance of international collaboration for innovation in STEM.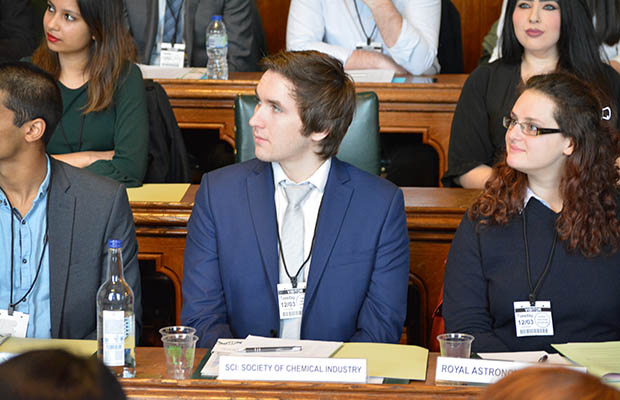 Ryan McDonald, Croda, representing SCI. Image: Royal Society of Biology
As a Chartered Engineer herself, Onwurah stressed that she is keen to ensure that diversity is highly promoted, and she highlighted the importance of international students. 'Innovation comes from people from different backgrounds,' she stressed.
On the largest issue facing the environment, Chi Onwurah was clear. Climate change is the biggest thing on her mind; and she's interested in solutions from new technologies to widening education. She sees climate change as a threat, but also an opportunity in terms of gearing up our science in a more collaborative way to tackle the problem.
Unsurprisingly, Brexit was a topic that was widely addressed in this session, with Onwurah saying that she felt like she was 'living in dreamland' because of the uncertainty facing the sector. 'We don't know what the final deal will look like, or if there is a deal… there are 17 days to go and I can't tell you what Brexit will look like for science,' she said.
Precarity of short-term contracts for early career researchers was also raised in her session and she clearly vocalised that they do not help build a diverse workforce or a rewarding career.
Thanks to everyone who attended Voice of the Future 2019! #VOF2019 https://t.co/kSbYP05QXN

— Royal Society of Biology (@RoyalSocBio) March 12, 2019
Overall, it was a fascinating day that presented a unique opportunity for the early-career scientists to engage with, and voice their key questions to, British politicians. 'It was such an honour to be able to attend the Voice of the Future 2019 event today in Westminster,' said Joe Hamlin, Johnson Matthey. 'A chance to ask MPs about key issues we in industry see from day to day as well as share our experiences with one another'.
Related Links: