29 Jan 2018
Vaccines are much debated these days, but before starting a discussion about them, let's see how a vaccine is defined.
Vaccines and drugs.
Credit: pxhere
The World Health Organisation defines a vaccine as 'a biological preparation that improves immunity to a particular disease. A vaccine typically contains an agent that resembles a disease-causing microorganism, and is often made from weakened or killed forms of the microbe, its toxins or one of its surface proteins. The agent stimulates the body's immune system to recognize the agent as foreign, destroy it, and "remember" it, so that the immune system can more easily recognize and destroy any of these microorganisms that it later encounters.'
We put in our bodies something that looks like or has a tiny part of the 'microbe' that produces the disease so that our body can produce the right agents to fight it in case we actually contract the real illness.
A vaccine is comprised of an active ingredient and other added ingredients. Like any other drug, the active ingredient is the key component that triggers the immune response. Beside this, the added ingredients have different roles, such as improving the immune response, or acting as a preservative, stabiliser, or suspending fluid.
These added ingredients are the ones that are sometimes contested due to their toxicity. But when speaking about toxicity, there is a very important point to make. Everything is toxic.
It all comes down to the dose you eat, drink, or otherwise insert into your body. An important indicator of toxicity is LD50 (lethal dose 50), which is the dose at which 50% of individuals die. Sodium chloride, also known as table salt, has a LD50 of 12,400mg/kg (868g of salt for a 70kg individual) for humans. The lower the LD50 indicator is, the more toxic a compound is.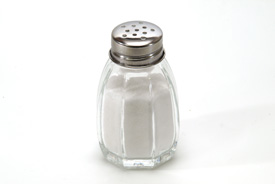 Table salt can also be toxic
Credit: Wikimedia Commons
Aluminium salts are used in many vaccines as adjuvants. This means that they help by stimulating the immune response and by a slow release of the active ingredient.
The most used salts are aluminium hydroxide, aluminium phosphate and potassium aluminium sulphate. Data about these compounds are freely accessible by searching for their material safety data sheets (MSDS) on the big chemical suppliers' websites. The 11th section of an MSDS file is the toxicological information section, which contains the LD50 value, carcinogenicity information, and others.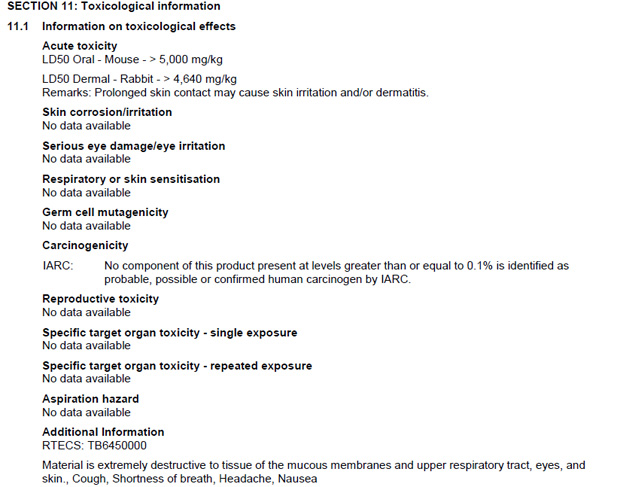 Section 11 of the aluminium phosphate MSDS (Credit: Sigma-Aldrich)
None of the salts above are reported as carcinogenic, and the LD50 of aluminium phosphate is more than 5,000mg/kg for mice. The total quantity of the aluminium in a vaccine is less 1mg (0.001g), which is a very low quantity. In the normal European diet the amount of aluminium we intake from food varies between 3–10mg a day.
Vaccine composition lists also include compounds and products used in the manufacturing process – even though at the end of manufacture they are present only in trace amounts, if at all.
One of the chemicals on this list that scares people is formaldehyde, which is indeed carcinogenic with and LD50 of 42mg/kg for mice. Nevertheless, the quantity present in a vaccine dose is less 0.1 mg. One 200g pear contains 12mg of formaldehyde. We should always remember 'the dose makes the poison', as compound interest illustrates below.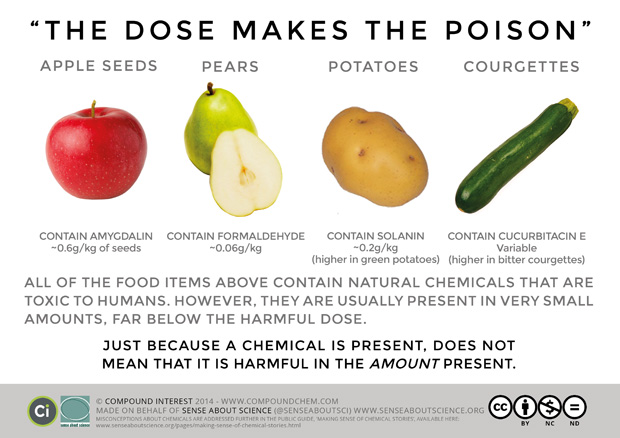 'Toxic' chemicals in food – (Credit: Compound Interest)
Vaccination is a personal decision. Nevertheless, it should be based on information from multiple verified sources. Easily accessible and clear information can be found on the Vaccine Knowledge Project website designed by the Vaccine Research Group from the University of Oxford.
Making responsible decisions will lead to a healthier global population.
Related links: