21 Sept 2017
The demand for cheap and efficient renewable energy worldwide is on the rise. Renewable energy resources, such as solar and wind power, now contribute to at least 20% of total energy consumption of over 30 countries, and the development of technologies in the field are viewed as a priority for many nations and global corporations.
Credit: Jerry and Pat Donaho@Flickr
Caption: A wind farm in Idaho, US.
In the UK, the government has announced an investment scheme for new renewable energy projects, worth up to £176 million a year, that are set to power up to 3.6 million homes. These energy projects include innovation in the wind power sector, which is at the forefront of the push for inexpensive and sustainable energy resources.
Hybrid blades
There are many advantages to offshore wind turbines. Wind speeds tend to be faster than on land, which means they produce more electricity compared with onshore turbines, and speeds are generally more stable and easier to predict when measuring their output. However, one of the ways that onshore wind turbine companies are catching up with their offshore counterparts is by using hybrid materials in the blades. Using different materials allows for variation in material density at separate points of the blade, with the aim of increasing integrity and reducing its overall weight. For example, carbon fibres can be used at the roots of the blade to increase stability, with E-glass used on the outboard for electrical conductivity.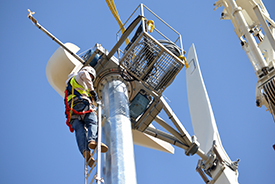 Credit: US Army Corps of Engineers@Flickr
Caption: An engineer adjusts a wind turbine in the Buckhorn Recreation Area, California.
Drastic changes are needed for onshore wind turbines, as the sector is forced to compete against offshore opponents for increased power and cheaper costs. Hybrid composite alternatives have already seen success in the aerospace sector, so show real potential in creating a competitive product for onshore wind farms. Research is still in the early stages, and faces competition from carbon epoxy alternatives that are more readily available, but experts predict this technology, with the help of 3D printing, will reach the market in the next few years.
Protective coatings
A struggle faced by engineers in the wind power industry is creating a durable product. In sometimes extreme conditions, it can become difficult to maintain the upkeep of wind turbines on a reduced cost and in a timely fashion. Companies such as Covestro ­– a global supplier of high-tech polymer materials – are investing in research focusing on new technology that can provide protection to turbine blades. A hard-wearing product is a particularly easy way to save money for offshore wind farms, as logistics can be difficult in these environments.
Covestro has developed new polyurethane technology that can provide a corrosive-protective coating for wind turbines. It has created an infusion resin that reinforces the glass fibres of the turbine and shortens production times, using a vacuum infusion method. The process begins with the core structural materials and glass fibres locked in a mould, sealed so that they are airtight. Then the liquid resin, more fluid than a traditional epoxy resin and therefore better for reinforcement, begins the infusion. The liquid form of the resin and vacuum environment create a shorter cycle, reducing production time and costs.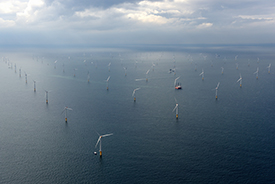 Credit: Statkraft@Flickr
Caption: Sheringham Shoal Offshore Wind Farm, off the coast of North Norfolk, UK.
Research has shown the infusion process performs as well in wear and quality as more conventional methods with metal coatings, and unlike other materials such as steel, components do not need to undergo further processing to increase protection and reduce decomposition. First used in industry in China, the new process has shown to be effective in turbine blades up to 37.5m long with an energy output of 1.5MW, similar to the GE 1.5MW model widely used in the industry.
Affordable and sustainable energy methods will be discussed at our upcoming 'Low Carbon Technologies for the UK Energy System' event. A panel Q&A will debate the importance of gas turbines, small modular reactors, and bioenergy for the future of CO2 reduction in the UK.
The event will be held on Tuesday 7 November 2017 at SCI's London offices (14/15 Belgrave Square, London SW1X 8PS) and is organised by our Energy Group.
By Georgina Hines
Related links: