At the end of March, SCI Horticulture joined with the Professional Horticulture Group South West for a weekend of visits to businesses and gardens in Devon and Cornwall. We report below on three of these visits to XL Horticulture in Ottery St Mary and Ince Castle and Cotehele in the Tamar valley. A further visit to Alstromeria growers, Lanoyce Nursery will be reported in a subsequent newsletter.
Sadly, as reported in the last issue, Oliver Menhinick was killed in a car accident during these visits. A Thanksgiving Service to Oliver was held on 10 April in the church of Lacock, Wiltshire where he lived with his wife Mary . This service was well attended by family and friends as well as colleagues from nearby Lackham College and numerous representatives of the horticulture industry. An appreciation of Oliver's contribution to horticulture by his friend and colleague Mike Pollock can be found on the Forum.
We have been delighted by the response this year to the David Miller Award. When applications closed we had received 19 submissions from 14 universities and research centres. These applications are currently being judged and the results will be in the next newsletter.
This coming month the Group will be visiting:
Bowood House on 8 May: Details.
Harcourt Arboretum on 21 June: Details.
Editor
XL Horticulture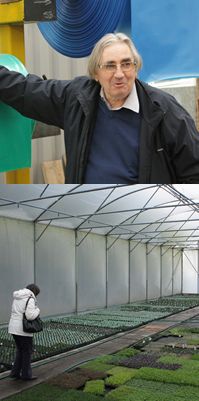 XL Horticulture is one of a group of businesses run by Les Lane (upper picture) and his family. Starting with a nursery, Devonshire Lavenders, Les realised that this business alone would not generate sufficient income to support the family and new ventures were needed. After several such ventures he hit upon supplying polythene for the then expanding polytunnel industry.
Since those early beginnings, when polythene was just polythene, the science has progressed and enabled a range of products for different purposes to be developed. These are primarily based around ingredients added to the polythene to alter its strength, water tension and transmission properties. Les explained that a standard polythene sheet consists of three layers. The ingredients can be expensive, so no point putting them in all layers. A particular example is the ingredient that prevents condensation forming on the surface. There is no point including this in either the centre or outside of the 'sandwich' as it is only effective on the inner surface. However, a result is that the polythene sheets must be used the right way round.
One of his early tasks was to find a polythene film producer to work with eventually tracking down a firm in Crete. They have proved willing to work with Les to develop his range of plastic films.
One of the first problems to tackle was the constant rain of drips that falls from simple polythene sheets. The anti-condensation film developed won the Best New Product award at Four Oaks in 1996. Another major issue with polythene is the effect that Ultra Violet (UV) light has both on the plastic and the crop beneath. UV degradation has an important impact on the life of the film. The incorporation of UV absorbing chemical into the films not only prolongs the life of the film but reduces Botrytis infections by disrupting the fungal reproductive system.
Early films had to be thick to provide the strength required. Now the inclusion of long chain additives enables thinner sheets to be used. This reduces cost because less of the ingredients are required but also through cheaper transport costs.
Further modifications to light transmission have enabled the development of films for shade plants and 'thermal' films. The latter do not insulate but act by an enhanced greenhouse effect. The film allows short wave energy from the sun to enter the tunnel but prevents the longer wave energy radiating from the soil and the crop from escaping.
A more recent development has been the introduction of five-layered films. The central layer is a separator which enables the two outer and two inner layers to be 'blown' apart to create an air gap and further adding to the insulating effect of the film. Les has half of one of his own polythene houses covered (lower picture) with this product and demonstrated how a seemingly very small blower could keep this film inflated.
Peter Grimbly
Tamar Valley Gardens
Ince Castle and Cotehele
The river Tamar and its estuary form the well known boundary between the counties of Devon and Cornwall. While the Devon side of the estuary has developed into the city and port of Plymouth the Cornish side has become home to a horticultural industry and some horticultural gems. Two of the latter are the gardens of Ince Castle and Cotehele.
Approached along a daffodil-lined drive, Ince Castle is situated on a relatively flat peninsular site near the mouth of the estuary but sufficiently far inland to be partly protected from direct exposure to the salt laden winds blowing off the sea. Nevertheless the initial development of the gardens was encouraged by the protection of Leylandii screens, now happily removed. Much of this early development was undertaken by Patricia Lennox-Boyd who purchased the house in 1960. Since 1994 it has been further developed by the present occupants Simon and Alice Lennox-Boyd (pictured top right).
On taking up residence one of their early concerns was the restricted view from the ground floor so they cut away the low hill causing the obstruction to create a flat lawn bordered by banks on which species tulips are now being established. The soil removed was used to create a low mound (subsequently identified as an ancient burial mound by the local archaeologist!) which once planted with trees provided further protection from the wind.
Behind the house a sheltered lower garden provides a home for some excellent Magnolias as well as a well established Fritillary lawn. The dampness of this area was highlighted by the lichen clad garden seat to one side of the lawn (pictured lower right). Hellebores are a major feature of the garden and in particular they have a long wall topped with a magnificent display at the time of our visit. They also boast a hot garden, although the late spring had prevented any signs of heat showing up.
Returning to the front of the house we admired an old Turkey oak (Quercus cerris) whose strange shape we were told was due to the fact that it was blown over in the second half of the nineteenth century.
By contrast Cothele sits much higher above the Tamar estuary and several miles further inland. As a consequence the garden has a greater variation in height especially where it drops steeply down to the river bank. The Tamar valley is noted for its daffodil industry and hence this species is a major feature of the planting particularly in early spring. The garden also boasts an old orchard which is being brought back to life but more important expanded into a new area to create a historical record of the varieties that played such an important part in the local horticultural industry.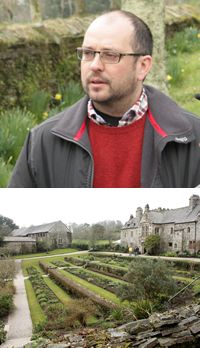 We were shown round by Head Gardener, David Bouch (pictured upper right), who explained the changes in philosophy and management that had occurred within the National Trust. David is currently acting General Manager and as such no longer has one property to oversee but several. Gone too are the Trust garden advisers as it was felt this made the Trust's gardens too alike. Now the objective is to focus planning on 'the spirit of the place' with advisers being bought in to advise on specific projects rather than to instigate the projects. No attempt is made to create gardens of a specific period as this would restrict the choice of planting too much.
A small area, once managed privately by 'Mrs Julian' and still bearing her name was being used to bring together features of the Cornish horticultural industry like daffodils and Pittosporum. It was also being used to compare dig and no-dig approaches. Convinced by the success of no-dig, David says he will be happy never to lift another spade. However, the garden has abandoned its Soil Association status as too expensive to maintain.
David concluded by describing the new NT apprentice scheme. The Trust as a whole takes on twelve apprentices each year for two years. While it is hoped that they will stay employed within the trust gardens they are also viewed as a resource for the industry. Practical training occurs within the gardens, backed up by an academic programme provided by Reaseheath College in Cheshire.
Peter Grimbly
Plant of the Month
Magnolia x soulangeana, Magnoliaceae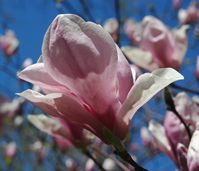 This most planted of all magnolias is a deliberate hybrid bred by Etienne Soulange-Bodin (1774-1846), a French plantsman and retired cavalry officer. He crossed the Chinese species Magnolia denudata with another Chinese magnolia, Magnolia liliiflora, at his chateau in Fromont near Paris. The white flowered M. denudata flowers slightly earlier than the hybrid, whereas the other parent has dark pink flowers. Since the hybrid was first developed, over 100 cultivars have been bred.
There are over 200 different species of Magnolia, with a disjunct distribution from East and Southeast Asia to Eastern North America.
Magnolias were some of the earliest flowering plants (Angiosperms) to evolve and pre-date the evolution of bees. The flowers are beetle-pollinated. Plants identifiably belonging to the magnolia family have been dated to 95 million years ago. There is no differentiation between petals and sepals, the tepals being spirally arranged. These then merge into the stamen, and then the ovary, which is superior, has spirally arranged stigmas protruding.
The magnolia was named after Pierre Magnol (1638-1715), professor of botany and director of the Botanic Garden in Montpellier, France.
The National Collection of magnolias can be seen at Caerhays Castle, Cornwall.
Alison Foster
Oxford Botanic Garden
Medicinal Plant of the Month
Magnolia officinalis, Houpu magnolia, Magnoliaceae
This deciduous Magnolia from the mountains and valleys of China has thick bark, which is brown but does not fissure. The bark from the stems, branches and roots is used in Traditional Chinese Medicine (TCM). It is known as hou pu in TCM, hence the common name. The specific epithet, officinalis, also indicates that the plant is thought (or known) to have medicinal properties. Officinalis indicates plants that are sold in shops. You may have noticed that lots of herbs have officinalis as their specific epithet - rosemary (Rosmarinus officinalis), sage (Salvia officinalis), lavender (Lavandula officinalis).
There are many, many publications reporting the medicinal properties of the bark from this tree. Just some of the many properties investigated include:
Anti-fungal
Anti-diarrhoea
Anti-oxidant
Prostrate tumour suppression
Anti-neuroinflammatory
Anti-amyloidogenic
The main biologically-active constituents are magnolol and honokiol.
Alison Foster
Oxford Botanic Garden
News from our Associates
Society of Biology
The Society has recently made representation on two topics related to UK Research Councils Open Access Policy:
Response to HEFCE's call for advice on the RCUK Open Access Policy. More
Response to the RCUK policy on Open Access . More
Horticulture Industry News
For the very latest horticultural news follow us on

Facebook and or

Twitter.
Neonicotinoids banned for two years
15 of the 27 EU states voted through a two-year ban on the use of neonicotinoid insecticides. This group of chemicals has ben blamed for the decline in bee populations although the evidence for this is strongly contested. The UK voted against the ban and even the British Beekeepers Association has its concerns about the effects the ban will have. They are concerned about what farmers and growers will use instead and call for more research to understand the issues involved. More
Threat to sweet chestnuts
Defra is seeking views on Dryocosmus kuriphilus, the oriental chestnut gall wasp. This pest which originates in China infests certain Castanea species such as C. crenata (Japanese chestnut), C. dentata (American chestnut), C. mollissima (Chinese chestnut) and C. sativa (European sweet chestnut) and their hybrids. It is described as one of the most damaging insect pests of chestnut. It can cause 50-70% reductions in the yield of nut production and can impact on timber production.
Severe infestations can cause the decline and death of chestnut trees.
Tim Briercliffe to boost trade group
Tim Briefcliffe, Business Development Director at the Horticultural Trades Association is to become the first full-time secretary-general of the International Association of Horticultural Producers (AIHP). Briercliffe, who was appointed last week, said he plans to focus on areas of common interest between the AIHP's international trade body members and expects to raise the group's profile after he starts in June. He will retain his office at the HTA headquarters in Theale, Berkshire.
Congratulations to Whetman Pinks
Whetman Pinks is celebrating being named as a winner of the prestigious Queen's Award for Enterprise - the UK's highest accolade for business success. The citation refers to the company's 'outstanding contribution to international trade'. Whetman breeds and propagates hybrid Dianthus (Pinks) and exports to a worldwide market including mainland Europe, Japan, USA, Canada, Australia, New Zealand and South Africa. It is the only commercial Pinks specialist in the world.
Mitochondrial genome of the ancestral flowering plant exposed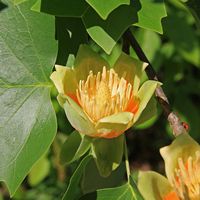 The extraordinary level of conservation of the tulip tree (Liriodendron tulipifera pictured right) mitochondrial genome has redefined our interpretation of evolution of the angiosperms (flowering plants). This 'molecular fossil' has a remarkably slow mutation rate meaning that its mitochondrial genome has remained largely unchanged since the dinosaurs were roaming the earth. Among plants, the lack of genomic data from lineages which split away from the main evolutionary branch early on has prevented researchers from reconstructing patterns of genome evolution. The tulip tree appears to provide a glimpse of this ancestral genome. More
X-rays track nitrogen fixation
An international team of scientists aims to lessen reliance on nitrogen fertilizers by helping beans and similar plants boost their nitrogen production, even in areas with traditionally poor soil quality. In these poor soils iron deficiency often restricts nitrogen fixation. The team has now mapped the route that iron takes using high-energy X-rays and hope to use the same technique to identify and characterise the key biological proteins responsible for iron transportation. This will give researchers targets to manipulate and screen for new legume varieties with increased nitrogen-fixation capabilities and higher nutritional value. More
Study shows reproductive effects of pesticide exposure span generations
Using the aquatic 'water flea' Daphnia, researchers have found that exposure to a chemical pesticide has impacts that span multiple generations - causing them to produce more male offspring, and reproductive problems in female offspring. The work supports the hypothesis that exposure to some environmental chemicals during sensitive periods of development can cause significant health problems for those organisms later in life - and affect their offspring and, possibly, their offspring's offspring. More
Weekly pest bulletins now available for horticulture sector
The Horticulture Development Company (HDC) has introduced weekly online pest bulletins, hosted on Syngenta's website.The pest bulletins are available for all and provide early warnings of potentially damaging pest attacks as well as valuable advice for planning this season's agronomy programme. The bulletins cover: brassicas, carrots, parsnips, leeks, onions and lettuce. While primarily designed for field vegetable and salad growers, the information on aphid species and population numbers is equally applicable for potato and sugar beet growers to assess virus transmission risk and appropriate control options.
Bacillus subtilis biofilm induction by plant polysaccharides
The plant growth-promoting bacterium Bacillus subtilis is frequently found associated with plant roots where it protects plants from infection. Researchers have demonstrated that B. subtilis root attachment depends on production of an extracellular matrix that holds the cells together in multicellular communities termed biofilms. They found that plant polysaccharides (major components of the plant's cell wall) act as an environmental cue that triggers biofilm formation by the bacterium. Furthermore, these plant polysaccharides can serve as a carbon source used to produce the extracellular matrix. This work sheds light on how plants stimulate their colonisation by this plant growth-promoting rhizobacterium. More
BBC staffer wins Young Horticulturist of the Year
Jez Stamp, who works in the BBC Gardeners' World production team, has won the Institute of Horticulture's 24th Young Horticulturist of the Year competition. The grand final was held at the University of Liverpool Ness Botanic Gardens on 13 April. Jez (@JezStamp on Twitter) wins the £2,000 Percy Thrower Travel Bursary, which was provided by the Shropshire Horticultural Society.
Joshua trees are in 'once-in-a-lifetime' bloom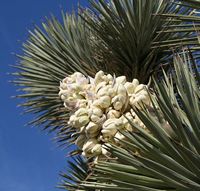 Joshua trees, Yucca brevifolia, the spiky sentinels of the Mojave Desert are having a blossom bonanza and nobody is quite sure why. Millions of trees have been bursting into bundles of greenish-white flowers in California, Arizona, Nevada and Utah. Biologists say just about every tree has bloomed. Usually, far fewer trees blossom and they produce fewer flowers. UC Riverside ecologist Cameron Barrows calls it a once-in-a-lifetime event. Some have speculated that the trees benefited from late-summer thunderstorms last year or cool winter weather. But desert biologist James Cornett believes the stress from two years of drought have pushed the plants to reproduce. More
A whiff of rosemary
The smell of rosemary could boost your memory, researchers say. The smell may enhance the ability to remember events and to remember to complete tasks at particular times, they said. A group of 66 people were given memory tests in either a rosemary-scented room or another room with no scent. Participants were tasked various tests to assess their memory functions, including finding hidden objects and passing specified objects to researchers at a particular time. Participants in the rosemary-scented room performed better on the prospective memory tasks than those in the room with no smell. More
Wild Pollinators better than Honey Bees
The diversity and abundance of wild insect pollinators have declined in many agricultural landscapes. Whether such declines reduce crop yields, or are mitigated by managed pollinators such as honey bees, is unclear. Researchers have now found universally positive associations of fruit set with flower visitation by wild insects in 41 crop systems worldwide. In contrast, fruit set increased significantly with flower visitation by honey bees in only 14% of the systems surveyed. Overall, wild insects pollinated crops more effectively; an increase in wild insect visitation enhanced fruit set by twice as much as an equivalent increase in honey bee visitation. The results suggest that new practices for integrated management of both honey bees and diverse wild insect assemblages will enhance global crop yields. More
Comparing crop response to LED and traditional light
In a research project of Wageningen University the response of carnation to light from an LED light bulb was compared to a standard incandescent light bulb. Two intensities and two grower strategies were compared at two different nurseries. LED light bulbs at an intensity of 0.9 W/m2 showed a reduced response to lighting with 14 hours per night compared to 1.2 W/m2 LED light or 7.5 W/m2 incandescent light. A slow response showed in a longer period of harvesting, while the start of the harvest was equal to the other treatments. Lighting with 15 W/m2 incandescent light showed the strongest response. Average weight of the flowers was also clearly lower at a stronger response and heavier at a weak response at a low intensity. Calculations show that, due to saving on energy and installation, the return on investment will be about 4.5 to 5.5 years. Despite the fact that slightly more LED lights are required for the same response as incandescent light, the saving on energy for lighting will still be at least 87%.
Events Calendar
Other Events of Interest
Integrated Control in Citrus Fruit Crops
7 - 9 May, International Organization for Biological and Integrated
Control of Noxious Animals and Plants
Adana, Turkey
Building a Better Future: Responsible Innovation and Environmental Protection
12 - 16 May, Society of Environmental Toxicology and Chemistry
Glasgow, UK
Plant Genomics Congress
13 - 14 May, Global Engage
London, UK
Hydro Eco
13 - 16 May, University of Rennes
Rennes, France
A Diet for Sustainability - Eat, Drink, Be Ready
16 May, Association of Applied Biologists
Harpenden, UK
An Introduction to Opportunities in Plant Synthetic Biology
21 - 22 May, Warwick University
Nottingham, UK
Plant health and diagnostics
23 May, Warwick Crop Centre
Wellesbourne, UK
Symposium on Almonds and Pistachios
27 - 31 May, International Society for Horticultural Science
Murcia, Spain
In Vitro Culture and Horticultural Breeding
2 - 7 Jun, International Society for Horticultural Science
Coimbra, Portugal
International Mango Symposium
2 - 7 Jun, International Society for Horticultural Science
Punta Cana, Dominican Republic
Plant Photobiology
3 - 6 Jun, University of Edinburgh
Edinburgh, UK
European Biomass Conference
3 - 7 Jun, European Commission
Copenhagen, Denmark
Controlled and Modified Atmosphere Research
3 - 7 Jun, International Society for Horticultural Science
Trani, Italy
Workshop on Sap Flow
3 - 7 Jun, International Society for Horticultural Science
Ghent, Belgium
Symposium on Elderberry (Sambucus)
9 - 14 Jun, International Society for Horticultural Science
Columbia, USA
Induced resistance in plants against insects and diseases
10 - 13 Jun, INRA
Avignon, France
Medicinal Plants and Natural Products
17 - 19 Jun, International Society for Horticultural Science
Montreal, Canada
Peach Symposium
17 - 20 Jun, International Society for Horticultural Science
Matera, Italy
Growing Media and Soilless Cultivation
17 - 21 Jun, International Society for Horticultural Science
Leiden, The Netherlands
Cherry Symposium
23 - 27 Jun, International Society for Horticultural Science
Plasencia, Spain
Oxidative stress and cell death in plants
26 - 28 Jun, Society of Experimental Biology
Florence, Italy
European Association for Potato Research and Eucarpia Potato Congress
30 Jun - 4 July, James Hutton Institute
Hévíz, Hungary
Tomato Diseases: Economically, Environmentally, and Socially Sustainable Tomato Disease Management
24 - 27 Jun, International Society for Horticultural Science
Orlando, USA
Postharvest and Quality Management of Horticultural Products of Interest for Tropical Regions
1 - 5 Jul, International Society for Horticultural Science
Port of Spain, Trinidad
Fireblight
2 - 5 Jul, International Society for Horticultural Science
Zurich, Switzerland
Taxonomy of Cultivated Plants
15 - 19 Jul, International Society for Horticultural Science
Beijing, China
Pecans and Other Carya in Indigenous and Managed Systems
17 - 20 Jul, International Society for Horticultural Science
College Station, USA
Fruit for the Future
18 Jul , James Hutton Institute
Dundee, UK
Walnut Symposium
20 - 23 Jul, International Society for Horticultural Science
Taiyuan, China
Plant Bioregulators in Fruit Production
28 - 31 Jul, International Society for Horticultural Science
Orlando, USA
Jojoba world
30 - 31 July, Centre for Jatropha Promotion and Biodiesel
Jaipur, India
If you would like to advertise a forthcoming event please contact. karen.hobbs@soci.org
Horticulture Group Contact Details
For submitting ideas or to volunteer to be part of a committee or a group, please contact:
Chairman - Peter Grimbly
Meetings Secretary - Alison Foster
Minutes Secretary - Margaret Waddy
Newsletter co-ordinator - Sue Grimbly scihortigroup@btinternet.com
Group Contact - Karen Hobbs, E: karen.hobbs@soci.org T: +44(0)20 7598 1586
Related Links