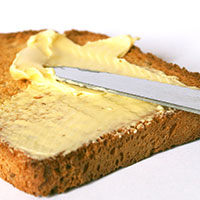 14 Apr 2016
Two thirds of adults in England are overweight or obese. From 1993 – 2013 the proportion of adults overweight including obese increased from 57.6% to 67.1% in men and from 48.6% to 57.2% percent in women1.
The British Heart Foundation report on Cardiovascular Disease 2015 found cardiovascular disease accounted for 28% of all deaths for men and 26% of all deaths for women in the UK in 2014.
Current NHS advice is 'to eat less saturated fat or swap foods high in saturated fat for smaller amounts of foods containing unsaturated fats, to reduce the health risks linked with high cholesterol levels'2.
Contrary to this, a recent study published in the BMJ3, supports the steady stream of challenges to the widely held belief that saturated fat intake is bad for your cardiovascular health.
On Tuesday 17 May 2016 SCI's Public Evening Lecture will enter the discussion over dietary consumption of fats, the beliefs, myths and current evidence of the effect on public health. The lecture will be delivered by Prof Jack Winkler Nutrition Policy Unit and Emeritus Professor London Metropolitan University and Dr Rob Winwood, chair of the GOEDomega-3 science committee and science communications manager at DSM Nutritional Products. The presentation will explore the popular opinion of dietary consumption of fats, exciting developments in the world of Omega 3 and Omega 6 fatty acids and look to the future, how do we allow consumers to select the 'right' balance of fatty acids for good health?
Dietary consumption of Fats: a false impression?
Government bodies around the world have urged us to reduce our fat intake, and particularly our saturated fat intake. Consequently, most of the British population are under the impression that dietary consumption of fats, particularly animal fats, will lead to accumulation of fat in their bodies and arteries with obvious negative effects on their cardiovascular health. In November 2015, a conference was held by the SCI Lipids committee to examine these issues: 'Lipids and Health: Risk, Reward and Revelation'. A surprising conclusion from this was that saturated fat did not pose an increased risk of the onset of cardiovascular disease, though partial replacement with a healthy alternative could be beneficial.
In this lecture, Professor Jack Winkler and Dr Rob Winwood will expand upon the evidence (or lack of) in this topical area, where in the past consumer choice has not always been influenced in line with sound scientific evidence.
About the Speakers
Prof Jack Winkler is a specialist researcher, policy analyst, writer, lecturer and consumer advocate on food nutrition and health. Director of Nutrition Policy Unit, an independent consultancy to improve public health through dietary change, working primarily with public interest organisations. He is a founder, officer and/or member of most UK food advocacy groups, including Action on Sugars, Sustain, Consensus Action on Salt and Health, London Food Commission, National Food Alliance, Coronary Prevention Group, Joint Health Claims Initiative, Action and Information on Sugars. Prof Winkler trained as sociologist at the London School of Economics and Stanford University and academic posts include University of Kent, Imperial College London, Cranfield University, and King's Fund Institute, working on a wide variety of economic and social policy issues. He is the author of numerous articles, research reports, consultation documents, and briefing papers, on nutrition policy.
Dr Rob Winwood, CSci FIFST, is the scientific communications manager at DSM Nutritional Products where he curates the www.nutri-facts.org website. He is currently chair of the scientific committee of the global trade organisation GOEDomega-3. He is a specialist in lipid nutrition and serves on the lipids committee of the SCI (Society of Chemistry for Industry). He has held a series of senior technical and business development positions in various global food ingredient companies including Martek Biosciences, Archer Daniels Midland (ADM), Kelco International and Tunnel Avebe Starches.
Rob has authored numerous scientific publications and has been an invited speaker at many conferences around the globe. During the last year, he has also made appearances on UK national radio and television.
Date: Wednesday 30 March 2016
Venue: SCI HQ, 15 Belgrave Square, London SW1X 8PS
Time: Reception opens at 18.00 and the lecture starts at 18.30. There will be an opportunity to meet the speaker after the lecture at a drinks and networking reception.
Contact: SCI Marketing, E: scimarketing@soci.org, T: +44 (0)207 598 1562
Related Links
1Statistics on Obesity, Physical Activity and Diet – England 2015. Health and Social Care Information Centre. 3 March 2015.
2NHS Choices: http://www.nhs.uk/chq/Pages/1124.aspx
3De Souza, R. J., Mente, A., Maroleanu, A., Cozma, A. I., Ha, V., Kishibe, T., Anand, S. S. (2015). Intake of saturated and trans unsaturated fatty acids and risk of all cause mortality, cardiovascular disease, and type 2 diabetes: systematic review and meta-analysis of observational studies. BMJ, h3978. http://doi.org/10.1136/bmj.h3978