How do you go from a Chemistry degree to a business development specialism? We hear Mark Dodsworth's story.
Tell us about your career path to date.
I graduated from the University of Sheffield with a degree in Chemistry, which included a one-year placement at GSK in Stevenage. Working in heterocyclic chemistry at GSK gave me valuable experience, which ultimately helped me secure my first role in industry.
I joined Vernalis Research in Cambridge as a Synthetic Chemist. After more than five years there, I moved to Manchester to work with the CRUK Drug Discovery team as a Medicinal Chemist.
I am now coming up to three years working for Teledyne ISCO – a US company that specialises in the supply of purification equipment to the scientific community. My job role is Business Development Specialist for the Midlands and Wales.
This job involves focusing on the business growth of Teledyne ISCO products throughout the region with new and existing customers. I also provide ongoing support to our growing customer base, whether that be technical or application related.
What is a typical day like in your job?
Day-to-day, my job role varies significantly, which makes it exciting and dynamic. No day or week is ever the same. It could involve anything from responding to customer enquiries by phone or email, discussions around how our equipment can help with the needs of a group or company, or travelling to a customer to run a demonstration of the equipment.
Installation and training new users is a part of the job that I particularly enjoy. We also do exhibitions, which is a great way to show new customers our equipment, and network with existing customers. Some exhibitions also give us the chance to present to an audience.
Which aspects of your job do you enjoy the most?
A job in business development is so much more than I realised. I've always really enjoyed helping people, and this job allows me to do that in so many ways, whether it's providing equipment that makes the chemist's life easier and helps them with a problem that they've been struggling with, or through application support. I love the networking, getting to know people, and hearing about their work too.
>> How do you forge a career in third-level teaching? See how Dr David Pugh goes about it?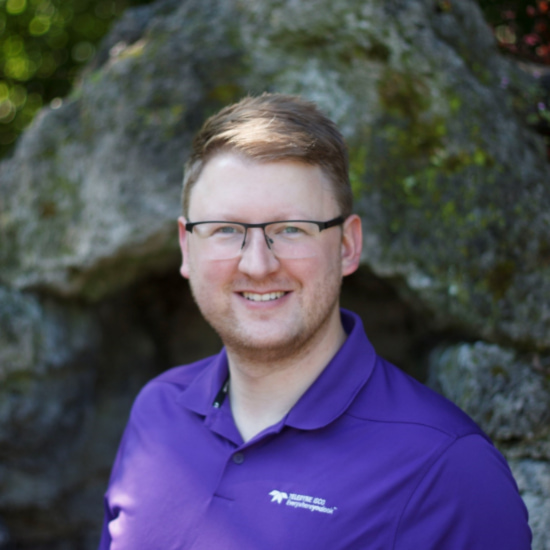 Mark Dodsworth
What is the most challenging part of your job?
Currently the biggest challenge is being at home quite a lot. We can do a lot of support through Zoom, but I've missed not seeing our customers and having face-to-face interactions with them.
As part of a sales role, there is a degree of cold-calling required. This is a skill that I didn't have as a chemist and so I did find it challenging. Ultimately, you are just looking to find those who are interested in your product. A 'no, thank you' isn't anything to be afraid of – you just haven't found the right customer for you.
How do you use the skills you obtained during your degree in your job?
There are many translational skills that you develop as a chemist and times when these skills come in handy. Presentation skills come in useful when presenting at conferences or to senior management.
Communication skills are important when you are transferring information. Not everyone interprets information the same way, so being clear with the meaning of your words is also important.
Time management and organisation are key to this role too. For example, making customer appointments and allowing time for travel. You also need to make the most of your own time, too, by being organised – for example, seeing multiple customers in one location.
As a result, my calendar is usually planned a month in advance, so organisation skills really help here in the planning of your work.
Is there any advice you would give to others interested in pursuing a similar career path?
This was not a career path I'd ever considered, as I'd always been focused on synthetic chemistry throughout university. The main motivator for me was having the opportunity to work closer with CombiFlash systems, as I'd used these systems throughout my career at GSK, Vernalis and CRUK.
My advice would be to discuss [the roles you are interested in] with as many people currently working in that field as you can. I spent time discussing this kind of role with my friends and networking within the science community before deciding to make the move.
>> Get involved in the SCI Young Chemists' Panel.
>> Read more about how Rachel Ellis began her career in drug development.
---