Your weekly digest of policy news, funding competitions, and calls for evidence.
What's been in the news?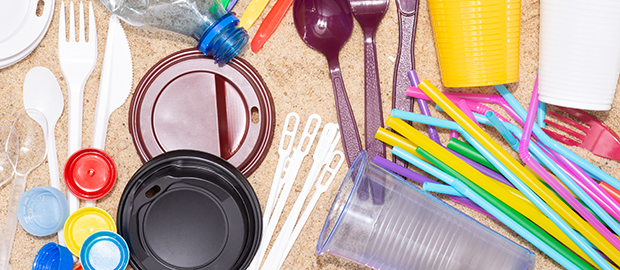 Australia and Canada take steps to tackle plastic waste
The Government of Canada has recently published regulations banning single use-plastic including cutlery, grocery bags and stir sticks. The ban on manufacture of such items will come into effect during December 2022, with sales prohibited from December 2023. It is expected that over 1.3 million tonnes of plastic waste will be eliminated over the next 10 years.
In similar news, Australia's Department of Foreign Affairs and Trade (DFAT) is sponsoring the Plastics Innovation Hub Vietnam (the Hub Vietnam) – an initiative of Aus4Innovation that is managed and co-funded by Australia's national science agency (CSIRO) in partnership with Vietnam's Ministry of Science and Technology.
Amelia Fyfield, CSIRO Southeast Asia Councellor said, 'CSIRO is excited to collaborate through the Plastics Innovation Hub Vietnam and use our globally renowned science and expertise to work on addressing this problem internationally.'
Programme Director for Aus4Innovation, Kim Wimbush said, 'Expanding our collaborations across the region will identify new approaches in reducing plastic waste and support Vietnam's pledge to reduce the flow of plastics into the ocean by 75% by 2030.'
---

Countries unite to catalyse a path for methane emission reductions
The EU and the US, along with 11 countries, have launched the Global Methane Pledge Energy Pathway. The initiative is focused on catalysing methane emissions reductions in the oil and gas sector, as well as advancing progress on climate change and energy security. Along with the EU and US, Argentina, Canada, Denmark, Egypt, Germany, Italy, Japan, Mexico, Nigeria, Norway and Oman are inaugural members of the Energy Pathway.
This development follows on from the Global Methane Pledge (GMP), launched during COP26 by the EU, US and more than 100 countries. The GMP sets out to reduce methane emissions from 2020 levels by at least 30% by 2030. This pledge has now been endorsed by 120 countries, with Egypt, Qatar, and Trinidad and Tobago among the most recent signatories.
The partners have said that the Global Methane Pledge Energy Pathway is a 'critical implementation step of the GMP' that will accelerate deployment of the 'fastest and most cost-effective mitigation solutions available today'.
---

EC proposes new regulations on pesticides
The European Commission has proposed new rules to reduce the use and risk of chemical pesticides in the EU by 50% by 2030. The proposals call for a ban on pesticides in sensitive areas such as public parks, gardens and playgrounds. Research shows that between 2013 and 2019, pesticides were detected above their effect threshold at between 13 to 30% of all surface water monitoring sites of European rivers and lakes.
The overall aim of these new measures is to reduce biodiversity loss in Europe, protecting health and build sustainable food systems in line with the European Green Deal.
---

UK-EU trading relationship
The International Trade Committee has launched an inquiry into the UK-EU trading relationship and is seeking views on issues relating to trading arrangements such as the impact on businesses and other stakeholders.
Deadline: open for submissions
---

UK trade negotiations
Submissions are welcomed on UK trade negotiations with the EU including views on the objectives of the Department for International Trade for Free Trade Agreement negotiations.
Deadline: Open for submissions
---

The financial sector and the UK's net zero transition
The Environmental Audit Committee is examining the role of financial institutions, including UK signatories to the Glasgow Financial Alliance for Net Zero (GFANZ). The GFANZ is aligned with applications to join the UN Race to Zero.
Further information can be found on the UK Parliament website.
---

Horizon Europe
To find more on eligibility for Horizon Europe funding for your sector, you can view the national contact points on the Government website as well as search for the European Funding and Tenders. Further information on the UK's association to Horizon Europe is available in the UK participation in Horizon Europe document.
Further information on the SME and start-up fund can be found on the European Commission website.
---

Horizon Europe Guarantee
This funding is to deliver the UK government's Horizon Europe guarantee, open to UK-based organisations successful in the first and second wave of Horizon Europe grant awards.
Deadline: No submission deadline
---
Commercialising Connected and Automated Mobility: Mass transit
UK registered organisations can apply for a share of up to £1.5 million for feasibility studies into the use of connected and automated mobility as a mass transit solution. £41.5 million is to be invested across two competition strands. Grant funding requests must be between £50,000 and £200,000 and start by 1 January 2023.
Deadline: 20 July 2022
---
Fast Start: Innovation
UK -egistered small and micro businesses can apply for a share of up to £30 million for affordable innovations in net-zero and healthcare. Projects must have a total cost between £25,000 and £50,000 and start by 1 November 2022.
Deadline: 26 July 2022
---

Innovate UK Smart Grants: April 2022
UK registered organisations can apply for a share of up to £25 million for game-changing and commercially viable R&D innovation that can significantly impact the UK economy.
Deadline: 27 July 2022
---
Faraday Battery Challenge Round 5 Innovation: Feasibility Studies
UK registered businesses can apply for a share of up to £25 million across two strands, for innovation in propulsion battery technologies for electric vehicles. Total costs must be between £100 000 and £750,000 and last up to 12 months.
Deadline: 17 August 2022
You can find further details of the funding calls on the Government website.