A new agreement sets a milestone for decarbonising heavy industry in Europe as China works to reach carbon neutrality by 2060.
TotalEnergies has signed what is said to be the world's first commercial agreement on cross-border carbon dioxide transport and storage. The agreement will see 800,000 tonnes of carbon dioxide captured, compressed, liquefied and transported from the Yara Sluiskil ammonia and fertiliser plant in the Netherlands, to the Northern Lights project site off the coast of Øygarden, Norway, where the carbon dioxide will be permanently stored in geological layers some 2,600 metres under the seabed.
The Northern Lights project, which is owned by TotalEnergies, Equinor and Shell, is designed to give European industrial companies a solution for the safe and permanent storage of carbon dioxide emissions. Phase 1 will come on-stream during 2024, handling 1.5 million tonnes of carbon dioxide each year. Additional capacity is planned to meet rising demand..
TotalEnergies said that the agreement is a major milestone in the decarbonisation of heavy industry in Europe, paving the way for international carbon dioxide transport and storage as a service. The company added that it aims to develop carbon dioxide storage capacity of more than 10 million tonnes per year by 2030, both for its own facilities and for its customers.
Børre Jacobsen, Northern Lights Managing Director commented: 'Yara, our first commercial customer, will fill the available capacity of Northern Lights Phase 1. This agreement will establish a market for CO2 transport and storage. From early 2025, we will be shipping the first tonnes of CO2 from the Netherlands to Norway. This will demonstrate that CCS is a climate tool for Europe'.
Pictured above: Børre Jacobsen
In separate news, a report from the Global CCS Institute indicates that 'China is potentially the world's largest CCUS market.'
The report: A Progress Review: Repositioning CCUS for China's Net-Zero Future asserts that China's plan to reach peak carbon dioxide emissions before 2030 and achieve carbon neutrality by 2060 has led to policies encouraging the development of low-carbon technologies, among which carbon capture, utilisation and storage (CCUS) is regarded as a central pillar for China to achieve its climate goals.
China's energy mix is composed primarily of fossil fuels, and these are likely to be the major source of energy for some time to come. The report says that during the final quarter of 2021 the Working Guidance for Carbon Dioxide Peaking and Carbon Neutrality in Full and Faithful Implementation of the New Development Philosophy was publicly released. This was then followed by the Action Plan for Carbon Dioxide Peaking Before 2030. This set out the national plan for peaking focusing on industrial restructuring, energy mix optimisation, energy efficiency improvement, green energy development and public advocacy.
In response to government policy, the report indicates that energy and emissions-intensive sectors have reacted positively to the announcements surrounding the new climate goal. In the oil and gas sector, the China Oil and Chemical Industry Federation, along with 17 companies published a joint statement focusing on low-carbon and green development of energy, energy efficiency improvement and production lines using carbon dioxide as raw materials for utilisation or storage.
In setting out the status of carbon capture in China, the report says that after more than a decade, China has CCS technologies and projects covering major industries including power, coal-to-chemicals, cement, oil and gas, methanol and fertilisers. However, the majority of the operating projects remain at pilot or demonstration level.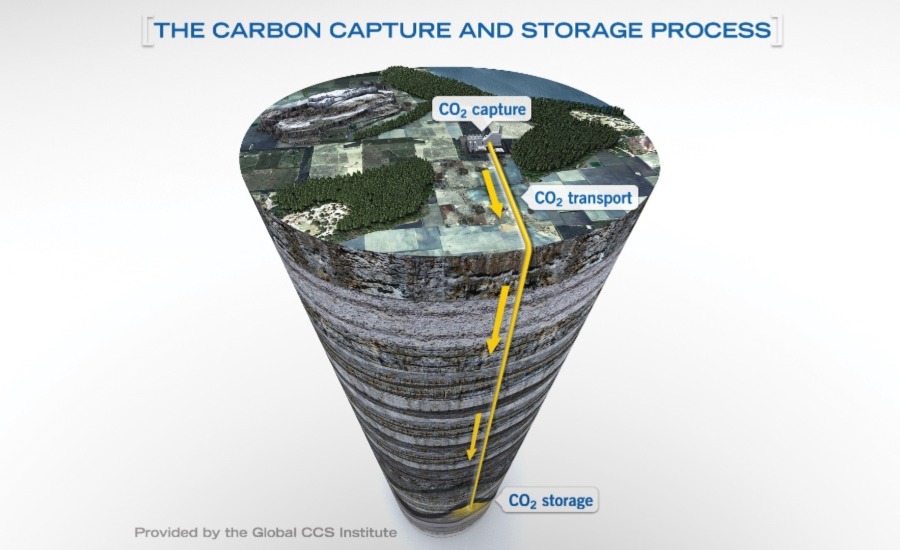 Image credit: The Global CCS Institute
The report, authored by Yi Wu, Climate Policy and Communications Advisor Global CCS Institute states: 'China has 49 CCUS projects at various levels of scale across different stages. Of these 38 projects are operational.' It adds: 'The project pipeline appears strong and a number of large-scale projects are under development and expected to commence operation by 2025 or earlier. An increasing range of sectors are covered by projects in development.'
The document concludes: '2020 was a milestone for CCUS in China, with national targets and policy frameworks driving renewed interest and focus in the technology suite. As a proven and mature technology, essential to realising deep decarbonisation, CCUS is vital to support high-value manufacturing industries and economic development, as advocated by the Chinese government in recent years.'