A multidisciplinary team including biologists, chemists, chemical engineers, and environmental scientists, have investigated the characteristics of wastewater samples from one of the largest hospitals in Crete and demonstrated the effectiveness of photocatalytic treatment as a wastewater processing method. Lucy Wright reports.
---
Wastewater from hospitals can contain a cocktail of contaminants, including pathogenic microorganisms, hormones, and other pharmaceutically active compounds. But perhaps most significantly, high concentrations of antibiotics in the effluent can favour the development of antibiotic resistant bacteria (ARB).
Danae Venieri, Professor of the Environmental Microbiology Laboratory at the Technical University of Crete, and corresponding author of a new study published in the Journal of Chemical Technology and Biotechnology, explained the major challenges presented by the unique contaminants in hospital wastewater.

Danae Venieri
Technical University of Crete

'The exact composition varies depending on the specific streams that are combined in the hospital treatment plant. Although pharmaceutically active compounds that exist in such effluents may escape intact and accumulate in the water cycle, the single most important threat possibly comes from the transfer of antibiotic resistance genes (ARGs). Such genes have received far less attention with respect to their detection in aqueous streams and this is where our work comes to fill the gap.'
The transfer of these ARGs between bacteria is the mechanism that drives the evolution of antibiotic resistance, making their presence in hospital wastewater a major concern for public health.
---
Uncovering contaminants
The researchers found that there was high toxicity and significant levels of ARBs and ARGs in the hospital wastewater samples they analysed, particularly in the wastewater derived from pathology and oncology units. Using a treatment method known as photocatalysis, which employs UV-A light to break down the contaminants in the water, the authors reported a decrease in pharmaceutically active compounds and bacteria of over 80%.
Significantly, however, the concentration of ARGs remained high. Despite this, the authors conclude that coupling photocatalysis onto the end of conventional wastewater treatment programmes is a step in the right direction.
Helmut Bürgmann, head of the surface waters – research and management department at the Swiss Federal Institute of Aquatic Science and Technology (Eawag), commended the study for its focus on ARGs, noting that 'antimicrobial resistance is now seen as an important contaminant and a major threat to public health in its own right.

Helmut Bürgmann
Swiss Federal Institute of Aquatic Science and Technology

'Similar investigations (including on UV-catalysis systems) to what is shown here were also carried out at Eawag. In the studies at our institute, ozone or powdered activated carbon (PAC) absorption was considered overall more suitable, although photocatalysis was very effective for some compounds. I am therefore at present not convinced that this treatment option would have advantages over other options, but it may complement them for certain use cases.'
---
Reaching beyond the hospital
Bürgmann's ongoing research includes studying how resistant bacteria from multiple sources, including the pharmaceutical and agriculture industries, spread in the aquatic environment. This raises the question of whether specialised treatment methods should be restricted to just hospital wastewater, or whether downstream conventional treatment plants should be adapted for more effective processing of wastewater from all sources.
'It is interesting to debate whether the treatment of hospital wastewater is strategically the best option, or whether treatment of wastewater treatment plant effluent makes more sense. Switzerland has so far opted for the latter option, upgrading major wastewater treatment plants (including many that also receive hospital wastewater) with treatments for the removal of micropollutants, mostly using ozonation or PAC adsorption strategies', noted Bürgmann.

Susanne Tumlin
Gryaab

Susanne Tumlin, a Development Engineer at the Gryaab wastewater treatment plant in Sweden, and member of the European Federation of National Associations of Water Services (EurEau) agrees.
'We have done mass balances based on actual measurements in wastewater and for cities like Gothenburg, the flow of pharmaceuticals originating from hospitals is only a low percentage. Most pharmaceuticals are just handed to patients at the hospitals, but the vast majority are taken at home, school or work – with the exemption of contrast media and a few others.'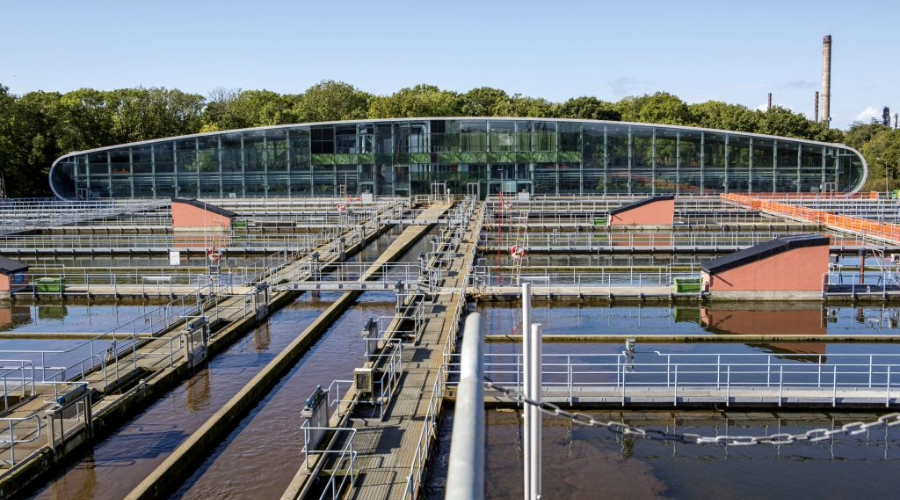 Disk filter plant at Gryaab's wastewater treatment facility. Credit: Emilie Asplund
Elena Aspichueta, a biologist from the Bilbao Bizkaia Water Consortium in Spain and a member of EurEau noted that wastewater treatment plants are an important part of the solution to the increasing levels of contaminants of concern in the environment.
'Although the study notes that conventional wastewater treatment plants cannot treat pharmaceuticals effectively, in my company we have seen that biological processes can sometimes remove or at least partially biodegrade some of these compounds. But it is true that they were not designed to confront this challenge, as the 91/271 Urban Waste Water Treatment Directive didn't address this topic which is considered to be "quite new".'

Elena Aspichueta
Bilbao Bizkaia Water Consortium

Aspichueta and Tumlin concur that control at source is always the best way to prevent environmental pollution and minimise the risk to nature and/or public health. 'This also applies of course to discharges from hospitals with quite high concentrations of pharmaceuticals', said Aspichueta.
---
Looking to the future
What is clear is that there is an urgent need for awareness on the complexities of treating hospital wastewater. Venieri explained, 'It is important to convince policymakers and stakeholders at national and international levels that wastewater treatment goes well beyond the traditional activated sludge process. Raising public awareness and educating the younger generations are perhaps more challenging than solving technical issues.'
Venieri and the team are continuing to develop their trans-disciplinary research at the interface of science and engineering:
'The next step is to move our research forward, developing pilot-scale units and applications for the on-site treatment of hospital wastewater. A pilot-scale unit has already been installed in the premises of a hospital in Crete and the results so far are quite promising regarding the elimination of pathogens and ARGs from hospital wastewater', she noted.
---
Treatment of hospital wastewater: emphasis on ecotoxicity and antibiotic resistance genes
Andreas Kaliakatsos, Iosifina Gounaki, Spyros Dokianakis, Emmanouela Maragkaki, Athanasios S Stasinakis, Stylianos Gyparakis, Nikos Katsarakis, Thrassyvoulos Manios, Michalis S Fountoulakis, Danae Venieri
To read and cite the full paper, please visit:
https://doi.org/10.1002/jctb.7329
First published: 26 January 2023