SCI's flagship entrepreneurial competition, the Bright SCIdea Challenge, returned for its fifth final on Tuesday 21 March 2023, and it didn't disappoint.
Jump to a team's pitch:
💡 FOODPRINT 💡AI INNOVATION 💡ELECTRIC COLLECTIVE GROUP 💡DESPROP 💡 PHAGEL💡
---
This year, five teams made it to the final of the Bright SCIdea Challenge – a multidisciplinary lineup of teams presenting innovative solutions to issues as diverse as cardiac health, the environmental impacts of food, and the greening of solvents.
But before the 2023 cohort took to the pitching floor to present to the judging panel, there was just time for one more training session, with previous winners and judges and chaired by Andy Smith, Open Innovation Technology Manager at Johnson Matthey.
Natasha Boulding, Co-Founder of Low Carbon Materials and 2019 Bright SCIdea winner described her company's journey from a team of three Durham University students to a spin-out that has received significant funding and recognition, including being finalists for the Earthshot Prize last year.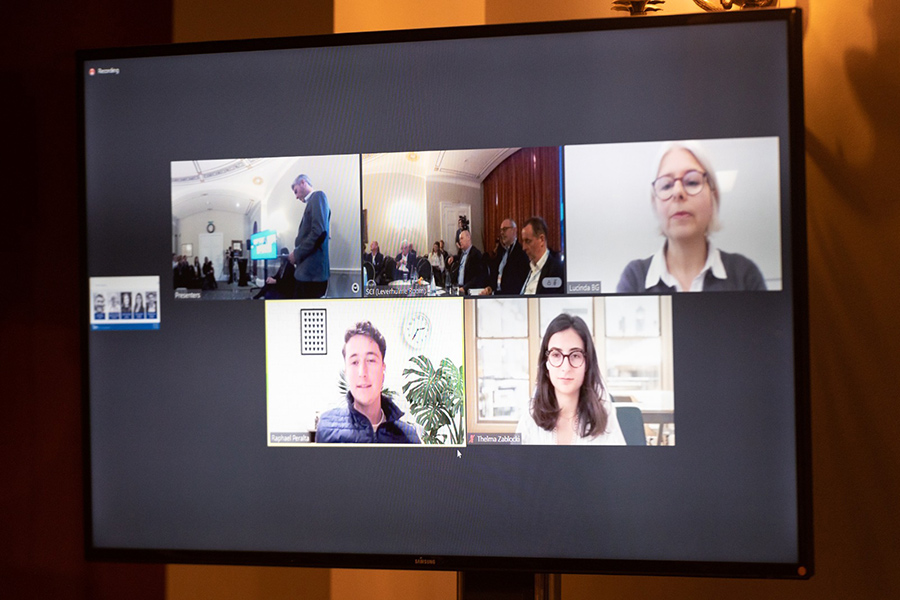 Natasha advised teams to think about communicating the vision of their prospective company, and not just the hard scientific or technical facts, when pitching. Natasha covered topics as diverse as researching the investment portfolio of potential investors to align with the right investors; the benefits of operating to a strict objectives and key results (OKR) business methodology and the importance of emotional intelligence in business.
Thelma Zablocki and Raphael Peralta, from 2022 winners Cardiatec, noted the importance of taking all the advice from people with the right experience, with Raphael emphasising the importance of 'learning as much as you can, as quickly as you can, and moving as quickly as you can' when bringing your product or service to market.
Lucinda Bruce-Gardyne, Founder of Genius Foods and longstanding Bright SCIdea supporter and judge, noted, 'At the moment, investors are being much more careful with their money – they're much more reluctant to put big, big pounds into business at the moment. So just make sure that you also share a really, really clear vision. Your clear, short pitch, and a really strong vision is essential.'
Judge Victor Christou – Former CEO, Cambridge Innovation Capital, rounded off the session by congratulating all of the teams for starting their journey as entrepreneurs:
'You're not possible entrepreneurs,' he said. 'You're real entrepreneurs. Because you've started something. You've thought about a business, you've put pen to paper, you've got some ideas, probably some science in the lab that can help you put something away. So you're all entrepreneurs, and congratulations for taking that step,' he said.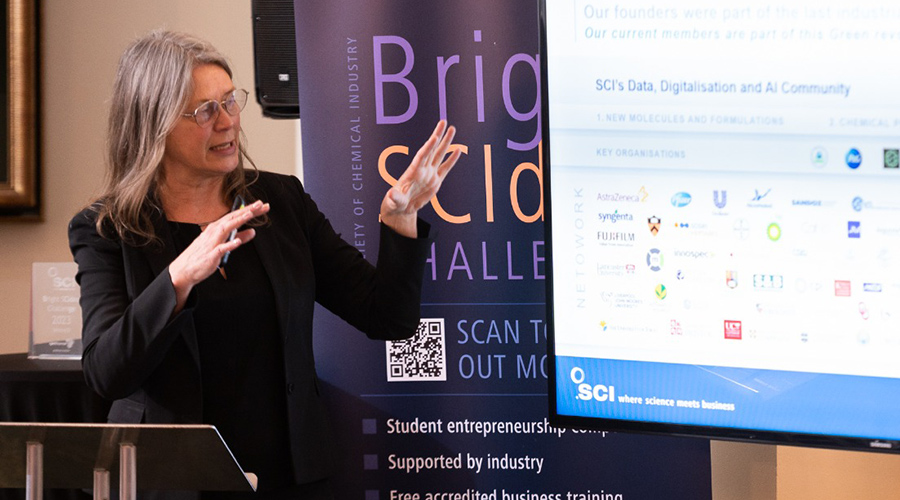 And with that, SCI CEO Sharon Todd noted, it was 'time for the teams to put your game face on'.
---
💡 FOODPRINT
💡
AI INNOVATION
💡
ELECTRIC COLLECTIVE GROUP
💡
DESPROP
💡
PHAGEL
💡
FoodPrint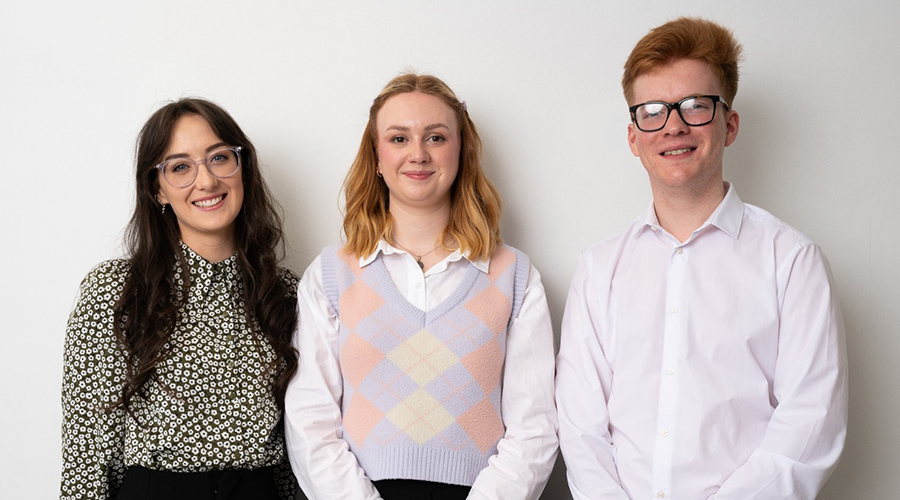 Kicking off the 2023 competition was FoodPrint, a team of three final-year chemical engineering students from Leeds University with a passion for sustainability and the environment, who put forward a system to quantify and display the environmental impact of food on its packaging.
The team described a simple 1-10 score – taking into account water and land usage, eutrophication and total emissions in production and transport – to help consumers make more informed choices.
Well received by the judges, Unilever's Jonathan Hague asked the team if they thought that the general public would be interested. Citing data from the UK's Food Standards Agency, the team said that 73% of consumers believe that it is important to purchase food with low environmental impact.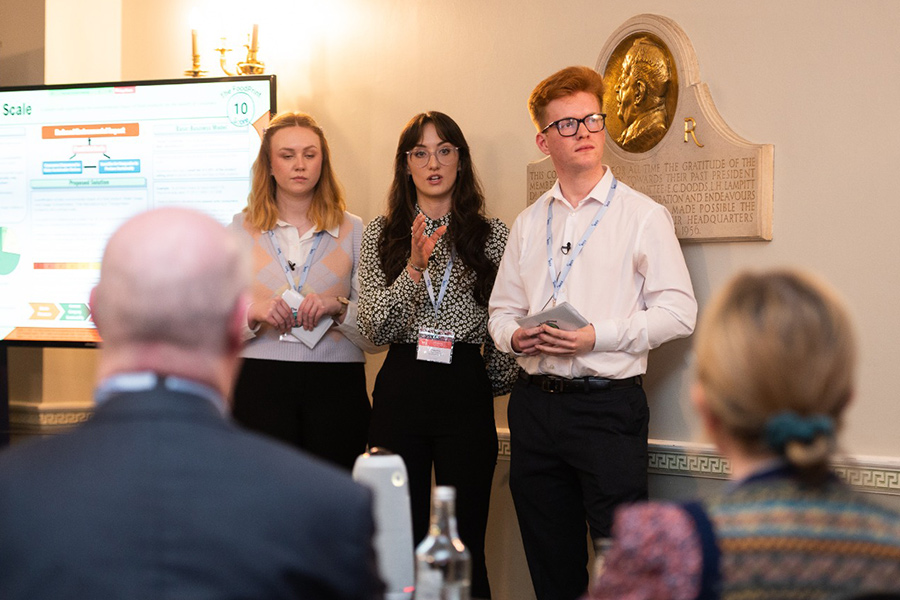 The team's current model assigns an FPS score based on literature. However, the next step is to acquire real data from businesses interested in participating in such a sustainability scoring scheme. Using company data, an algorithm would be used to create the scores for products. Targeting food producers, they will purchase rights to display an FPS score and trademarked label.
Considering the practicalities, Emily Wilson asked how the team's concept would be applied, in practice, to a product such as a pasty, which is made up of several components. The team said that several parameters would be up for consideration including the methane produced by the cows, the amount of land available for mitigating carbon dioxide and miles that the meat has travelled, the provenance of the wheat used to make the flour and the land it was grown on.
---
💡 FOODPRINT 💡AI INNOVATION 💡ELECTRIC COLLECTIVE GROUP 💡DESPROP 💡 PHAGEL 💡
AI Innovation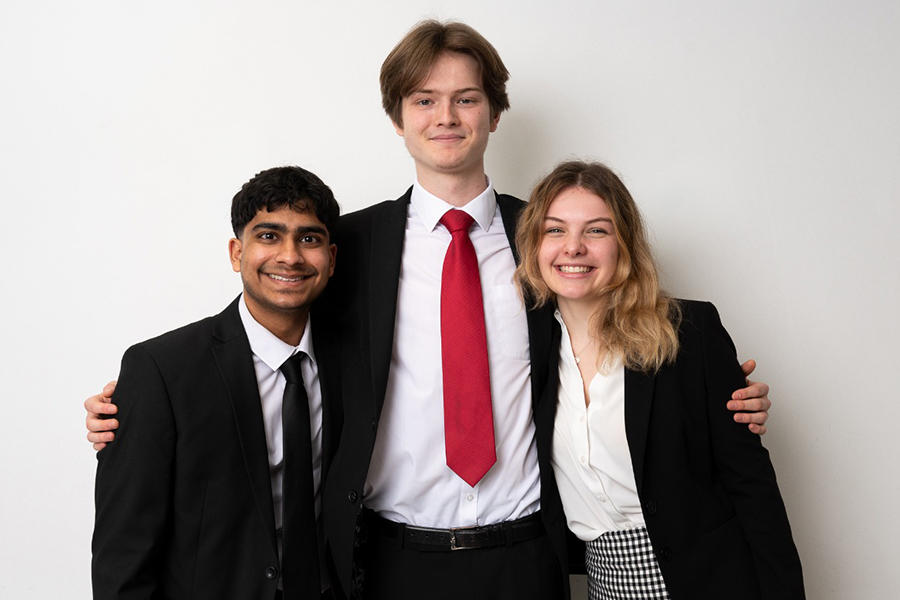 Showcasing an AI platform that predicts synthetic routes for chemical compounds, three chemists from the University of Warwick set out to improve the efficiency of finding optimal synthetic routes for a given chemical. Their solution uses advanced machine learning algorithms, analysing and predicting the best routes based on past syntheses and their respective conditions.
Good luck to our UG student team, AI Innovation, who are pitching at the Bright SCIdea Challenge 2023 final today. Congrats for getting there. Loving the AI system idea that can predict synthetic routes for chemical compounds and continuously evolve from end-user feedback👏🤞❤️ pic.twitter.com/42jgtJDhHG

— Warwick Chemistry (@warwickchem) March 21, 2023
With the pharmaceutical and chemical industries heavily reliant on the synthesis of new and improved compounds, these industries are seeking more efficient and cost-effective synthesis methods, and AI Innovation claimed that its platform would be a useful tool for these sectors. Academic and research institutions could also use the platform.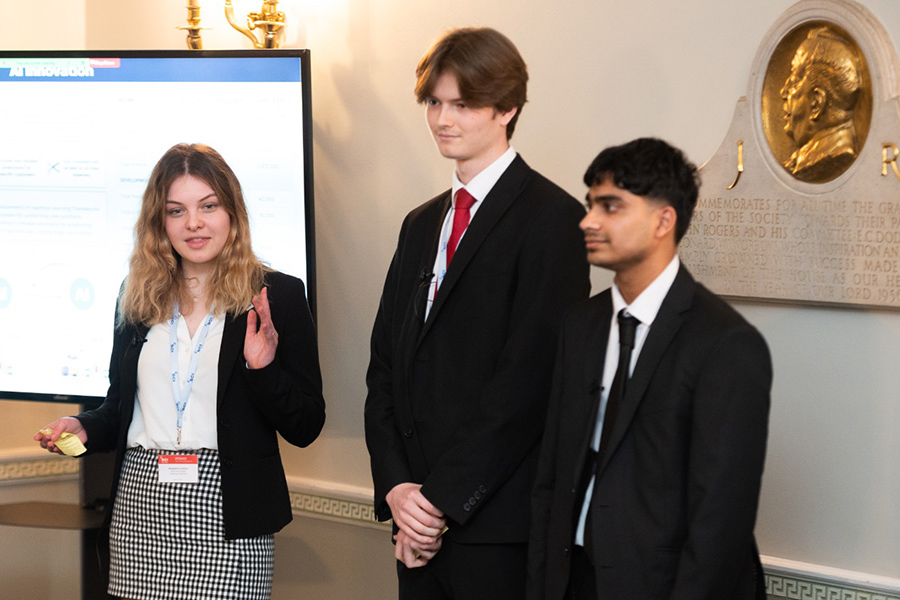 'Competitors in this field include traditional trial-and-error methods and limited databases, however, our AI system offers a unique advantage as it can quickly analyse vast amounts of data and provide the most efficient and cost-effective synthetic route in a fraction of the time it would take a human chemist,' the team said.
Victor Christou asked the team if they had considered taking their algorithm and using it to set themselves up as a drug discovery company. The team considered this was a good option, but their focus was to sell or licence their idea to benefit as many people as possible.
Emily Wilson asked how confident the team was that their AI platform would be able to stand out in a competitive sector. The team acknowledged that there were a number of similar products that were somewhat niche, and that their product could have a broader market.
---
💡 FOODPRINT 💡AI INNOVATION 💡ELECTRIC COLLECTIVE GROUP 💡DESPROP 💡 PHAGEL 💡
Electric Collective Group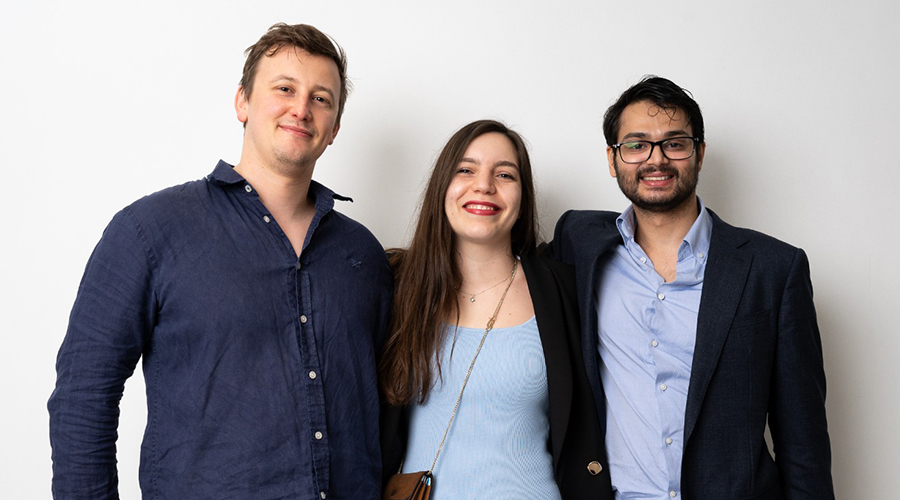 A multidisciplinary team comprising a designer from the Architectural Association School alongside two scientists from Imperial College London's Chemistry Department, Electric Collective Group has set out to make cardiac monitoring more accessible.
The team explained that sudden cardiac death accounts for 20% of all deaths. Focused on smart wearables, the team is developing a lightweight and comfortable ECG device that wirelessly monitors the wearer's electrocardiogram to help diagnose irregularities in order to prevent heart attacks.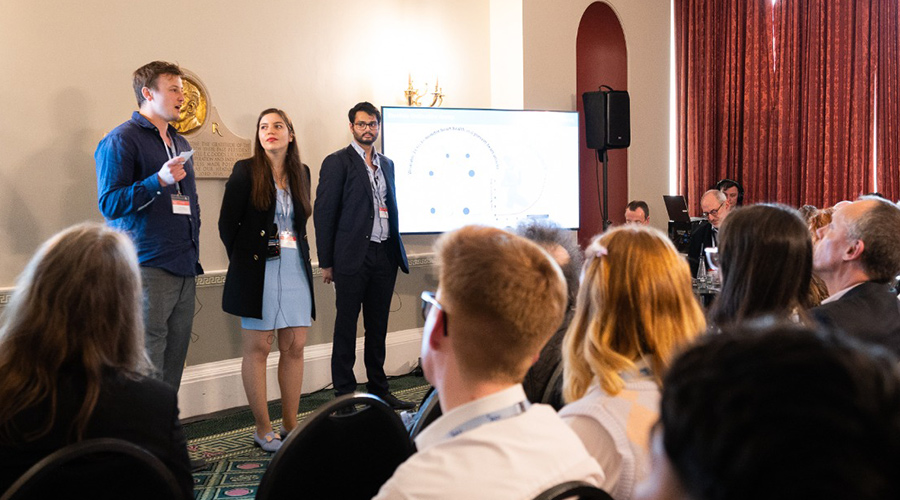 Anticipating that it will take six months to finalise the product, the team aims to manufacture at a small scale at Imperial College laboratories, then start trading and demonstrating at trade shows. Pre-seed funding would allow the team to obtain lab space at the Imperial College, Scale Space.
Looking to the initial market for the product, which was considered by the judges an interesting and useful development, Victor Christou asked who the team considered the main market for the product, while Emily Wilson asked if such a product could lead to a rise in the 'worried well'.
The team explained that they were initially focusing on the fitness market and would then seek licences to allow its use as a medical product. The team acknowledged that medical professionals consulted in the product's development had also raised the potential issue of health anxiety, which the team is looking at ways to address.
---
💡 FOODPRINT 💡AI INNOVATION 💡ELECTRIC COLLECTIVE GROUP 💡DESPROP 💡 PHAGEL 💡
DESprop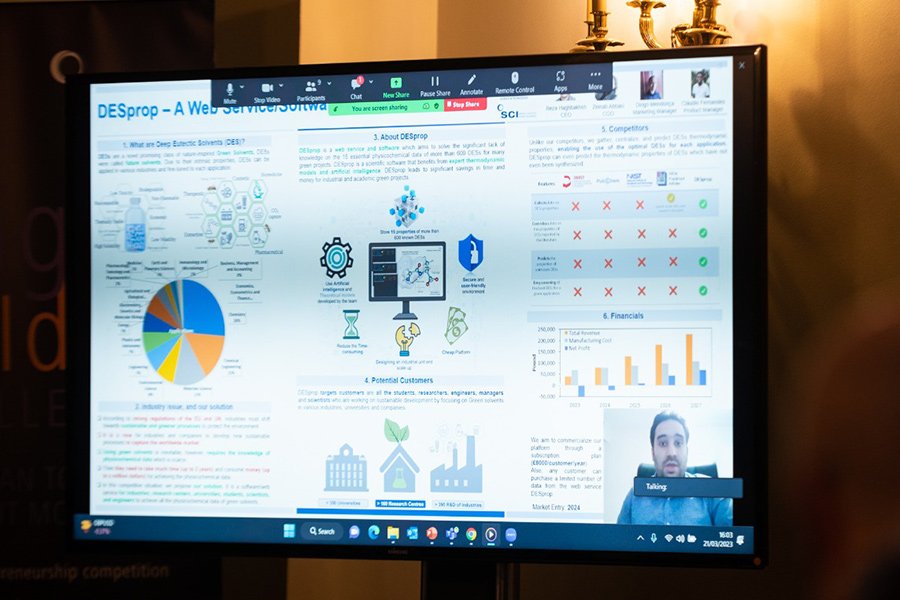 Deep eutectic solvents (DES) are a promising category of green solvents with a wide variety of applications, but there is a significant lack of knowledge on their thermodynamic properties, which are crucial for industrial processes and scale up. Determining these properties requires specialised resources not always available at industrial sites.
Team DESprop, which was set up by chemists at Nova University, Portugal, and Sharif University of Technology, Iran, has developed software to address the problem of determining properties. The team was unable to attend in person, and so presented and responded to questions remotely.
DESprop has developed software harnessing AI and theoretical models to calculate a wide range of thermodynamic properties of DESs. The team expects its development to have initial application in R&D, particularly in petroleum and energy-related applications, followed by cosmetics, food, and pharmaceuticals. The team said that it has identified a large number of potential academic and industrial customers.
Unilever's John Hague liked the concept, and was interested to know if there was a way that once someone had used the team's software to determine the optimal parameters for a new green solvent, they could find out where the solvent could be acquired. Team DESProp agreed that this function would be beneficial to potential customers, and they would consider this in the ongoing development of the platform.
---
💡 FOODPRINT 💡AI INNOVATION 💡ELECTRIC COLLECTIVE GROUP 💡DESPROP 💡 PHAGEL 💡
Phagel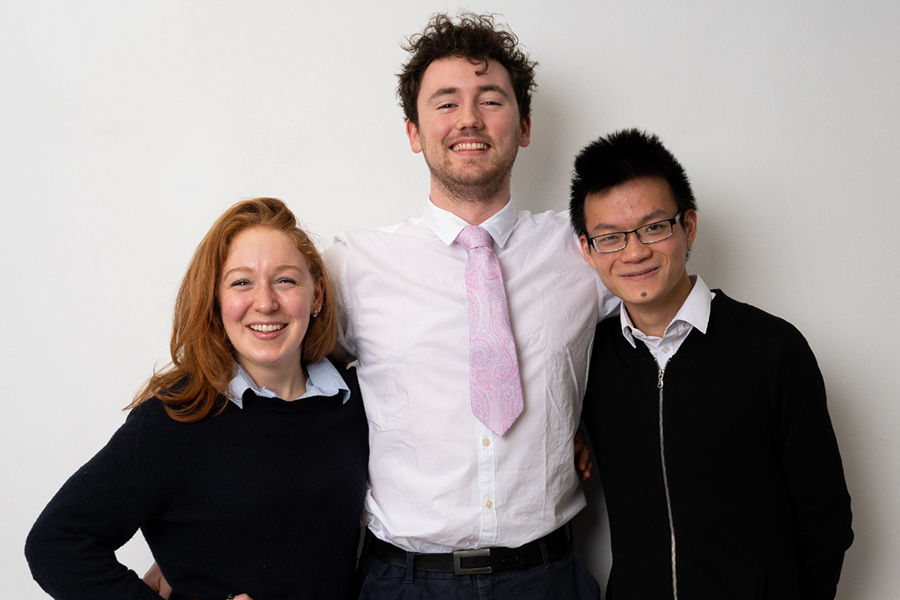 A trio from UCL, Phagel, was the final team to pitch. Phagel is developing a hydrogel mix containing a combination of bacteriophages held in stasis that can be used in the treatment of burns. The team is focusing on treating those patients with burns that have the potential for septic complications.
The team said that bacteriophages have been experimentally proven to degrade polysaccharides in the biofilm matrix and destroy antibiotic-resistant bacteria, while the gel has a simultaneous cooling and wound-covering function to aid healing. There is a great need for new and novel ways of treating burn wounds, especially for preventing infection, the team explained.
Most models of care assume acute infections are from planktonic bacteria, and the need to address infection from the formation of biofilms is a huge gap in the modern treatment of burn victims. The team believes that the NHS would benefit from its product, as it could significantly reduce the costly length of hospital stays required for the treatment of burns.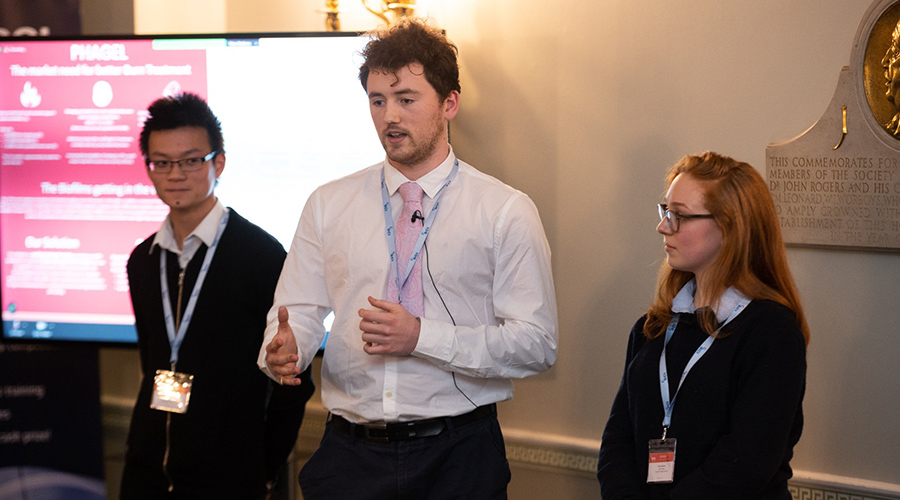 To scale the product, the team said that moving from the lab would likely require the construction of industrial capacity to manufacture its own bacteriophages, involving large-scale production in bioreactors. It would take around one year to have effective infrastructure in place for bacteriophage manufacturing, the team said. Part of this time would be occupied with the optimisation of certain processes and parameters in production, such as multiplicity of infection to ensure maximum efficiency.
The judges were impressed with the concept. Considering the specificity of the phages, Synthomer's Robin Harrison asked whether there was potential for the phages to impact the beneficial bacteria. The team said that phages would only target biofilm forming bacteria and were unlikely to impact the rest of the microbiome.
Victor Christou asked the team about their IP strategy. The team explained that their manufacturing and formulation processes would be patented.
---
The judges (and audience) decide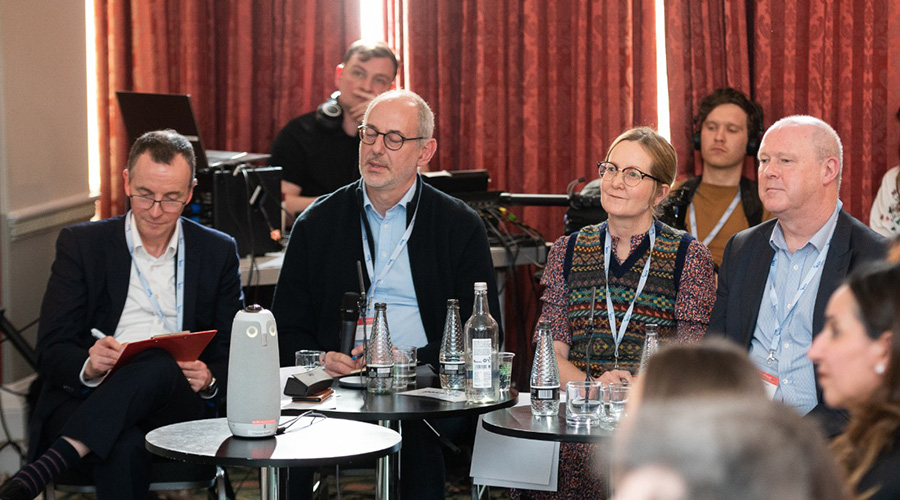 The judges, from left to right: Robin Harrison, VP Platform Technology & External Innovation, Synthomer; Victor Christou, Former CEO, Cambridge Innovation Capital; Emily Wilson, Editor of New Scientist, Jonathan Hague, Head of Clean Future Science and Technology, Unilever Homecare
The judges retired to deliberate on a fantastically strong set of pitches, and upon returning to deliver the results, Robin Harrison congratulated all of the teams, whose ideas he noted all had potential to become new businesses and help provide solutions to a myriad of challenges faced by society.
Before the second runner up, first runner up and winner were announced, the audience was invited to pick their favourite via a poll. For the first time, the audience and judges voted in exactly the same way.
In third place was the day's opening team FoodPrint and in second place it was Electric Collective Group. Joining the list of Bright SCIdea champions, and walking away with the coveted big cheque for £5,000, it was Phagel.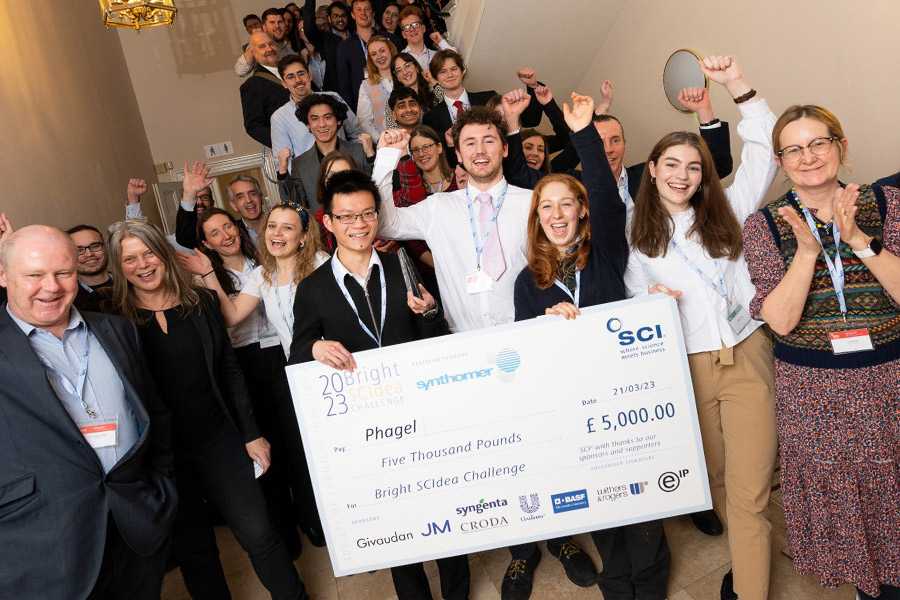 Robin Harrison explained, 'The judges loved the concept as it has the potential to solve a real societal problem. It could treat burns effectively and help the move away from antibiotics. There would be a beneficial impact on the individual, on hospitals and the NHS – and on society. The team understood the steps needed to reach the solution and had a clear timeline to do this.'
To get involved in Bright SCIdea 2024, register your interest to participate or support here or find out more about Bright SCIdea here.