The SCI Young Researchers in Agri-Food 2016: Food Quality and Sustainability from Plough to Plate conference took place on Thursday 12 May at the University of Reading.
The event, which was sponsored by SAB Miller and Syngenta was an opportunity for early career scientists working in agricultural, environmental, food and other relevant sciences to present the findings of their research and gain valuable experience in presenting in front of an multidisciplinary audience. Scientists attended the event from a wide range of disciplines such as agronomy, animal physiology and nutrition, environmental sciences, molecular biology, food sciences, analytical chemistry, flavour and sensory science. In addition to the student presentations Libby Good, ATP Business Development Manager at the University of Reading gave an excellent keynote presentation on career development and Alexandra Carrick from Wiley presented an interesting workshop on 'how to get your research published'.
Postgraduates from around the UK made excellent poster and oral presentations of their work and their ability to communicate and the quality of their research was of the highest standard. The audience was invited to form the judging panel and made their selections on the overall best posters and oral presentations. There were a number of competition prizes which were kindly contributed by our sponsor SAB Miller and presented by Dr Sue James Director of Research and Development at SAB Miller.
The overall winner with the 1st prize of £150 pounds in iTunes vouchers, for best oral presentation, went to Izzadora Andrew, University of Reading, UK, (Photo above) for her talk entitled 'Competitive wheat cultivars for the sustainable suppression of the weed Alopecurus myosuroides'.
The other prize winners were:
Oral runner-up (£100 pounds iTunes vouchers)
Luke Bell, University of Reading, UK
Title: 'Changes in rocket phytochemicals within the industrial supply chain: a case study of UK-grown produce'
Poster 1st prize (£100 pounds iTunes vouchers)
Alexandra Holden, Royal Holloway University of London, UK
Title: 'Biochemical and Molecular Mechanisms Underlying Colour Retention in Capsicum annuum'
Poster runner-up (£50 pounds iTunes vouchers)
Jack Gillan, Royal Holloway University of London, UK
Title: 'Characterisation of three ripening-related transcription factors downstream of the master regulator RIN inSolanum lycopersicum'
'Flash' or 5 min presentation prize (£50 pounds iTunes vouchers)
Tiffany Lau, University of Reading, UK
Title: 'Recovery of functional ingredients from sweet corn cob'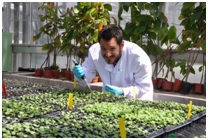 There was also a Twitter competition where delegates were invited to enter a photo of themselves with their research (a research-selfie) for a chance to win £50 in iTunes vouchers. The winner was Nikolaos Koukiasas, University of Reading, UK with the winning entry 'Testing new ways of herbicide application'
Photo: Nikolaos Koukiasas at work 'Testing new ways of herbicide application'
All conference papers can be found on the SCI website here
or via the following URL http://www.soci.org/news/agrisciences/sci-young-researchers-in-agrifood-2016-conference-papers
Related Links: